France
PARIS
LE LOUNGE RESTAURANT, HÔTEL DANIEL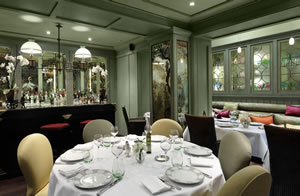 Do prizes mean anything? I confess that I won virtually nothing at school, although I certainly considered myself worthy of a gong or two. When, in the Sixth Form, I received the telegram which told me that I had been awarded an exhibition at my chosen Cambridge college, I rushed to tell my English master the good news. This learned Oxford D.Phil. was less impressed than I had hoped. "How disappointing, Bown - I expected you to get a scholarship," he murmured, before changing the subject. (To this day I remain grateful for those words: they were so much more to the point than the gushing congratulations of lesser beaks.) Still, I can admire a winner, and I was pleased when I heard the news that Chef Denis Fetisson had won the Trophée Jacquart de l'Étoile Montante de la Gastronomie.
I first met Monsieur Fetisson (pictured) when he was manning the stoves at one of my favourite London restaurants, Incognico. I did, indeed, think then that, in the words of his trophy – awarded to chefs under 35 years of age – he was a rising star. He had that combination of enthusiasm and ability which looked set to take him far. In fact, it took him back to France – not to his native South West, but to the eighth arrondissement of Paris and to the kitchen of the small, swish Hôtel Daniel. I thought I ought to go again to sample his food.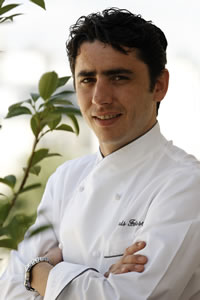 You may read about the Hôtel Daniel in the separate article in Bown's Best. Suffice it to say here that it is a charming and welcoming place, ideally situated in a quiet street near both the Champs-Élysées and (more important for those of us who like shops full of diamonds and Impressionist paintings) the rue Faubourg St-Honoré. I say 'ideally situated', but the location was quite unknown to my taxi driver, who wandered aimlessly down this street and that, before – at my insistence – dropping me at another hotel, so that I could ask directions and then walk. (This incident was further reinforcement for my view that Paris has some of the worst taxi drivers in Europe.)
Still, my promenade stimulated my appetite – so I was quite hungry by the time I eased myself into a wicker chair in the intimate dining room which is known as Le Lounge Restaurant. My table was next to a gilt-framed mirror of ancient glass. The walls around were egg-shell blue, and were adorned with pictures of an Oriental sort. In an English house, we might call this sort of decorative scheme chinoiserie. I thought it very pretty. Bernardaud crockery and Christofle cutlery gleamed, as spotlights shone down onto the white tablecloth. I noted the smart black uniforms of the waitresses. A gentleman in a grey suit approached. This turned out to be Fabrice Marchand, the Food and Beverage Director. He looked after me very well throughout the evening, and began by bringing me a glass of Cristal champagne.
Here we may pause to consider the wine list. It is short and French. Prices range from 32 euros for a Provençal red (La Chapelle Gordonne, 2005) to 360 euros for the 1998 Mouton Rothschild. I decided to go to Burgundy for both my bottles. My white was a most unusual Meursault. If I had been tasting blind, I would have attributed its notes of peach and exotic fruit to the Rhône wines made from the marsanne grape (Les Narvaux, Leflaive, 2005 – 70 euros). My red was more straightforward – earthy in the nose and somewhat stern in the mouth (Nuits St-Georges, Les Vaucrains, Henri Gouges [sadly, I failed to note the vintage] – 110 euros).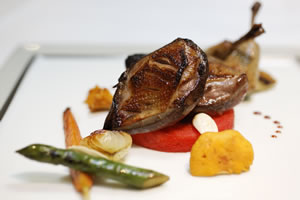 Monsieur Fetisson soon appeared from the kitchen, for he likes to discuss his menu with his guests. It took no time at all to decide upon the seven-course tasting menu for 80 euros. It sounded very appealing indeed: ravioli with morels, carpaccio of langoustine with caviar and citrus fruits, sweetbreads, scallops with fennel, fried foie gras with honey and fresh apple, foie gras and black truffle in pastry and a clementine soufflé. Of these I will take the foie gras and truffle in pastry to illustrate Denis Fetisson's strengths. This was a ravishing dish. Here, it was clear, was a chef who was not afraid to take expensive ingredients of the highest quality and to combine them with skill, subtlety and care. The cream sauce which accompanied this little pastry miracle was exactly right, adding harmony and softness to the rich liver and the divine fungus.
For this dish I would certainly have given Denis Fetisson a prize. Instead, he had to be content with my admiration and my gratitude. This young man is, truly, a rising star.
---
ADDRESSES
LE LOUNGE RESTAURANT
Hôtel Daniel, 8 rue Bastiat, Champs-Élysées, 75008 Paris, France.
Telephone +33 (0)1 42 56 17 00
Fax +33 (0)1 42 56 17 01
Email: hoteldanielparis@hoteldanielparis.com
www.hoteldanielparis.com
Closed: August, Saturday and Sunday