United Kingdom
OXFORDSHIRE
MANOIR AUX QUAT' SAISONS, OXFORD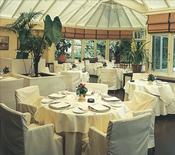 One of the delights of having been to Oxford is the opportunity to return occasionally to take your former tutors out for lunch. Most of mine are now elsewhere (some in this life, some in the next). But my splendid Old Testament tutor, who bravely struggled to awaken in my dull mind some enthusiasm for the thoughts of Ezekiel and Jeremiah, remains. A Jesuit priest, he offers Mass each morning (in Latin, of course) and leads a life of quiet and meticulous orderliness. As the Royce purred along the M40 motorway from London, I looked forward to his charming and amusing company.
And there was further reason for my eager participation. For we were destined for one of Britain's most renowned restaurants, Le Manoir aux Quat' Saisons in Great Milton.
In my Oxford days this place did not exist. Raymond Blanc only arrived on our shores from his native France in 1972 – to work at a restaurant near Witney in Oxfordshire. When the cook became ill, the young Raymond took over and a new culinary talent began to develop with astonishing rapidity. Twelve years later the Frenchman with no formal training was a Michelin two-star chef and was opening his hotel and restaurant, Le Manoir. He had found for his venture a typical English country house (think Cotswolds and a small prep school, and you will have the measure of the building) 8 miles south east of Oxford. Since that opening in 1984 few restaurants in England have received so many awards and accolades.
I turned into the first gateway and parked in a large car park. This was a mistake. If you are travelling in a carriage of some elegance, be sure to find the second gateway, which leads to the front door. When I encountered the charming manager, Philip Newman-Hall, I asked whether I should move my motor into this prominent position. "We like to keep this space for cars which add to the elegance of the building," he replied. I promised to give him a £5 note if my old dear proved a disappointment. You will not be surprised to learn that the note remained in my wallet.
Inside, I immediately spotted a welcome face in the entrance hall. King Charles I is one of my heroes. Good, then, to see the face of the Royal Martyr – in a decent oil painting – looking at me from the wall. Otherwise the decorative style is fairly predictable for a luxury hotel in the countryside: no horses will be frightened here, unless they have an aversion to the divine tones of Ella Fitzgerald on the sound system. In one of the sitting rooms, on a comfortable sofa surrounded by plump cushions, I contemplated the gastronomic options. The 6 course Menu Gourmand was £89; the 3 course Menu du Jour £45. First courses and main courses on the carte were mostly in the £26-£36 range. A little section at the end of the menu card tempted me: 'Les Spécialités du Manoir'. (Watercress salad with fried foie gras, apples and black pudding (£28), roasted turbot with a red wine jus (£32) and pistachio soufflé with bitter cocoa sorbet.)
Yet in the end it was the Menu du Jour which won our allegiance. A salad full of chunks of pink, tender pigeon breast combined wonderfully with the texture of Puy lentils and was lit up by the tiny addition of a red wine jus. Then a grilled fillet of brill, a wonderfully fresh and delicate piece of fish, perfectly balanced by a lemon butter sauce. The cheese course (an additional £11) offered a good number of French cheeses in excellent condition, including a particularly fine Roquefort. And the melting chocolate tart with white coffee ice cream was as good a pudding as I have eaten for some considerable time. On the evidence of this meal, I would judge that nothing leaves Le Manoir's kitchen which is not finely conceived, precisely executed and prettily presented. For which not only Monsieur Blanc, but also his Chef de Cuisine (Gary Jones) and his Chef Patissier (Benoit Blin) deserve to be congratulated.
Wine at Le Manoir, as you would expect, is largely French and can be expensive. There are first growth clarets aplenty from the great vintages. 1961 Haut Brion is £1,600, 1982 Margaux is £1,060 and 1982 Mouton Rothschild is £1,560. But there is also a white Bergerac for £20 and a red Corbières for £19. Meanwhile, if you are a fan of the best of the New World, California offers 1997 Opus One at £269 and Australia 1992 Grange at £760. From the large number of half bottles (my driving restricted me to mere tastes), we tried a minerally Meursault (Les Luchets, Guy Roulot, 1998 - £42) and a smooth, medium-bodied Côte de Nuits (Clos des Lambrays, Domaine des Lambrays, 1997 - £55).
The dining room is in the form of a large conservatory, with round tables, a wooden floor, beige tablecloths, spotlights on wires, waitresses in grey waistcoats and good glassware by Villeroy & Boch. Through the windows can be seen some of the lovely gardens which Monsieur Blanc has caused to be created around Le Manoir. They made a fine setting for a postprandial stroll with my old tutor, before I returned him to his Hall.
A most enjoyable luncheon outing, then – made possible by the University of Oxford, the Society of Jesus, the Rolls-Royce Motor Company and Le Manoir aux Quart' Saisons. As fine a quartet as you will find.
---
ADDRESSES
LE MANOIR AUX QUAT' SAISONS
Church Road, Great Milton, Oxford OX44 7PD, England.
Telephone +44 (0)1844 278881
Fax +44 (0)1844 278847
Email: lemanoir@blanc.co.uk
www.manoir.com
Double rooms from £260