ITALY
MILAN
RESTAURANT LE NOIR, THE GRAY HOTEL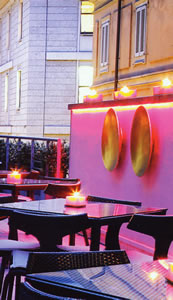 I like the style and elegance of Milan. It is one of the few cities in Europe in which I can hope to see a gentleman attired in a way I might admire. It is famous, of course, for its fashion, and that fashion is for men as well as for women. The idiocies of some modern designers irritate one, of course – as perhaps is the intention. But when I pause for a coffee at a café on one of the broad, clean streets, I can at least be sure that many of those passing will have made a conscious effort to dress smartly. And even if such chaps usually know not the joys of Savile Row and Jermyn Street, they can still manage a 'sharp' swagger towards the Duomo or the Galleria. And that is entirely appropriate, for the impressive gothic Cathedral and the massive 19th century cruciform shopping arcade (known as 'Milan's drawing room' and dedicated to King Victor Emmanuel II) are the twin pillars on which the city's life rests.
They are next to each other, and around them and through them swirl the well-attired Milanese as they go about their business, spiritual and commercial. It was here, at Milan's epicentre, that I decided to have dinner.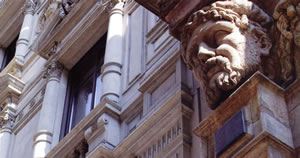 In the via San Raffaele, I found the Gray Hotel. Opened in 2003, it is between the northern side of the Cathedral and the eastern entrance to the Galleria. It is also, of course, very close to La Scala, and thus handy for those of you who feel peckish after a vigorous evening with the warbling ones. Despite its youth, the hotel – as you will gather from the photograph – has the external appearance of a grand mansion of yesteryear. Inside, however, the designer Guido Ciompi has created a colourful tribute to Modernism – except, of course, in the restaurant, Le Noir.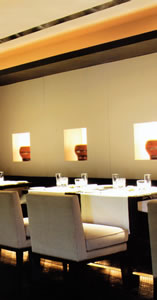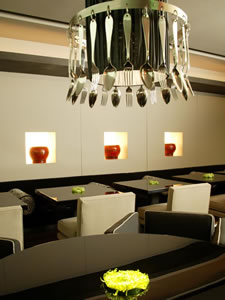 Before going up to The Black, I paused at the jolly bar on the ground floor. Here I was impressed by the enthusiasm and good humour of the barman. I took a note of his name, for he certainly deserves a mention. It is Fulvio. He it was who showed me around the top floor terrace (pictured), but spots of rain began to fall, so I hurried back inside to explore The Black. Le Noir lives up to its appellation, with a shiny black parquet floor, black tables and waiters in black. But this small, intimate room on the first floor of the hotel is still quite light, with spotlights, white chairs and white napery. Glassware is by Bormioli. Above my round table was a lampshade surrounded by hanging knives and forks (pictured).
Both the chef, Paolo Marinoni, and the maitre d', Mirko Cailia, are from Milan. They looked after me well. Chef Marinoni's menu is short and to the point. From it I chose four courses (for which you should expect to pay around 90€). I began with zucchini flowers stuffed with ricotta cheese and served with little vegetables and sweet tomato coulis. I liked the pretty colours of this delicate confection. The pasta was al dente, and came with fennel ragù, pine nuts, raisins and anchovies. My meat was veal, with an effective brandy sauce, peach slices and green beans. I ended with an enjoyable passion fruit semi-freddo.
There are just 61 bottles on the wine list, but they include some grand names, like these super-Tuscans: Solaia (1991 - 400€), Ornellaia (1995 - 320€), Sassicaia (2000 - 360€) and Tignanello (2008 - 120€). Prices run from 45€ for a verdicchio (Mirum) to 800€ for Cristal pink champagne and 750€ for a 1995 Borolo (Monfortino). Mr Cailia recommended a red from Campania, made from the aglianico grape – a 2005 Taurasi (Torricino - 50€).
As I walked out into the street after dinner, it was good to be immersed at once in the atmosphere which swirls around the cathedral square and the Galleria – in the middle of that stylish and elegant city, Milan.
---
ADDRESSES
RESTAUANT LE NOIR
The Gray Hotel, Via San Raffaele 6, 20121 Milan, Italy.
Telephone +39 02 720 895
Fax +39 02 866 526
Email: info.thegray@sinahotels.com
www.sinahotels.com