FRANCE
CANNES
RESTAURANT LE PARK 45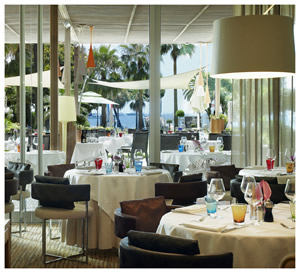 There are many things which please me about the Croisette in Cannes. It is a boulevard along which, of course, many film stars have made their way, hoping to receive that coveted accolade of the cinema world, Le Palme d'Or. And I am as star-struck as the next fellow. Then there is the Mediterranean, which laps gently along the beach. And the latter is frequently populated by large numbers of the Beautiful People, whose presence adds to the aesthetically uplifting aspect of this fashionable resort. The stucco of the more stately of the grand hotels is always pristine white, and that, too, lifts the spirits of this ancient promenader. But now there is another cause for pleasure: the restaurant at the Grand Hotel, Le Park 45.
Let me concede at once that the building of the Grand Hotel is not likely to attract your attention. Unless you are resolutely committed to the cause of modern architecture, this large edifice, set back some distance from the pavement, will not have you cooing with delight. But walk over the pathway between the lawns and you will arrive at the hotel entrance and then, on your right, behind sheets of plate glass, will be one of the best dining rooms in Cannes. I did just that, and was met by a charming young lady who took me back outside, to the restaurant terrace and to a table next to the garden. It was a warm evening and it felt entirely right to be outside, looking through palm trees at the distant sea.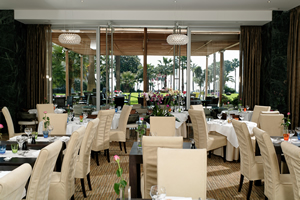 The surroundings were now comfortable and sophisticated. The napery was white, the glassware (by C & S) was good and the waiters, dressed in black, knew their business. Indeed, I should single out one of their number, Monsieur Florian from Geneva, for particular praise, for he worked exceptionally hard throughout the evening to ensure that the service I received was good.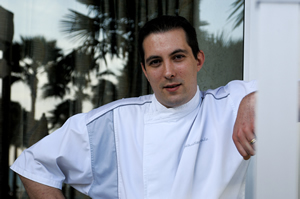 But the star here is the young chef. Sébastien Broda is 30, and already has a Michelin star. He likes to call his food "market-driven Mediterranean cuisine", and that is precisely what it is. He has never left the region; instead, he has stayed to have jobs in many of its best restaurants. In their kitchens, he is happy to report, he learnt "rigour in my work and how to select good produce". That learning is now being put to good effect.
He offers three set meals of three, four and five courses at 45€, 65€ and 90€. I chose four courses from the carte (for 110€). My first dish was simple, but beautifully realized. On an oblong white plate came a substantial piece of duck foie gras, with ginger marmalade and toast. The luscious, creamy richness of the liver was balanced effectively by the slight asperity of the marmalade and the contrasting texture of the toast. Then, being next to the sea, I thought I should have some fish. It was delicate, lightly cooked sea bass – intelligently served with pistachio nuts, preserved lemon, chard and artichoke. This was very good indeed. My meat was duck breast – not seared, as one normally expects, but cooked on a low heat. It was still attractively pink, and was accompanied by mashed pumpkin, chanterelles, green shallots, coffee brioche and Sichuan pepper juice. I liked the resulting combinations of flavours, which managed to be both intriguing and satisfying. This fine meal ended on a high note, with an inventive and effective pudding: red Muscat grapes served on a creamy biscuit base and as a granité.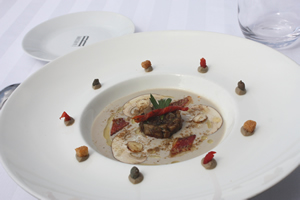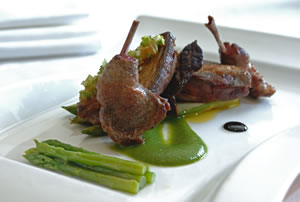 The wine list is, of course, overwhelmingly French. It has 44 half-bottles. Prices start at 25€ for a Muscat from the Loire and end at 2,600€ for the 2003 Pétrus. Good clarets abound, with 1981 Margaux at 700€, 1985 Cheval Blanc at 675€, 1995 Haut Brion at 630€ and 1999 Latour at 700€. I noticed also Krug Grande Cuvée (263€), 1997 Yquem (590€) and 1996 Montrachet (Bouchard père et fils - 545€). From my own drinking, I should commend to you a full-bodied cherry-laden Crozes-Hermitage (E.Darnaud), which was an excellent partner for the duck at just 41€.
I am glad I have found Le Park 45. It gives me yet another reason to return to, and enjoy, Cannes and the Croisette.
---
ADDRESSES
RESTAURANT LE PARK 45
The Grand Hotel, 45 boulevard de la Croisette, 06401 Cannes, France.
Telephone +33 (0)4 93 38 15 45
Fax +33 (0)4 93 68 97 45
Email: info@grand-hotel-cannes.com
www.grand-hotel-cannes.com
Open for lunch and dinner
Closed (for lunch only): early July – late August
Set meals from 45€