FRANCE
PARIS
RESTAURANT LES AMBASSADEURS
***Following the renovation of the hotel, sadly, this restaurant no longer exists.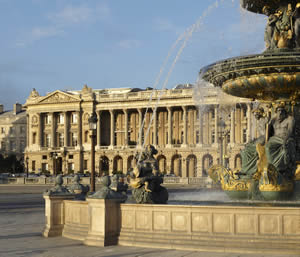 In the former ballroom of an Eighteenth Century palace in the heart of Paris, I ate foie gras and truffles. All around me was Louis XV décor by Jacques-angel Gabriel – a confection of frescoes, marble marquetry and crystal chandeliers so rich and yet so harmonious that my appetite was stimulated, not sated. And, as if all this were not enough to make my cup floweth over, I was being looked after by a brilliant young chef with the culinary talent of Auguste Escoffier and the looks of Tom Cruise. Truly, I could only have been in one place: the Restaurant Les Ambasadeurs at the famous Hôtel Crillon.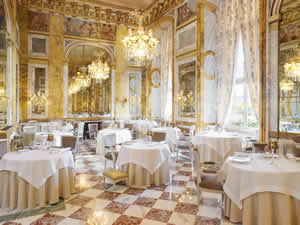 I have eaten in this gorgeous dining room several times over the decades. During that period its kitchens have been manned by some of the most notable and distinguished of France's chefs. Yet I venture to say that I have never had a better meal here than that into which I tucked on this occasion. Indeed, I will go further: this was the best meal I have ever eaten here. For this I pay tribute to Chef Christopher Hache (pictured), who took command in April, 2010. Mr Hache is a Parisian and the son of a chef. He must have learned some profound lessons in his father's kitchen (and during his later experience at Lucas Carton and at Le Bristol)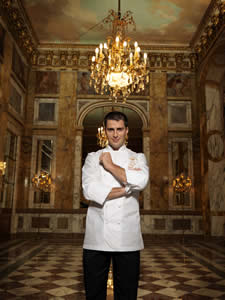 , for he now cooks with an assurance and a skill which marks him out as a master of his profession. The dishes he sent to my table were marked by such intelligence and such refinement of palate that I have no doubt whatever that Mr Hache must already be regarded as a star of La Cuisine Française.
Dear reader, allow me to take you through my meal. This will be a treat for me, for it will permit me to relive some moments of intense pleasure. I began with a substantial piece of organic salmon. It had been braised slowly and was served cold, with parsnips (some poached and some in the form of crisps) and zabaglione cream with spices. The word 'spices' always makes me recoil, but I need not have worried. This dish was a triumph of subtlety and delicate combinations. As in a motet by Bach, each element was so exactly right and so perfectly deployed, that the whole achieved an almost divine harmony. This might well have been the finest salmon dish I have ever eaten.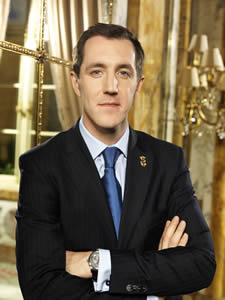 I sat back at my corner table (number 6) and allowed my plate to be cleared away by the waiters – smart in their dark suits and ties (although how much better they would have looked in tails!), and smoothly orchestrated by one of the supreme restaurant managers, the suave Pierre Jung (pictured). The Riedel glassware (Vinum range) sparkled in the light of the candle in the crystal candelabrum. My companion left the table for a moment, and the discarded napkin was immediately replaced. Then the foie gras was brought in its cooking pot, which had been sealed by a pastry rim, and served by the table. Then came a moment of astonishment.
The foie gras (pictured) was even better than the salmon.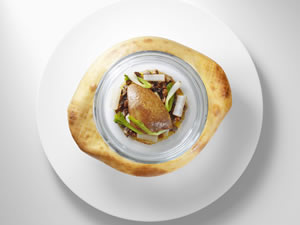 For a moment I was quite overcome. Its description, "Pot-roasted duck liver served with wild mushrooms", had not prepared me for the delicate brilliance of what entered my mouth. This was a piece of liver of handsome size and of the very highest quality, which had been removed from the pot and sliced and arranged with mushrooms from the same pot. Happy I was at that moment to allow such exquisite lusciousness to caress my taste buds. There was near perfection in the precision with which this foie gras had been cooked.
It is inevitable that, after reaching the peak of gastronomy's Everest, one has to come down. But I did not descend far, for next was the chicken in half-mourning. Mr Hache likes to pay tribute to the tradition of French cuisine, and I admire him for doing so. Traditionally, a chicken cooked 'demi-deuil' would be poached, with black truffles under the skin (hence the name) and served with a white sauce. Mr Hache's version is to roast a Jaune des Landes hen, and serve its breast with 'risetto' – minced pasta – and black truffles. I can report that it was utterly delicious. I concluded with another, rather amusing, translation of a classic dish – île flottante (pictured), with the floating island in a gazpacho of pineapple, mango and passion fruit. (These four courses were 202 euros.)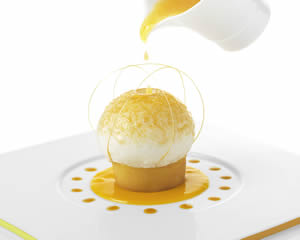 The one thousand offerings on the wine list – overseen by Chef Sommelier David Biraud – include many of the greatest French wines from the greatest vintages. You will find 1900 Latour (12,000€), 1928 Cheval Blanc (5,260€), 1949 Margaux (3,310 ), 1961 Mouton Rothschild (5,000€), 1961 Haut Brion (5,000€) and 1961 Romanée-Conti (10,000€). But those with shallower pockets need not fear, for prices start at just 40€ (for a white from the Loire). For my own drinking, I relied upon the expertise of the Assistant Sommelier, the wonderfully named Antoine Pétrus. His recommendations were both from the Rhone, and both were excellent. The white Crozes Hemitage (Christophe, Domaine des Remizières, 2009 - 75€) was possessed of a lovely smokiness, which made it a superb partner for the foie gras. And the Cornas (Brise Cailloux, Domaine du Coulet, Mattieu Barret, 2006 - 120€), once decanted, yielded a nose of ripe damsons and a steely structure in the mouth.
It is my belief that everyone should aspire to eat in an Eighteenth Century palace. But when the food, the service and the surroundings are as heavenly as those to be found at the Restaurant Les Ambassadeurs, such dining becomes a spiritual duty.
---