Italy
POSITANO
LE SIRENUSE
PLEASE NOTE: There have been significant changes to this establishment since this article was written.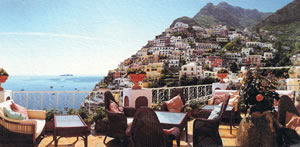 Hercules had to be tied to the mast of his ship to stop him from succumbing to their calls. His crew had to have their ears deliberately blocked, so that they could not hear their tempting song. Had they given way, all would have been lost and their boat would have been wrecked. That had always been the end of those sailors who could not resist the strange sound of The Sirens. But nowadays we can submit without fear of shipwreck. Princess Margaret gave way, and so did John Steinbeck and Danny de Vito – and so have I. And what we all received was submersion, not in the swirling waters but in a haven of charm, elegance and luxury. That is what all the guests receive when they arrive at Le Sirenuse (The Sirens).
Actually, my arrival was a little less steady than I had hoped. The crossing from Capri had been choppy, to the extent that the faces of my fellow passengers had become alarmingly white. Indeed, as we sailed past the tiny islands which are called The Sirens, some of my companions had looked as though they might have flung themselves onto the rocks rather than endure another moment of the watery motion. Positano was eventually reached, but then I realized – as I began to climb the steps of this most vertiginous little port – that my sense of balance was not at its best. I would have welcomed a ride in the 18th century sedan chair, which I spotted in the entrance hall, when I finally came to the hotel.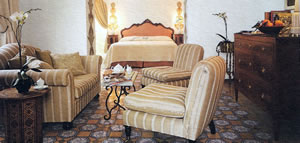 I flopped down on a pretty fauteuil and wondered whether the porters with my luggage would be long. Actually, of course, they had already arrived – being younger, fitter and more accustomed to scampering up through the steep, narrow streets than your correspondent. Still, perhaps I am more used to being surrounded by exquisite objets d'art. That is why I felt so at home, for the public rooms of Le Sirenuse are crammed with delicious items – here a polychrome Madonna, there a gilt reliquary. Even the reception desk is part of the notable collection, having once resided in a 17th century church vestry. One has the sense of being surrounded by the possessions of a grand family – which is entirely appropriate, for the original part of the building (now over 200 years old) was the summer home of the Marchesi Sersale, and the establishment is still run by his descendants. I had the pleasure of meeting one of them – Antonio Sersale, the General Manager – shortly after my arrival.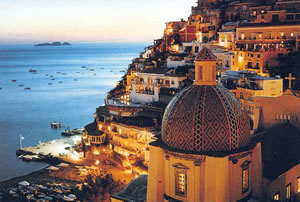 The hotel has 63 rooms and I was in number 77, on the fourth floor. (Yes, I know there seem to be numerical oddities here, but they have charm.)This was a 'Sea View' and therefore 693-979 euros a night, bed and breakfast for two, according to season. I entered into a modest hall with fitted wardrobes (wherein was the useful private safe). To the right, up two steps, were the sleeping quarters. I estimated this bedroom at about 18 feet by 9 feet. It was air-conditioned, of course, and its walls, ceiling, floor and curtains were all pristine white – with the occasional dash of blue and yellow in the hand-made floor tiles. On its walls were French engravings of Classical scenes. Sliding glass doors led to my terrace, with its view (pictured) of the sea and over the tiled dome of the church.
My television contained a player for dvds and cds. I find this facility increasingly important and now carry a few cds on my travels. Whether I am dressing for dinner or relaxing after breakfast, to be able to fill my ears with, say, the Allegro from Mozart's 39th symphony is a real joy. Such music is perhaps best of all when one is bathing. Here the tub was large and comfortable. Indeed, the whole bathroom was conveniently arranged, with two wash basins, a loo, a bidet, 14 lights for illumination and the hotel's very own Eau d'Italie toiletries. These last have a lovely lemony aroma – for the Amalfi coast is famous for its lemons.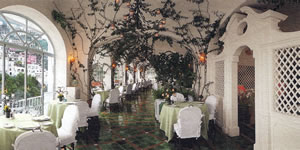 As I went down to breakfast on my first morning I noticed a little conceit which told of the attention to detail which characterizes Le Sirenuse. Each day the mat in the lift is changed, so that it has upon it, in Italian, the day of the week. I do like to see such things: they make me feel that those in charge really care about the guests. And I had that feeling at breakfast, too. The courteous and helpful Giuseppe showed me to the corner table (number 9) and opened the French window next to it, so that I could start the day with a cooling breeze, the sound of the waves stroking the promenade far below and the outline of The Sirens far away in the sunshine. And there was another blessing, as Giuseppe pointed out: the serenading of Caruso, the blackbird who – for the past ten years – has perched in the mornings upon the church cupola and imitated his famous namesake.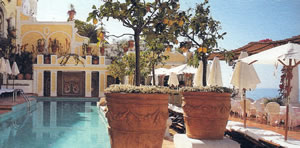 All this, and good food too, for everything I took from the breakfast buffet during my stay was of the highest quality: bacon, scrambled eggs, prosciutto, melon, fruit salad, poached pears, apple tart, crusty bread and croissants. My coffee arrived in silver pots – until, as tradition demands, my concluding cappuccino arrived hot and frothy in its cup. I really did enjoy these mornings.
In the evening the restaurant – named La Sponda – seemed a completely different place. Gone was the sunshine, naturally, and in its place was a vast array of flickering candles. How many candles? Would you believe 420? I hope you will, because there they all were, ensuring that the atmosphere had about it something of the magical. Now the charming Maitre d', Vincenzo Galani, was in charge – smart in black tie. His waiters wore white jackets with epaulettes. The tablecloths were green. Upon them stood fine Riedel glassware. The musicians played the theme from 'The Third Man' on the mandolin and guitar. I did not feel like a spy, but I did think this was somewhere special.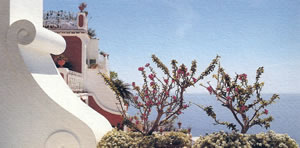 Although chefs Vincenzo Galani and Alberto Citterio still man the stoves, Alfonso Iaccarino – of the famous two-star restaurant Don Alfonso 1890 in nearby Sant'Agata – has recently redesigned the dinner menu. This has certainly transformed the look of the food, and the presentation is now both pretty and sophisticated. A six-course set meal is offered for 90 euros. My four courses from the carte were 110 euros. Scallops came with artichokes and a delicious sauce made with cream cheese. Artichoke ravioli was softened and flattered by slivers of raw scampi. Baby lamb was accompanied by my favourite vegetable, fresh peas. And a baked banana found a happy partner in vanilla ice cream.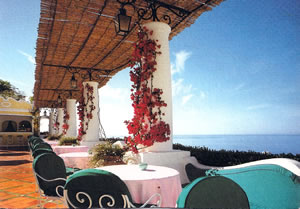 Grapes are given in the wine list, which has about 350 offerings. Most are Italian, although there are the usual champagnes ( Krug Grande Cuvée is 420ε) and some interesting dessert wines from France (like 2000 Yquem - 420ε, half). Prices range from 35ε for a chardonnay from Puglia to 760ε for the 1988 Biondi Santi Riserva Brunello di Montalcino. I quaffed an austere local white, with hints of honey (Greco di Tufo, Mastroberardino, 2007 - 26ε, half) and the 2000 vintage of one of my favourite Tuscan reds, Luce (130ε), with robust tannins and a fierce density of ripe damsons and blackcurrants.
Thus did I succumb to the call of The Sirens. I recommend that you do likewise. There is no danger – only the certainty of comfort, sophistication and exemplary service at Le Sirenuse. Hercules would surely approve.
---
ADDRESSES
LE SIRENUSE
Via Colombo 30, Positano 84017, Italy.
Telephone +39 089 875 066
Fax +39 089 811 798
Email: info@sirenuse.it
www.sirenuse.it
Double rooms from 385-550 euros, including breakfast, according to season