SWITZERLAND
GENEVA
À L'ÉTAGE PARC DES EAUX-VIVES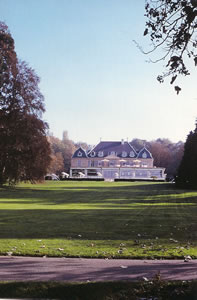 Allow me to give you a brief history of Le Parc Des Eaux-Vives. Built in the 18th century, the mansion and its grounds are one of the gems of Geneva. It is the sort of place to which those with vast quantities of both money and taste aspire. In its proportions and in its details the house is a delight to the eye, and reminds us (if we were ever tempted to forget) that the 18th century possessed an aesthetic sensibility which has never been surpassed. And the gardens, which slope gently down towards the Lake, provide a green and carefully ordered setting redolent of leisure and luxury. The property became a restaurant around 1900 and was acquired by the City of Geneva in 1931. Major restoration was required after a serious fire in 1999, and it did not re-open until 2003.
The restaurant here was once among the world's gastronomic elite, and had two Michelin stars. Now, called À l'étage (upstairs), it is altogether simpler and more straightforward in its approach to cuisine. Nevertheless, this summer restaurant remains a place for a good, enjoyable dinner. And that is precisely what I got.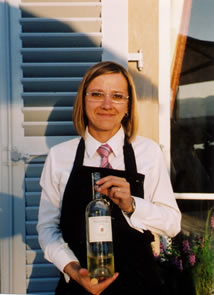 The dining is done, as the name asserts, upstairs, on the first floor, to which I ascended in the lift. (There are several grand guests rooms on the second floor, for those who wish to stay overnight.) The weather being clement, I decided to join my fellow diners on the terrace (pictured). Thus I found myself in a most delightful spot, looking across green lawns at the waters and the distant buildings of Geneva. The sun gradually sank behind the far-off hills, as I settled myself into my armchair and admired the good glassware on the table (by Stölzle, a name new to me). Throughout the evening, I was looked after with considerable charm and efficiency by Madame Sophie Gaud (pictured).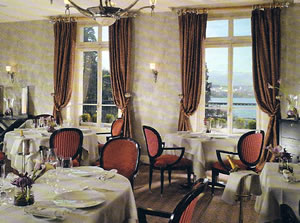 Chef Julien Schillaci offers an attractive menu, from which I could happily have chosen any of the dishes. His food demonstrates skilled technique and intelligent combinations of flavours. The warmth of the sun prompted me to choose a cold dish for my first course. I was therefore pleased with the bright, fresh flavours of the grilled and pressed vegetables. These peppers and courgettes, with lamb's lettuce sprouts, basil sorbet and sardines, made a most refreshing start to my meal.
I can seldom resist lobster, and I did not do so here. This particular crustacean was from Brittany. Its tail was served as a medallion and its pincer meat was crisp: both were delicious. The accompanying rocket salad with peppermint and cheese and the separate dish with a granité of Ambroine (a local red wine) provided effective foils to the lobster's sweetness. The lamb chops were more local, glazed with rosemary honey and grilled. This was a decent portion of tender, flavoursome meat and was served well by the side dish of gratinated potatoes.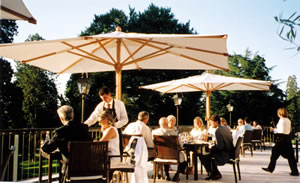 Then came the sweet trolley. This is not a vehicle of which I am overly fond, but this particular example carried puddings of exceptional quality. From the multitude of joys it provided, I will point you to the two highlights: some truly exceptional double-cream ice cream and the best chocolate mousse I have eaten for a long time. (These four courses were 144frs.)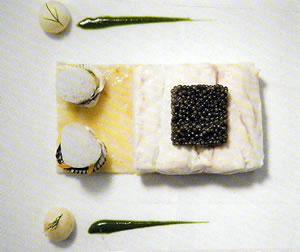 The wine list is entirely Swiss. Its prices range from 45 francs for a Genevan chasselas to 200 francs for a 2007 pinot noir (Pellegrin). My knowledge of Swiss wine is limited, so I relied upon Madame Gaud's advice. She did not let me down. The Genevan pinot blanc was floral, light and elegant (Domaine de la Printanière, L.Dugerdil, 2009 – 45frs), and the syrah from the Valais region was splendid – peppery, highly perfumed, full of ripe black fruit and with pleasing hints of caramel (Chamoson, Domaine Simon Maye, 2006 – 110frs).
À l'étage provides good food and wine and charming service in a wonderful setting. If you are visiting Geneva, you should try it.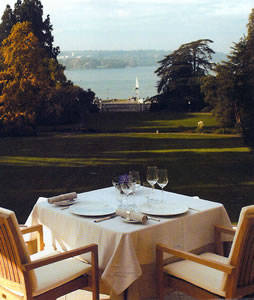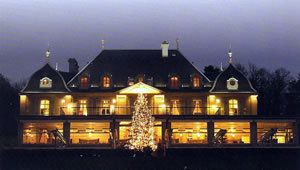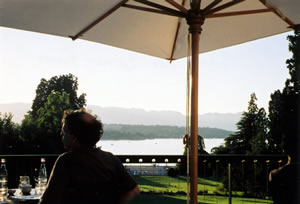 ---