FRANCE
LILLE
RESTAURANT À L'HUÎTRIÈRE & BRASSERIE ANDRÉ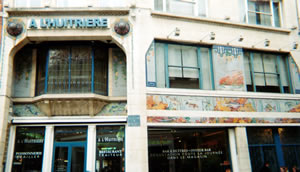 It is a strange paradox that the finest fish restaurant I have ever encountered is nowhere near the sea. Indeed, I think that the city of Lille is about 70 miles inland from the English Channel. And yet it was in this proud city in Northern France that I ate like a king on the bounty of the ocean. To follow my example you will need to search out 'the oyster shop' in Lille. Then you will eat some of the best fish known to man. Not at home, after you have slaved over a hot stove with your purchases, but in the back of the shop. For the rooms behind the emporium house one of the finest fish restaurants, not just in Northern France, but in the whole of Europe.
À L'Huîtrière has had one Michelin star for decades. (It opened in 1907.) But, on the evidence of my meal, it clearly deserves at least one more. Everything about this place shouts quality. Its surroundings, the pretty streets of the old town, are delightful. Its front building, a 1920s confection of Art Deco and ceramic tiles decorated with fishy themes, is a delight. And the entrance to the dining rooms – a small door with a corridor beyond, in the left hand corner of the shop – stirs up all the excitement and anticipation of the opening to Ali Baba's cave. For, in very truth, there are treasures beyond.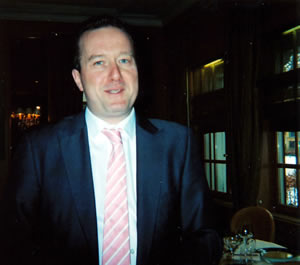 I stepped inside. Immediately, I had the sense of gastronomy in the grand French tradition. Riedel and E & R glassware, Limoges porcelain and Christofle cutlery adorned the tablecloths of yellow. Waiters in black tie moved purposefully around the light rooms. I settled into an elegant fauteuil, near panelled walls adorned with bright modern paintings – in a jolly, naive style which reminded me of the canvases of Beryl Cook – and reflected that Antoine Proye, the restaurateur, must be very proud indeed of his establishment. Certainly, his staff – under the redoubtable maitre d' Jean Marc Duthilleul – seemed proud to be here, and looked after me with that friendly aplomb which marks out those who know they are doing a good job well.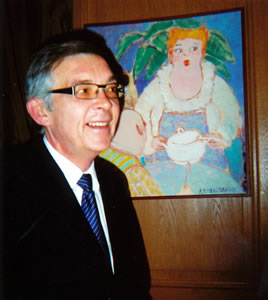 All was set fair for some really fine food. I caught sight of a plate of pink lamb as it was delivered to the next table. I was tempted. But no. I decided it would be the height of folly to play the carnivore in this Shrine to the Fish. So I was faithful to the call of the sea, and did not regret my fidelity. As I sipped a glass of pink champagne and tasted the amuse-gueule, I surveyed the options: oysters, crayfish, lobsters, eels, langoustines, cod, monkfish, John Dory, red mullet, sea bass… There was so much which was tempting on Chef Philippe Lor's menu. But, in the end, I settled for scallops and turbot.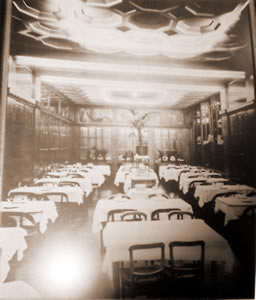 Sprinkled with shreds of black truffle, wrapped in green cabbage, and sitting in a butter sauce, these scallops were delightfully tender, delicious and sumptuous. In fact, they might well have been the finest scallops ever to enter my mouth. The freshness and hint of bitterness in the cabbage provided the ideal foil to the surrounding richness, and the combination of colours – green, white, yellow and black – was a treat for the eye. In my judgement, this was a three-star dish – and I cannot offer higher praise than that.
Surely, I thought, these scallops must be the high point of the meal. Yet I was wrong. Then came the turbot. This particular dish has been served here since 1928. And why, after all, should it be changed, when it is perfect? The description on the menu is straightforward: Tranche de gros turbot pochée. But the reality is a masterpiece which enhances the life of the diner. The large portion of fish is, of course, poached and is then brought to the table to have its bones expertly removed. It is then placed on the plate and served with mashed potatoes with herbs and a béchamel sauce in a sauce boat. Simplicity itself. But not since Filippo Brunelleschi convinced the authorities in Florence that he was the man to design the dome on the Cathedral by sitting down and drawing, freehand, a perfect circle, has simplicity been put to such good use. And do not think that I have descended into hyperbole. This dish, by turns delicate, luxurious and caressing, was spectacularly good. In itself it is a reason to make the pilgrimage to Lille.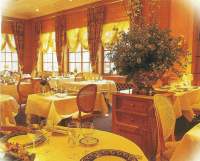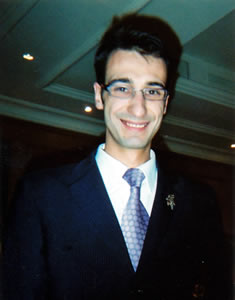 For my pudding, I could only select crèpes Suzette, another dish which is famously good at 'the oyster shop'. With pancakes, oranges, butter, sugar lumps, cognac, Grand Marnier and a flaming pan, Monsieur Duthilleul created by the table some of the best crêpes Suzette I have eaten. (And, believe me, I have eaten many, many crêpes Suzette.) Here was the epitome of pure, unalloyed self-indulgence. Each spoonful was a thrill and a joy. (I judged the 121 euros for these three marvellous courses a bargain.)
To accompany such delightful food, there must be delightful wine. And there is. Sommelier Nicolas Bocktaels presides over a list with no fewer than 920 offerings. Prices run from various bottles at 38€ to the 2005 Romanée-Conti at 3,600€. Other bottles to catch my eye were: 1995 Haut Brion (1,200€, magnum), 1998 Latour (1,000€), 2000 Pétrus (2,500€), 2006 Yquem (1,000€) and 2005 DRC Montrachet (2,950€). As you would expect at a fish restaurant, white burgundy is well represented, and Mr Bocktaels suggested to me a white Côte de Nuits, which proved creamy and vanilla-laden and delicious with the turbot (Morey St-Denis, En la rue de Vergy, Bruno Clair, 2008 - 86€).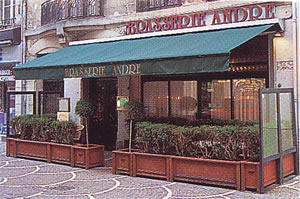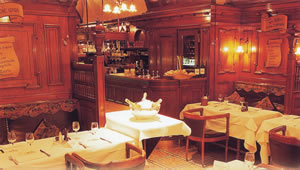 After reaching these mountain tops of haute cuisine, it seemed right the following day to have lunch at a jolly good brasserie. And – mirabile dictu – the owner of A l'Huitrière also has a brasserie in the centre of Lille. Brasserie André has waiters in white jackets, white napery and leather banquettes – all in a lovely room of dark panelling and stained glass. Since 1924 it has been dispensing good and hearty fare with stately courtesy. And that is exactly what I found, as my fine waiter, Rudi, brought to me Welsh rarebit with lots of good, runny cheese (lovely with a glass of rosé champagne), pleasingly subtle grilled sole and an uproarious pudding of raspberries over which Pommery champagne was poured in abundance. (These three courses were 59€.) Mr Proye can be proud of this eatery, too.
Indeed, pride was much in my mind as I left Lille. If I were a citizen of the city, I would certainly be very proud of its restaurants. And I would be especially proud of one of the world's great fish restaurants, 'the oyster shop' – À l'Huitrière.
---
ADDRESSES
À L'HUÎTRIÈRE
3 rue Chats Bossus, 59000 Lille, France.
Telephone +33 (0)3 20 55 43 41
Fax +33 (0)3 20 55 23 10
Email: contact@huitriere.fr
www.huitriere.fr
Closed: Sunday evening, late July – late August
Set meal (7 courses) 116 euros
BRASSERIE ANDRÉ
71 rue de Béthune, 59000 Lille, France.
Telephone +33 (0)3 20 54 75 51
Fax +33 (0)3 20 15 13 99
Open every day 11.30 a.m. – 11.00 p.m.