Switzerland
BERN
RISTORANTE LORENZINI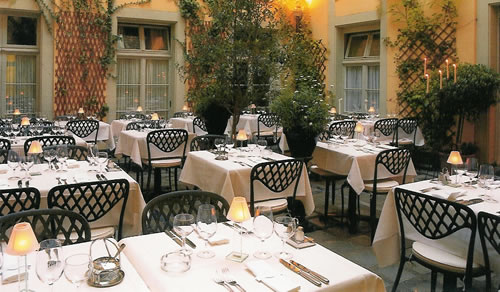 If you want to have a decent meal of Italian food and wine in Bern, I have just the place for you. It is within five minutes of the parliament building, the Bundeshaus, so – if you are in the Swiss capital on important state business – after your high level negotiations you can stroll along to the Theaterplatz and climb the stairs to the first floor in happy anticipation of a most pleasant evening. For you will have arrived at the Ristorante Lorenzini.
If the weather is clement, you will probably wish to sit outside in the pretty little area which is illustrated in my picture. The evening of my visit was chilly, so I trundled over to a corner table in the long, brightly-lit dining room. I liked its atmosphere – very much that of a successful brasserie. My feet rested on a floor of dark wood, the tablecloths were of white paper and the waiters sported white aprons. Service, overseen by Bruno Masciulli, was efficient and very friendly. I sat back on my black wooden chair and expected the food to be straightforward, tasty and thoroughly enjoyable.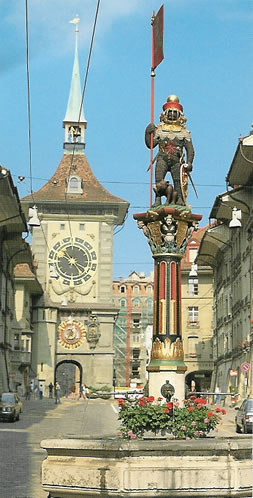 And my expectation was entirely fulfilled. Bresaola with rocket, parmesan, olive oil and lemon was good in all its parts. Then came the highlight of the meal: cappelletti pasta (a cousin of ravioli) with butter and cheese – so simple, but so well done. My meat was lamb – six chops full of flavour, with broccoli and roast potatoes. This was a generous portion. I finished with a really good version of tiramisu. (83 Swiss francs for these four courses.)
Since Italian winemakers are now doing such brilliant work, I wanted to go to Italy for my drinking. (I am happy to report that the waiters at Lorenzini produce good Spiegelau glasses for the better wines.). Not that those of you whose loyalties lie elsewhere will be disappointed. The list whizzes round the world to some purpose, and you can stop off in California for 1998 Opus One (350 francs), or in Bordeaux for 1996 Chateau Lascombes (120 francs), or in Spain for 1997 Vega Sicilia Valbuena (170 francs).
But the strength of the cellar, of course, is Italy – with 2000 Tignanello at 165 francs and 1999 Sassicaia at 250 francs. My white from Piedmont was well structured and was possessed of discreet fruit (Roero Arneis, Terre Dei Rotari, La Brenta d'Oro, 2004 – 44 francs). And my red was a magnificent bottle. I have admired Luce before. The bottle is one of the most elegant currently produced. Its contents are wonderful. This 2000 vintage was stern, tannic, massive, bursting with ripe black fruit, with a sense of new mown grass in the nose and hints of chocolate in the mouth. I relished this wine. It yielded a level of enjoyment which I found quite other-worldly. (Luce, Marchese di Frescobaldi & Robert Mondavi, Montalcino, 2000 – 159 francs.)
After dinner I wandered the mediaeval streets of Bern in a state of calm contentment. Good, simple Italian food and brilliant Italian wine has that sort of effect on me. If you go to the Ristorante Lorenzini, it might have the same sort of effect on you.
---