ITALY
SORRENTO (SANT' AGNELLO DI SORRENTO)
MAJESTIC PALACE HOTEL & RISTORANTE DON GEPPI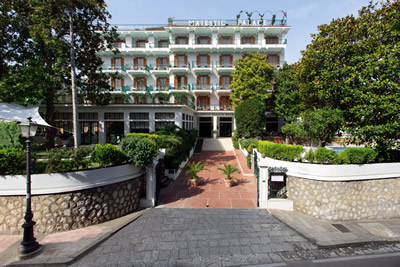 A star is born. Although I am the first to acknowledge the pleasure to be had from visiting the established gastronomic shrines, there is a special intensity to the joy of experiencing a new establishment which is heading for greatness. I was going to say 'discovering' a new establishment, but that would be inaccurate in this case. For the Michelin inspectors have already, and with commendable speed, awarded one of their coveted rosettes to the Ristorante Don Geppi. But before I speak further of this wonderful dining room, allow me to comment upon the hotel in which it is located.
Sant' Agnello is immediately outside Sorrento, on the way to Naples. Lots of motor cars pass straight through, but travellers in a hurry miss a treat, for Sant'Agnello possesses a remarkable viewing platform from which it is possible to look not only down at the sea, but also back along the coastline to the cliff-top hotels of its larger neighbour. A short walk from this remarkable facility, and nestling in its own verdant gardens, is the four-star Majestic Palace Hotel.
I arrived after a short but rather tiring journey – the local council's road 'improvements' in Sorrento having added considerably to the area's traffic congestion. But my spirits picked up immediately, for I was greeted by such smiling and obliging members of staff. Indeed, throughout my stay, nothing was too much trouble for these courteous ladies and gentlemen. (If only more hotels could be encouraged to embrace the living 'Yes', rather than the dead 'No'.) Moreover, the entire place was so pristine, so elegant and so obviously well cared-for. It is family owned and run, and that shows.
Soon I was on the top (5th) floor, in room number 502, the Vesuvio Suite. This was decorated in a modern style, with flooring of grey slate, and walls of brilliant white. In the sitting room was a glass desk, a Perspex chair, a crystal chandelier and a sofa in red velvet. A dressing area, with hanging space and a safe – between the sitting room and the bedroom – gave onto the bathroom, with a walk-in shower, one wash basin, a loo and a bidet. The toiletries were by La Bottega. Through the two French windows was my own large terrace. This was covered with artificial turf, and boasted potted palms, as well as chairs, a table and loungers. From here I had an impressive panorama, taking in the rooftops of the town, the mountains and, of course, the distant sea.
From this pleasant billet I went down to the ground floor for dinner at the Ristorante Don Geppi, which seats just twelve guests – a Dining Dozen much blessed. I was delighted by this beautiful white room. Through its window I could see the orange trees in the garden. From its high ceiling twinkled a chandelier of Murano crystal. On its large tables was crisp napery of finest white damask. The sparkling glassware was by Zafferano. The stylish white fauteuils were supportive for my back. Ancient oil paintings of flowers gleamed on the walls. The waiting staff, in black, knew when to replace my napkin. All was entirely proper, yet the mood was not solemn. How could it be, with the jolly melodies emanating from the ancient wind-up gramophone? (It soon became clear that the machine had a modern inside.)
My picture shows your correspondent with the three guiding persons behind this remarkable venture – Giulia Rossano (the owner and an architect, whose work is evident throughout the hotel), Lucio d'Orsi (the maitre d', sommelier and Giulia's husband) and Chef Mario Affinita.
Three set menus are offered, at 80€, 95€ and 120€. I had four courses from the carte (for which you should allow around 95€). These comprised one of the finest meals I have eaten in Italy. Before it began properly, the Chef's sense of humour was displayed in some terrific amuse-bouches. Nothing was what it appeared to be, and this included a 'tomato' which turned out to be a ball of delicious veal tartare.
Chef Affinita is an intelligent perfectionist with a penchant for hard work. His dishes are complex, but the complexity is always for a purpose. Subtlety, Balance and Harmony must be written on his heart. Each plate I had was thrilling in both conception and execution. I began with a 're-invented' Caprese salad, with mozzarella foam and tomato ice cream. I have had Caprese salads by the score, but never one as startlingly good as this one. In its refreshing lightness was a touch of genius. Then came lovely tortelli with pumpkin. But the highlight of my meal was the crunchy piglet, cooked spot-on, and served with apple chutney, a mango and sherry reduction and black garlic sauce. This combination must have been revealed to the Chef by the powers of Heaven. I concluded with the essence of creaminess – puffed pear with cottage cheese ice cream and a hint of coconut. Lovely.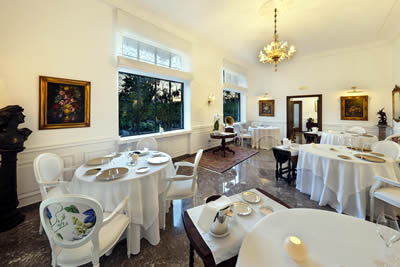 Lucio d'Orsi has constructed a substantial wine list which is full of interest. Prices are attractive, and run from 21€ for a Sicilian rosé to 500€ for the 2004 vintage of Yquem. It was good to see some German dry wines, and I spotted some familiar friends – like Krug Grande Cuvée (250€), 2013 Cervaro della Sala (60€), 2008 Sassicaia (350€) and 2010 Ornellaia (330€). But what intrigued me most was that so many of the offerings were entirely unknown to me – like the impressive, creamy, sparkling Franciacorta blanc de blanc (Cavalleri, 2012), super drinking for just 60€. This is a list from which I would be happy, guided by Mr d'Orsi, to drink any of his discoveries.
Breakfast on the morning after this wonderful gastronomic treat was in hotel's large main dining room. I know that Giulia and Lucio are considering whether to provide a separate breakfast for patrons of the Ristorante Don Geppi back in the smaller, grander dining room. I would urge them to do so. To be able to break the fast with comestibles of the same standard as those served the previous evening would have been a real pleasure.
At the moment the Ristorante Don Geppi has one Michelin star. On the evidence of my meal, the second star will arrive before too long. And when it does, I will be overjoyed to shout to the world: "I told you so!"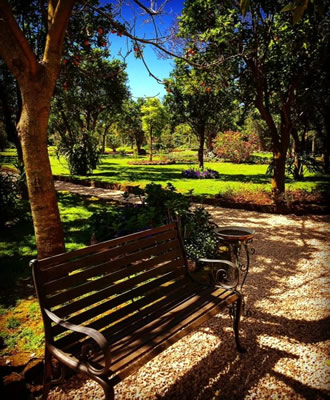 ---
ADDRESSES
MAJESTIC PALACE HOTEL & RISTORANTE DON GEPPI
40 corso Marion Crawford, 80065 Sant'Agnello di Sorrento, Italy.
Telephone +39 081 807 20 50
Email: concierge@majesticpalace.it
www.majesticpalace.it
Double rooms from 108€ a night, bed and breakfast
DON GEPPI
Open for dinner only
Closed: Tuesdays
Open April – October