ITALY
SORRENTO (SANT' AGNELLO DI SORRENTO)
MAJESTIC PALACE HOTEL & RISTORANTE DON GEPPI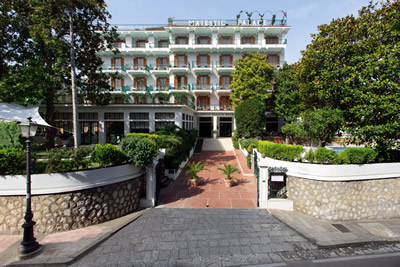 No gourmet (and no gourmand) should visit the Sorrento area without having dinner at the Ristorante Don Geppi. Still quite new, it already has one Michelin star, and the enthusiasm and ability of all those involved in this splendid enterprise will surely mean that its well-deserved accolades cannot but multiply over time. An evening here will gladden your heart and raise your spirits. But before I speak further of this wonderful dining room, allow me to comment upon the hotel in which it is located.
Sant' Agnello is immediately outside Sorrento, on the way to Naples. Lots of motor cars pass straight through, but travellers in a hurry miss a treat, for Sant'Agnello possesses a remarkable viewing platform from which it is possible to look not only down at the sea, but also back along the coastline to the cliff-top hotels of its larger neighbour. A short walk from this remarkable facility, and nestling in its own verdant gardens, is the four-star Majestic Palace Hotel.
I fear that the local council's "road improvements" have added considerably to the traffic congestion round about. But life will seem better as soon as you arrive at the Majestic Palace, for you will be greeted by such smiling and obliging members of staff. I found that, throughout my stay, nothing was too much trouble for these courteous ladies and gentlemen. (If only more hotels could be encouraged to embrace the positive and cast aside the negative. Was it not the great César Ritz who told his employees that they must never say 'No' to a guest?) Moreover, the entire place is so pristine, so elegant and so obviously well cared-for. It is family owned and family run, and that shows.
After my own arrival, I was soon on the top (5th) floor, in room number 502, the Vesuvio Suite. This was decorated in a modern style, with flooring of grey slate, and walls of brilliant white. In the sitting room was a glass desk, a Perspex chair, a crystal chandelier and a sofa in red velvet. A dressing area, with hanging space and a safe – between the sitting room and the bedroom – gave onto the bathroom, with a walk-in shower, one wash basin, a loo and a bidet. The toiletries were by La Bottega. Through the two French windows was my own large terrace. This was covered with artificial turf, and boasted potted palms, as well as chairs, a table and loungers. From here I had an impressive panorama, taking in the rooftops of the town, the mountains and, of course, the distant sea. Also on the top floor is The Dry Martini Bar, an elegant essay in white which allows patrons to enjoy cocktails al fesco.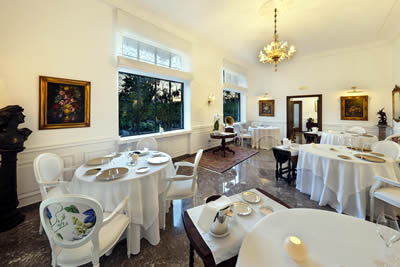 From my pleasant billet I went down to the ground floor for dinner at the Ristorante Don Geppi, which seats just twelve guests – a Dining Dozen much blessed. I was delighted by this beautiful, light room. Through its window I could see the orange trees in the garden. From its high ceiling twinkled a chandelier of Murano crystal. On its large tables was crisp napery of finest white damask. The sparkling glassware was by Zafferano. The stylish white fauteuils were supportive for my back. Ancient oil paintings of flowers gleamed on the walls. The waiting staff – like the charming Maria – in black, knew when to replace my napkin. All was entirely proper, yet the mood was not solemn. How could it be, with the jolly melodies emanating from the ancient wind-up gramophone? (It soon became clear that the machine had a modern inside.)
My picture shows your correspondent with the three guiding persons behind this impressive venture – Giulia Rossano (the owner and an architect, whose work is evident throughout the hotel), Lucio d'Orsi (the maitre d', sommelier and Giulia's husband) and Chef Mario Affinita.
Three set menus are offered, at 85€, 100€ and 130€. I had four courses from the carte (for which you should allow around 100€). I predict that any of these combinations will provide you with one of the finest meals you have eaten in Italy. Before my dinner began properly, the Chef's sense of humour was displayed in some terrific amuse-bouches. Nothing was what it appeared to be, and this included a remarkable faux-truffle.
The intelligence and perfectionism of Chef Affinita is repeatedly on show. His dishes are complex, but the complexity is always for a purpose. Subtlety, Balance and Harmony must be written on his heart. Each plate I had was thrilling in both conception and execution. I began with artichokes and beans, a confection which sounded simple but which included slow-cooked bacon, mashed potato and garlic. Captivating. Then came a truly superb risotto with Castellaccio cheese and rosemary – an essay in gorgeous creaminess. My main course was a piece of the very finest beef fillet, tender and luscious, with a crust of maca and other roots. I ended with a happy conceit – a sweet 'pizza Margerita'. Lovely.
Lucio d'Orsi has constructed a substantial wine list of 515 offerings. Most of them are Italian, but France is well represented, as is the New World. And it cheered my heart to see a decent showing from Germany (a country too often neglected in the best cellars). Prices are attractive, and run from 25€ for a Tuscan white vermentino to 500€ for the 2004 vintage of Yquem. I spotted some familiar friends – like Krug Grande Cuvée (310€), 2013 Cervaro della Sala (80€), and 2013 Tignanello (150€). But what pleased me most was that so many of the offerings were entirely unknown to me – like the complex Tuscan red which is a blend of 30 different grapes (Jassarte, Guado al Melo, 2008 – 75€). I liked, too, the full-bodied, creamy chardonnay from the Russian River Valley in California (De Loach, 2015 – 60€). Guided by Mr d'Orsi, you will drink well at the Majestic Palace.
Breakfast on the morning after this wonderful gastronomic treat was in hotel's large main dining room. A buffet is provided – with fresh fruit, cheese, boiled eggs and several hot dishes, and a menu offers options such as an omelette with smoked salmon (8€).
The Sorrentine Peninsula is rightly popular with those who love beautiful scenery. Now it has another attraction for those love good food and fine wine: the Ristorante Don Geppi in the Majestic Palace Hotel. Gourmets and gourmands should take note.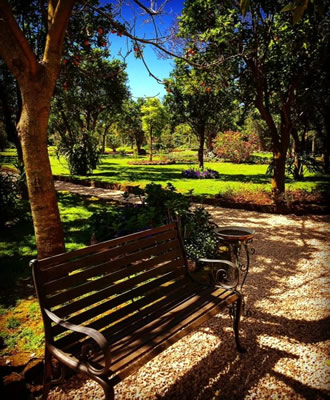 ---