UNITED KINGDOM
ENGLAND
WARWICKSHIRE
LEAMINGTON SPA
MALLORY COURT
(A Relais & Chateaux property )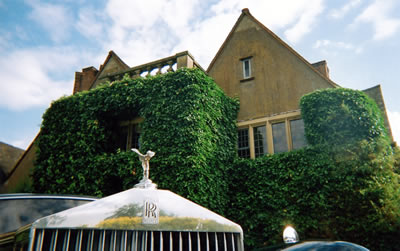 When I arrived at Mallory Court in the Royce, I was wearing my Jesus College, Cambridge tie – for a reason. When I went up to Cambridge in the late '60s I was billeted in what was called "Millionaires' Row". The name was a reference to the fact that the sets of rooms (yes, in those far-off times, each undergraduate had his own set) in the handsome 1920s building in Chapel Court were the most expensive in College. The architect was P. Morley Horder. And the great man was also the architect of Mallory Court. This charming and attractively under-stated property was built in the First World War for James Thomas Holt, a gentleman who derived his wealth from cotton. It remained a private home until 1976, when it became a 'restaurant with rooms'. Now, much extended in a sympathetic style, it is an hotel which is widely admired – not least by your correspondent.
If you wish to enjoy some Shakespeare in Stratford, the location of Mallory Court – very close to Leamington Spa – is ideal. But, on this occasion, I wanted simply to relax in a comfortable hotel, walk in well-tended gardens, eat good food, drink well-chosen wines and submerge myself in what might be described as some serious pampering. That I was able to do all these in a manner quintessentially English is a tribute both to the owner of Mallory Court, Sir Peter Rigby, and to its charming General Manager, Sarah Baker (pictured). They have created an environment which imparts to guests the sense of staying in a friend's country retreat.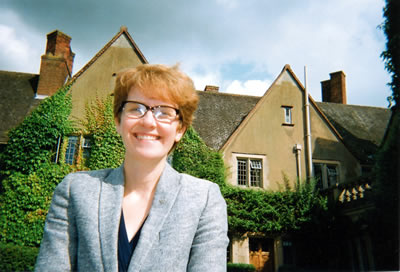 The hotel's standard rooms, which are decorated in a contemporary style, are in a recent addition to the left of the main entrance. I was in a Master Room (around £450 a night, bed and breakfast, but check on the hotel website for specific dates and for special offers) in an earlier extension. My apartment was named 'Hidcote', and it was light, bright and spacious. A proper hallway, with fitted wardrobes, had doors to the bedroom, to the loo and to the bathroom. The last was clad in bright tiles of burgundy and cream, had a good tub, one wash basin, a separate shower and toiletries by L'Occitane. It also had something I had never encountered before: a loudspeaker linked to the cd player which actually worked. (I thought it was a rule in the hospitality industry that such mechanisms should never function.) Thus I was able to conduct my ablutions to the invigorating cadences of the Bach Double Violin Concerto.
But the glory of this accommodation was the bedroom. It measured about 15 feet square and had what estate agents like to call a 'dual aspect', with its mullioned windows overlooking the lovely gardens and the distant countryside. The wallpaper and the carpet were beige. A large armchair and three upright chairs in beige and pink velour provided the seating, and the lighting was from four wall lights and three table lamps. A breakfast table and a writing desk were provided. The bed had been made specially (and wonderfully) soft for my ailing back. I liked the provision of a grand coffee-making machine, and I liked the apples, preserved apricots, walnuts and biscuits, which had been put out to welcome me.
Mallory Court has two restaurants. The Brasserie is in a former groundsman's cottage and is decorated in the Art Déco manner. I ate in the more formal Dining Room in the main house. Its two rooms are comfortable, panelled spaces with upholstered armchairs, well-spaced tables of good size, warm colours (the carpet is red) and off-white napery. The glassware is by Bormioli. Service from the waiters in grey waistcoats is friendly and correct. (I was particularly impressed by the head waitress, Emilia, a splendid young lady from Roumania.) Napkins are re-folded when diners leave the table for a moment.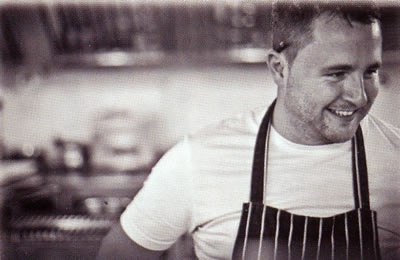 Chef Paul Foster (pictured, in austere black and white) offers a different three-course dinner menu each day for £47∙50 (including coffee and petits fours), a seven-course tasting menu for £85 and a carte from which a 3 course meal with coffee costs £65. I ate four courses from the carte and was very impressed by what I ate. Mr Foster is a chef of considerable talent and culinary intelligence. His cuisine is based upon fine ingredients, expertly combined and prettily presented. I began with superb tartare of fallow deer, served with some magnificent beetroot (from the hotel garden) and sourdough toast. This jolly combination made me wish, not for the first time, that beetroot would appear more often on restaurant plates. The calves' sweetbreads which followed were equally tasty, served well by their accompanying broccoli, peanut and juniper. My main course was roast saddle of lamb, tender and full of flavour, with beans, elderflower emulsion and... a poached tomato. I emphasise the tomato because it was one of the finest tomatoes I have ever eaten. Isn't that extraordinary? I ended with some lovely English raspberries, with meringue, kalamansi curd and juniper ice cream – a delightful dish, marred only by its horrible blue and green plate.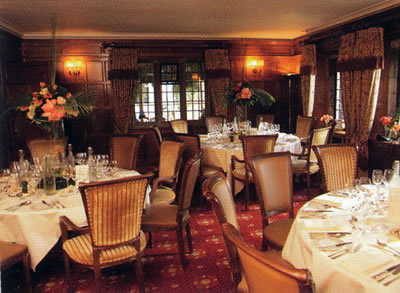 The wine list offers 268 bottles, plus 33 halves and 5 magnums. Prices run from £23 for a Spanish chardonnay to £1,030 for the 1990 Haut Brion. Grand clarets from good vintages are a feature of this cellar, with 1990 Ducru Beaucaillou (£361), 1990 Cos d'Estournel (£650) and 1986 Lynch Bages (£515). From Italy there is 2009 Sassicaia for £269 and 1985 Solaia for £741, and from New Zealand there is 2008 Cloudy Bay chardonnay for £74∙50. Australia's Katnook Founder's Block cabernet 2010 looks a good bet at £41, although you might also be tempted by the 2004 Chateau Musar from the Lebanon at £70. That ever-reliable champagne, Krug Grande Cuvée, is £205
My breakfast was had in the same dining room. Hot food was brought by the waitresses from the kitchen and cold food was secured by me from the buffet. The brioche was of high quality, as was the plate of smoked haddock with fried mushrooms and the black currant compote I put on my bowl of Allbran. All these were washed down with cups of Earl Grey tea and, of course, my concluding cappuccino. My breakfast at Mallory Court was deeply satisfying.
Indeed, everything about my visit to Mallory Court was deeply satisfying – the accommodation, the service, the food, the drink, the gardens, the house itself and, of course, the reminder of my happy years in Cambridge on Millionaires' Row. For my departure, as for my arrival, I wore by Jesus College tie. As the Royce and I moved down the drive, we both purred with contentment.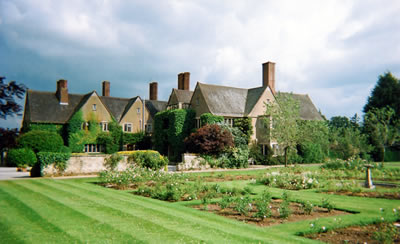 ---
ADDRESSES
MALLORY COURT
Harbury Lane, Bishop's Tachbrook, Leamington Spa, Warwickshire CV33 9QB, England.
Telephone +44 (0)1926 330214
Fax +44 (0)1926 451714
Email: reception@mallory.co.uk
www.mallory.co.uk
Double rooms from £165, including breakfast
Check the hotel website for the rates for specific dates and for special offers
Reservations can also be made via Relais & Chateaux: telephone 00800 2000 0002
www.relaischateaux.com