UNITED STATES
CALIFORNIA
SAN FRANCISCO
MANDARIN ORIENTAL HOTEL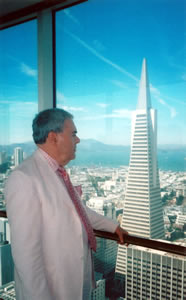 The Mandarin Oriental in San Francisco is one of those hotels which I have come to regard as a friend.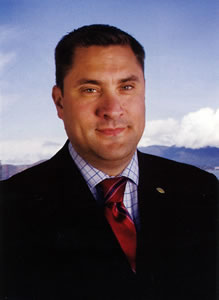 As soon as I enter the lobby, everyone seems to know my name and take pleasure in using it. Indeed, friendliness and efficiency mark each member of staff. Clearly, the General Manager, Clifford Atkinson (pictured) does a fine job. These initial salutations are, of course, on the ground floor, an area of sparkling marble and gleaming wood. But the greater part of the hotel is way above, on the top eleven floors of San Francisco's third tallest skyscraper. We are here in the city's Financial District, an area which has much of the impressive verticality of downtown New York. (Do not think, however, that this is a district without art. Just across the street, I like to go up to the 10th floor of what used to be the Stock Exchange to see, next to an Art Déco staircase, one of the masterpieces of 20th century painting – Diego Rivera's mural, Allegory of California [pictured].)
On this visit I was on the 43rd floor of the hotel. An express lift therefore whizzed me up. (And I do mean 'whizzed'. These machines travel at ear-popping speed.) And there was room 4316 (pictured) – an Executive Twin. (I hesitate to give a price, as the rates alter greatly according to date, so it is advisable to check on the hotel website.) This was a corner room and therefore had views on two sides. My photograph will give some idea of the impressive panorama. All the rooms at the Mandarin have lovely views, because of the enormous height of the building. Even some of the bathrooms – attached to the 'Mandarin King' and 'Golden Gate' rooms – share this privilege, which is a special joy for those of us who tend to linger over our ablutions. The bathroom to 4316 did not, but I still liked its beige and brown marble, walk-in shower, decent tub and Molton Brown toiletries.
The bedroom's colour scheme was discreet and restful, with much use of bleached wood, and its lighting – from a standard lamp, a table lamp and wall lights – enabled me to create a pleasing atmosphere. I could thus sit in the easy chair and look out of the windows with the pair of binoculars provided, as the cd player brought me the strains of Mozart. This machine was but one of the many technological delights available. Most of them were beyond my understanding. I wondered what an "ipod docking system" might be. But I could cope with some of the offerings: the very efficient air conditioning system, the iron and ironing board and the large flat television. And, when I was done playing with these, there was always the lovely bed (one of two) – made extra soft at my request – for my afternoon doze.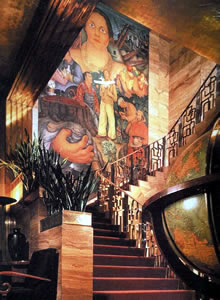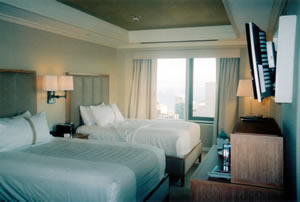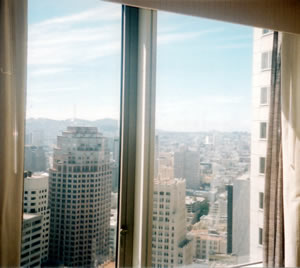 Dining is done on the ground floor at the Brasserie S & P. (The letters refer to the hotel's location at Sansome and Pine.) This is a room, off the lobby, which continues the decorative theme of the bedrooms, with soft colours, bleached wood and soft lighting. Its chairs are upholstered in leather and its tables are square and wooden. In the evenings there is canned music, but of the inoffensive kind – Sinatra et al. The good glassware is by Schott, the napkins are grey and the service is friendly and correct (with napkins re-folded when one leaves one's place for a moment). The Assistant Restaurant Manager and Sommelier, Jon Allen, looked after me well, as did my waitress, Kathryn.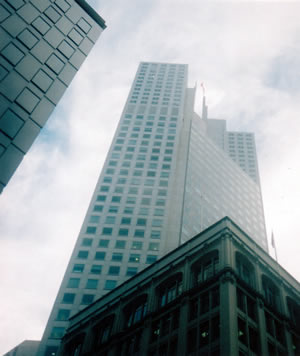 Executive Chef Adam Mali serves food which is straightforward and based upon the principle that good ingredients should be handled simply and honestly. I began my dinner with an admirable example of his approach: a baby kale parmigiano salad, with Caesar vinaigrette, white nectarines and pine nuts – as fine a combination of tastes and textures as I have eaten for some time. Then came some high quality prosciutto with figs and toasted hazelnuts – slightly overpowered, for my palate, by the Point Reyes blue cheese. My main course was certainly the star of the show. This was really gorgeous roasted duck breast (from Liberty Farms) with roasted figs, snap peas and potato purée. This was again, of course, essentially simple, but it was wonderful meat, wonderfully cooked. I finished with caramel corn panna cotta with berry coulis, something – forever the child – I could not resist.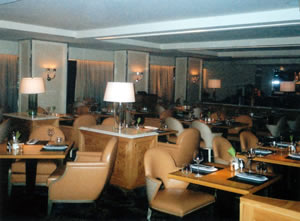 When I asked for the wine list, I was startled to have an ipod put into my hand. I suppose I will have to get used to this, although I will go to my grave preferring a list in proper book form. After some instruction, I managed to find my way about the 600 offerings – although I must crave your indulgence if I am mistaken when I report that prices range from $28 for an Argentinian white to $2,400 for the 2005 vintage of Chateau Margaux. Other interesting bottles to come before me on the screen were: from Australia, 2004 Grange ($795); from Chile, 2004 Almaviva ($162); from Italy, Mr Gaja's 2005 Barbaresco ($490); and from California, 2006 Opus One ($400). My own drinking was all Californian and included a massive chardonnay from the Russian River (Medlock Ames 2009 - $20, glass) and a Bordeaux blend from the Napa Valley of exceedingly ripe black fruit (Blackbird 'Illustration' 2006 - $90, half).
It was back to the Brasserie for breakfast. There is a modest buffet arrangement, but I had my comestibles brought to me by my waiter, the excellent Gabriel. He is a fine and intelligent young fellow, who will do well. He even contrived to have the canned music turned down for me. (For breakfast it had somehow transmuted itself into the depressing drone one sometimes encounters in mortuaries.) I tucked into porridge, fresh orange juice, mushrooms on toast, crisp bacon, wheat toast, marmalade and fresh fruit. Each of these items was first class. (Allow around $40 for such a breakfast.)
I left the Mandarin Oriental San Francisco as I always leave it: sad to be going, but pleased to think I might return. That, after all, is how you feel when you leave a friend.
---
ADDRESSES
MANDARIN ORIENTAL HOTEL
222 Sansome Street (between Pine and California), San Francisco, California 94104, U.S.A.
Telephone +1 415 276 9888
Fax +1 415 433 0289
Email: reserve-mosf@mohg.com
www.mandarinoriental.com
Check rates on the internet, and ask about special offers.