FRANCE
FRENCH RIVIERA
ST TROPEZ
MAS DE CHASTELAS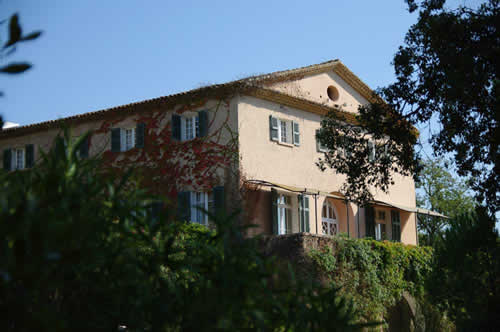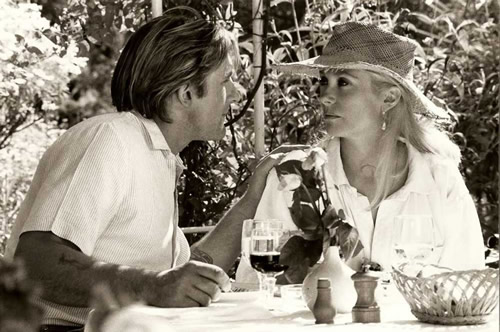 If you know your films, you might already like the Mas de Chastelas, for it is well-known in cinematic circles. In Je Vous Aime, in which both Catharine DeNeuve and Gérard Depardieu play leading roles (pictured, in black and white), much of the action takes part in an attractive 18th Century country house in France. And this bastide is, in fact, this very same five-star hotel on the outskirts of St Tropez. The main building and the two other more modern villas belonging to it offer 23 rooms (nine of which are suites) to those discerning folk who wish to be not too far from the centre of town and yet need to be surrounded by sweet gardens and enveloped in a sense of exclusive exclusion. Indeed, the area around its swimming pool is surely one of the most beautiful enclaves in this part of the French Riviera.
I liked very much my arrival at the property. There was some complication to the one-way road system which I thought would make the last part of my journey tiresome. But no – once I had found the correct turning, I left behind the whizzing Renaults and aggressive Ferraris and climbed upwards, away from the bustle. Then I and my driver were in front of a pair of high and imposing wrought-iron gates. At the end of the driveway beyond was my destination. It was, indeed, photogenic. The views around were of the vineyards of Bertaud Belieu. (During my stay, the hotel shuttle sped me to and from the middle of St Tropez.)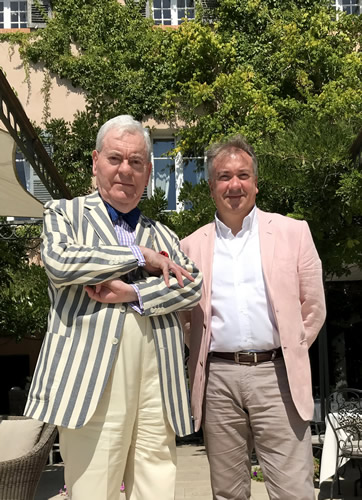 Such is the ease and grace with which this establishment goes about its hospitality that one might suppose it has been welcoming paying guests for a century or more. In fact – as I was told by the charming General Manager, Olivier Valentin (pictured) – the property became an hotel only in 1967. It must have been a good year. The relaxed and comfortable atmosphere goes well with the restrained elegance and luxury of the hotel's furnishings and décor.
The style prevails in the bedrooms as well as in the public spaces. My own billet was number 17. In this large, air-conditioned suite on the first floor (810€-1,640€ a night, according to season), it was easy to imagine that I was the guest of an important local family, for I was surrounded by pieces of antique furniture and interesting pictures. The latter included an equestrian portrait of "Herbert Guntris Esq., Master of the East Sussex Fox Hounds".
In my hallway were two sets of double doors. To the left was my sitting room, with a sofa, two easy chairs, a writing desk and a French window leading to a terrace with views over the surrounding countryside. To the right was the bedroom, full of sunshine from its tall windows and with a pelmet of gilt wood over the bed. I like table lamps, so I was pleased to find lots throughout the suite. The colour scheme provided light colours for the sitting and sleeping areas and dark colours for the two bathrooms and the two loos. The main chamber for my ablutions was provided with a proper bath, a walk-in shower, one wash basin, an ancient table with a marble top and toiletries by L'Occitane. Truly, this was accommodation both spacious and comfortable.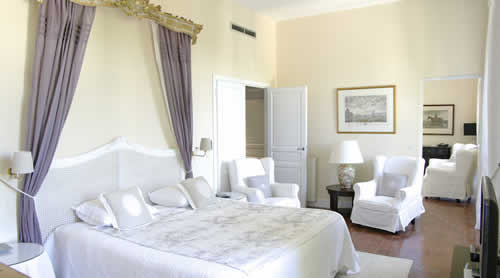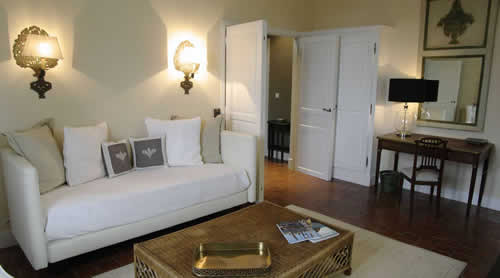 For breakfast each morning, I went to the delightful poolside terrace. Here I did daily justice to the extensive buffet, enjoying pancakes, brioche, breads, jams, hams, cheeses and cereals, together with dishes of fresh pineapple and slices of melon. And I enjoyed particularly the boiled eggs brought from the kitchen, cooked for exactly the length of time I had requested and served (what rapture!) with lovely soldiers of toast. All these comestibles were washed down with cups of coffee I poured from my white porcelain pot.
I do not expect to be a film star. Inexplicably, directors and producers insist upon ignoring my talents. Still, at least I can claim that, like Catharine DeNeuve and Gérard Depardieu, I have experienced the elegance and refinement of the Mas de Chastelas. If you are heading for St Tropez, you will do well if you follow our example.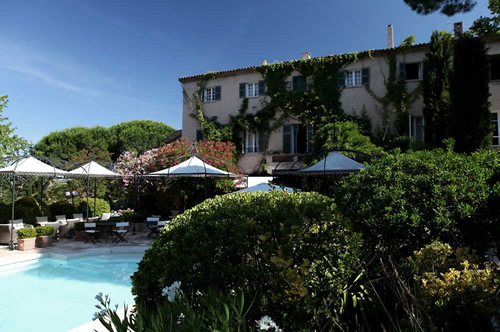 ---