FRANCE
THE FRENCH RIVIERA
ST PAUL DE VENCE
MAS DE PIERRE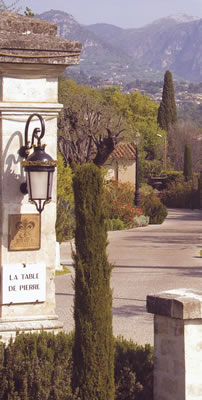 St Paul de Vence is a delightful mediaeval town, high in the hills behind Nice. Its setting and its architecture attract those who love beauty, both natural and man-made. It has several lovely hotels. One of the very best is also one of the newest. Not that I found it easy to guess the age of the Mas de Pierre. Upon arrival, I was faced with buildings which I thought had been settled comfortably into their pretty surroundings for a couple of centuries. In fact, they date from 2005. Well done, that architect. And who was the Pierre of the Mas de Pierre? My enquiries revealed that he was the gentleman who had owned the land before the hotel was built. He should be proud to have given his name to such a fine establishment.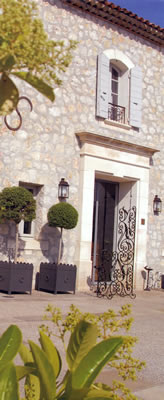 The 54 bedrooms are located in 7 bastides in the well-tended grounds. Here and there, among the ancient olive trees, are pieces of modern sculpture. There is an outdoor swimming pool and, within a greenhouse, exotic orchids are cultivated. This is an enchanting place. Indeed, I found the whole environment so peaceful and so restful that I declined the invitation to clamber aboard the hotel shuttle to the centre of St Paul de Vence, and instead spent my mornings and afternoons either outside, in a wicker armchair, next to a dribbling fountain, listening to the birdsong, or inside, surrounded by the traditional furnishings of the bar, entertained by the magic Yamaha piano, which played the Inventions of J.S.Bach all by itself. Whether in or out, I was, of course, accompanied by pots of Earl Grey tea, always brought with a smile – for the General Manager, Christian Baumgarten, captains a happy and efficient ship.
My room was in the Mas Florian, at the bottom of the gentle decline which runs from the main building. My apartment, number 510, was a 'Privilege Room' and therefore 262€-713€ a night, bed and breakfast for two. (Breakfast is extra – 29€ per person.) Its orange/ochre walls, wooden floor and free-standing, painted wardrobe imparted a pleasing sense of rusticity, which was reinforced by the four-poster bed and the dentilled cornice around the ceiling. A splash of colour was provided by a sofa in pink velvet. This was not a huge room, but there was enough space to be comfortable, and through a French window was my own terrace (equipped with a table, a settee and two chairs), with views over the valley and out to the surrounding hills. The spacious bathroom provided me with one wash basin, a bath tub of proper size and a separate shower.
Eating at the Mas de Pierre is very good indeed. The Chef, Emmanuel Lehrer (pictured, with your correspondent and the sommelier) is a man of talent and intelligence. His dishes are based upon ingredients of the highest quality, handled with formidable technique. Nothing I ate at the Restaurant La Table de Pierre slipped below the Very Good, and some of the food soared towards the Sublime.
First, I must mention the excellence of the bread – which, with the lovely salted butter from Normandy, I would have been happy to make into a meal on its own. Then there was the white crockery, for which I am constantly pleading in grand dining rooms, for it really does enable the best presentation of sophisticated food. And the good E & R glassware, the white napery, the white chandeliers, the stone floor and fireplace and the smart dress of the waiters – white shirts and beige aprons – ensured that the setting was in harmony with the cuisine. The service, too – from waiters like Alexandre Maillis – was top notch.
So let me share with you the gastronomic highlights of my stay. Stuffed vegetables à la Niçoise were as pretty to look at as they were to eat. Roasted rump of veal, with parsnip purée with white chocolate (a combination new to me), was beautifully balanced and came with some of the best carrots I have ever tasted. A whole sea bass, boned by the table, and served with mashed potatoes and a beurre blanc and tarragon sauce was thrilling in its perfection – the fish possessing such sweetness and lightness that my notes call it "a glimpse of Heaven". And the concluding puddings, like a pear baba and a hot vanilla soufflé, kept up the culinary standard. (Expect to pay around 75€ for three courses.)
Sommelier Alexandre Briand presides over a wine list with 152 offerings, all of which are French. Prices run from 30€ for a Provençal white (2013 Domaine Gavoty) to 2,640€ for the 1996 Pétrus. (You will need to keep your wits about you – for example, 2001 Mouton Rothschild is something of a bargain at 510€, compared to the same vintage of Lafite at 1,995€.) Other bottles to catch my eye were: Taittinger Prestige (90€), 1990 Yquem (620€), 1982 Cheval Blanc (1,860€), 2001 Palmer (300€) and 2000 Cos d'Estournel (435€). Mr Briand recommended to me several lovely bottles, including a most impressive red from the Languedoc, full of ripe and enticing black fruit, with soft tannins and a delightful structure, for a remarkable 50€ (Les Creisses, 2012).
I returned to the restaurant each day to break my fast. The chamber in which I had dined was now the (much) quieter of the two breakfast rooms. The alternative was for those who like canned music and bustle in the mornings. In blissful quiet I tucked into the excellent comestibles from the buffet: bacon, mushrooms, sausages, pineapple, sliced orange, brioche, marmalade and crusty bread. And to my table were brought silver pots of coffee and, of course, my concluding cappuccino. These were breakfasts both serene and enjoyable.
And serenity and enjoyment are the two states which linger in my mind when I think back to my time at the Mas de Pierre. In its short life, it has established itself as an hotel of the finest sort, offering comfort, luxury and hospitality in a location of great beauty. I recommend it to you.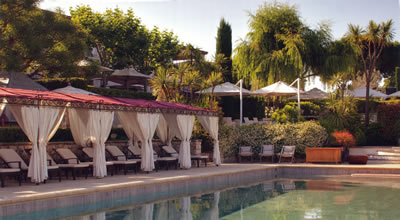 ---