ITALY
BRINDISI, PUGLIA
MASSERIA TORRE MAIZZA
PLEASE NOTE:
Since the visit was made on which this article is based, the Masseria Torre Maizza has become part of the Rocco Forte Collection, and a programme of alterations has begun.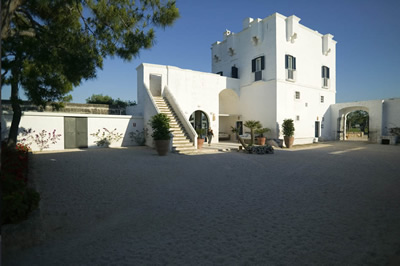 From the tower of this charming masseria, folk used to watch the coast for signs of unwelcome visitors. At the first threat of a Saracen raid, the monks would take refuge within its walls and pray that the danger would pass. Nowadays the monks have gone and the only 'dangers' are those which might be caused by a little over-indulgence within its luxurious interiors. With its verdant setting, pristine white buildings, excellent staff and delicious food, the Masseria Torre Maizza is acknowledged as one of the finest hotels in Puglia.
Most of the 30 bedrooms are in an avenue of single-storey, flower-clad, modern buildings. These are in harmony with the ancient castle. Within, they have those features we now find so essential, like controllable air conditioning and well-equipped bathrooms. My own apartment, number 104 (a Junior Suite Deluxe and therefore 551€-965€ a night, bed and breakfast for two) was at the end of the avenue, and therefore afforded glimpses of the greenery of the surrounding golf course.
Within I found a delightful bed-sitting room (measuring about 25ft by 12ft) with a barrel vault, a stone floor and a working fireplace. Through French windows was my own private terrace. The white décor emphasized the generous space, which accommodated with ease the two armchairs and the sofa. Inside the fitted wardrobes was a private safe. I liked particularly the abundance of storage space. Something there is that loves a cupboard. The bathroom boasted two wash basins, a bath tub of proper size (with a shower over), a loo and a bidet. Lots of large white towels were on hand, and a pair of scales was provided. This was a very comfortable billet, which 'worked' very well indeed. It was kept spotless, of course, because standards in all departments at the Masseria are very high – a tribute to the Director, Elio Zazzera (pictured, with your correspondent).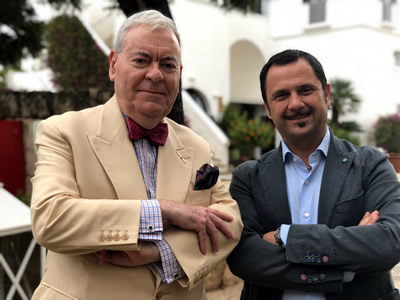 The hotel's restaurant is housed within the castle's ancient stables. Here I found lots of greenery, a 'straw' ceiling, large windows, white napery, good Bormioli glassware and waiters in dark waistcoats. The atmosphere was calm and welcoming, and the service – directed by maitre d' Nicola Capobianco (on the right of the trio in the photograph) – was friendly and attentive. Chef Pietro Sgaramella (pictured) serves food which is exactly right for its setting: based on first class ingredients, thoughtfully combined and expertly prepared. I enjoyed my meals tremendously. Highlights included sweet and succulent scallops with quails' eggs and balsamic vinegar pearls laid out like a chess board, super burratina cheese stuffed with beef tartare, soft and luscious basil spaghetti with green vegetables, gorgeous lamb chops, spectacularly good beef fillet wrapped in bacon with truffles, and a berry parfait with mint flavoured sponge cake and cocoa ice cream. Even these brief descriptions sound enticing, do they not? (Expect to pay 70€-80€ for four courses.)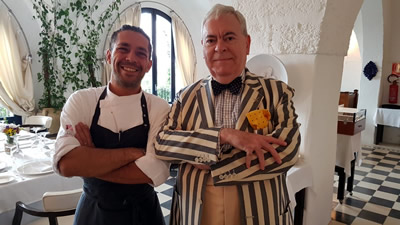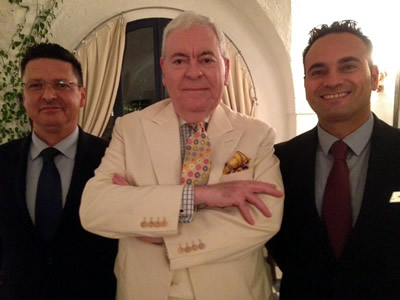 My breakfasts were had in the same chamber. From the extensive buffet I secured slices of cold omelette with mint (wonderful), glasses of good orange juice, bowls of mango and pineapple and pieces of chocolate tart. And to my table were brought silver pots of coffee, dishes of ice cubes and – as always – my concluding cappuccino. All of these comestibles were tip-top.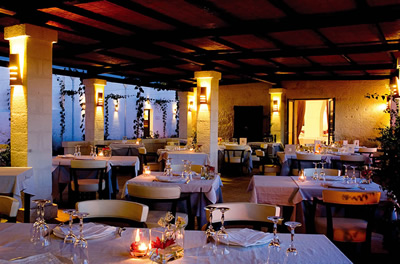 The wine list is short for an establishment of this quality – just 90 offerings, all Italian apart from the champagnes and a French rosé – and run in price from 20€ for a local chardonnay to 600€ for Cristal rosé champagne. I noticed some tempting bottles, like Annamaria Clementi franciacorta (180€), 2014 Tignanello (180€), 2011 Solaia (300€) and 2012 Sassicaia (320€). Sommelier Paolo Scarafile (on the left of the trio) is a splendid fellow, whose extensive knowledge of the wines of Puglia is admirable. I will forever be grateful to him for recommending to me a brilliant red from the region. This primitivo possessed an intoxicating depth of ripe black fruit, which yielded up masses of that residual, caressing sweetness which I so love. This 2014 Sessantanni, San Marzano, for 70€ was a real find for me. Thank you, Paolo.
And thank you to all the staff. You made my stay at the beautiful Masseria Torre Maizza a time of contentment and relaxation. I commend this lovely property to all our readers.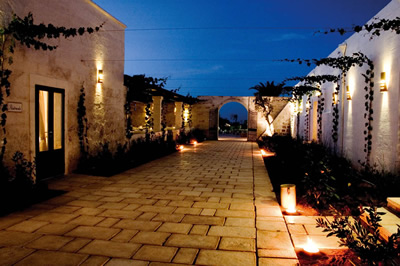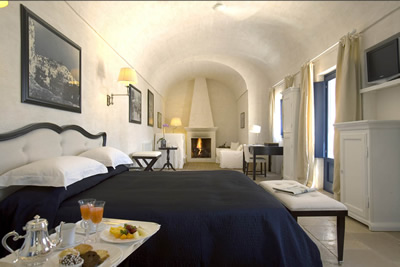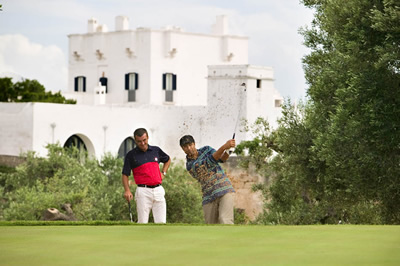 ---