UNITED STATES
CALIFORNIA
NAPA VALLEY
ST HELENA
MEADOWOOD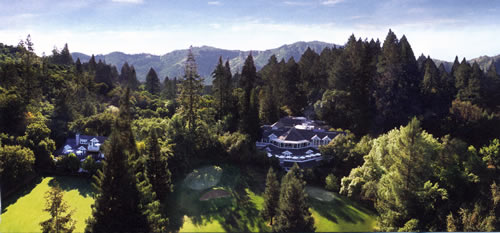 Given that I love the Napa Valley – for its manicured wineries, its gentle pace and its devotion to excellence – it is no surprise that I adore its most celebrated hotel. Meadowood has the setting, the staff and the impeccable standards to afford the traveller a hint of the Beatific Vision. Glimpses of Heaven are what we poor pilgrims through this Vale of Tears seek on our uphill struggle. We need them to sustain us and to give us hope. And here, in California, in the Napa Valley, at Meadowood, is the thrill of experiencing what life can be when all is well, and all manner of things are well. I must not lapse into religiosity, for the pleasures to be had among these 250 acres near St Helena are very much of this world. Yet, for those fortunate enough to occupy its 85 rooms from time to time, the level of enjoyment at Meadowood can certainly approach the spiritual.
This must have something to do with the closeness to Nature. After passing through the security post at the entrance to the estate (Heaven must be kept safe, after all) and checking in at Reception, I followed in my hire car as the golf cart in front whizzed along shaded lanes through the woodland. Then we went up a hill to a small parking area. Here the young fellow jumped from his cart and, with that smiling and friendly enthusiasm I was to encounter repeatedly in the staff during my stay, he led me down a winding path to a log cabin. This was not any log cabin: it was my log cabin. To be precise, it was room number 56 – a 'Treeline room with fireplace' and therefore from $700 a night for two, breakfast extra.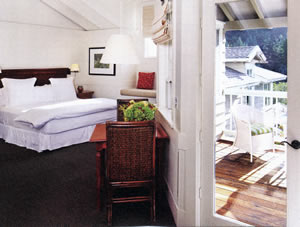 Please banish from your mind immediately any thought that a log cabin must be primitive or uncomfortable. This log cabin was air-conditioned. From its terrace I could – and did – sit in the afternoons with a cup of Earl Grey tea, made in my own tiny kitchen, and look over my own private valley. From the hallway, the door on the left opened into a sitting room of soft tones of grey, white and brown. Next to its 3-seater sofa was a fireplace and a supply of logs, and it became my habit to sit next to a blazing fire before I retired each evening. A flat-screen television was provided, but music seemed more appropriate for a pastoral idyll, so a cd player was promptly installed and the melodies of Mozart and Duruflé soon began to accompany my daydreams. To the right of the hall was the bedroom, with a throne-like bed of immense comfort. Behind the louvred doors of its wardrobes, I found plenty of hanging space for my suits. I was anxious for a moment that there was no safe, but I discovered that it was concealed within a cupboard in the sitting room. In the bathroom I found a tub of very good size and Molton Brown toiletries.
The sense of a quiet retreat was powerful and pleasing. But the number of activities on offer, should I have wished to stir myself from my little Shangri-La, was equally impressive. Meadowood has seven tennis courts (with a resident professional), two croquet lawns (with a resident professional), a nine-hole golf course (with a resident professional), a spa and a wine centre. (This last is particularly appropriate, as H.William Harlan – he of the famous Harlan Estate cabernet – is a Managing Partner.) Then there was the opportunity to commune with Nature on the hiking trail, and to try a bit of 'twitching' – for no fewer than 112 different varieties of bird pass through during the year. I, however, was content with doing very little, and found my inactivity made the more satisfying by the thought that others were doing so much. When I wished to move, I had only to pick up the telephone and, within moments, a cart and driver were at hand, ready to transport me to my desired destination.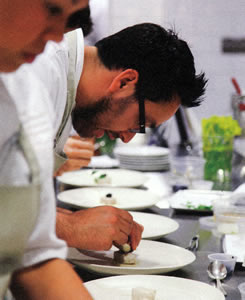 There were, of course, my trips for eating. And so we encounter another reason why folk come here from far and wide. Not many hotels can boast a restaurant with three Michelin stars. But Meadowood can. The chef of The Restaurant is Christopher Kostow (pictured), from Chicago. He is a cook of prodigious talent, with an approach to food which is innovative and accomplished. His dishes are the product of serious work, and yet they are frequently rather playful. Clearly, he knows where to obtain the very finest ingredients, and he handles them with a technical brilliance which fills his guests with admiration.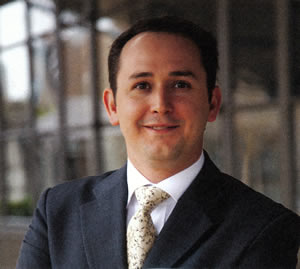 The first-floor room is comfortable and well-furnished in a sophisticated modern manner. Members of the waiting staff wear brown waistcoats, the napery is off-white, the glassware is by Riedel, the crockery is unusual, the lighting is low and there is canned music. Napkins are replaced when diners leave their seats for a moment, for the service – orchestrated by Restaurant Director, Nathaniel Dorn (pictured) – is of the kind one expects in a three-star restaurant.
Many, many years ago, when I first began to visit the trippled-starred restaurants of France, I would occasionally find, invariably tucked away at the bottom of the large menu card, the words "Le menu surprise". If I enquired about this intriguing invitation, I would be told that the surprise menu would comprise eight or nine dishes, chosen by the chef and unknown to me until they were brought to my table. This practice has been revived for everyone who visits The Restaurant at Meadowood. One tells one's waiter if there are any foods one does not (or cannot) eat, and then Chef Kostow prepares the 'surprise' meal accordingly. Thus did nine pretty and enjoyable dishes arrive before me. The portions were small, but the amount of work which had gone into each plate was prodigious. What stays most in my mind is the fish, which was outstanding: both the black cod, with its gloriously firm flesh and its brilliant accompaniment of fig cream, and the delicious trout with yellow peaches. When I tell you that the pudding was strawberry panna cotta with celery, you will know what I meant by the word 'playful'.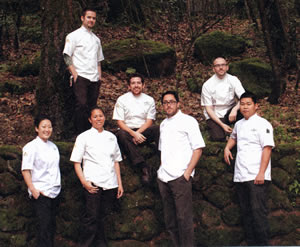 The cellar, overseen by the knowledgeable sommelière, Alexis Davis, is strongest, as you would expect, in local wines – with hundreds of Californian cabernets, including a magnum of 2005 Screaming Eagle ($6,000). The grander achievements of the Old World are not forgotten, however, with some good clarets, like 1983 Lafite ($3,600) and 1961 Ausone ($1,565). My own drinking comprised three half-bottles from the Napa Valey, all recommended by Miss Davis and all of exceptional quality. The sauvignon blanc was soft, elegant, courteous and disceet (Kenzo Estate, 'Asatsuya', 2011 - $90, half). The chardonnay was like a muscle-bound chablis – with lots of gravel, but also full of buttery strength (Kongsgaard, 'The Judge', 2009 - $190). Yet the undoubted star of the trio was a 2007 cabernet, a feminine seductress of caressing ripe black fruit (Bond, 'St Eden' - $360, half). This was magnificent drinking.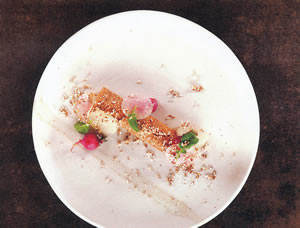 My breakfasts were pretty good, too. These were had in Meadowood's other dining room, The Grill, which occupies the ground floor underneath The Restaurant. Here I again took advantage of the clement weather and sat outside, overlooking the manicured grass of the fairway and the croquet lawns. There was no buffet, thank goodness, so the good, honest food from the kitchen of Chef Victoria Acosta was brought to my table by the young members of staff. I liked to start with a plate of honeydew melon, follow it with a bowl of excellent porridge, then go on to mushrooms on toast and end with the terrific muffins in my 'bakery basket' – all washed down with many cups of hot coffee. I urge you also to have the freshly made green apple juice. I found it quite superb. (Allow around $60 for this sort of breakfast.) Thus did my days begin with pleasure and tranquility.
Meadowood, with its beauty, its comfort, its remarkable cuisine, its closeness to Nature and its atmosphere of good health, sums up what is best about California and the Napa Valley. That is why I adore this glimpse of the Beatific Vision. If Heaven is not like this, it jolly well ought to be.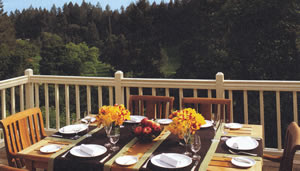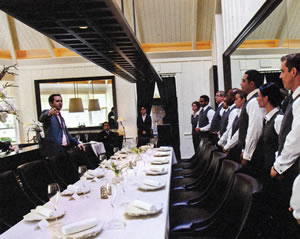 ---