Italy
MILAN
MÉRIDIEN GALLIA HOTEL
I had a surprise in Milan. I had expected my hotel to be a hostelry of the straightforward, business sort. But I was wrong. The Méridien Gallia turned out to be stylish, elegant and really rather grand, with a high level of efficient and friendly service. True, I did spot an occasional patch of wear on the carpets – but that was as nothing compared to the sense of traditional, old-fashioned hospitality (indeed, perhaps it even contributed to it). And then, in this most expensive of Italian cities, there was what I considered to be the remarkable value for money. If you are already catching the sense that I liked this hotel, you are absolutely right.
Designed by Giuseppe Laveni and Aldo Avati in what many call the 'Liberty' style (and I call quirky baroque), this substantial pile (of 237 rooms) was opened by the Gallia family in 1932. It is next to the city's main railway station. In many towns such a location might be a disadvantage, but not in Milan. For the Stazione Centrale, which also dates from the 1930s, is one of the world's most impressive examples of railway architecture. You might suppose that this vast stone edifice had been built as a palace by a king who liked Classical Rome. Yet no, it is truly a shelter for trains. It gave me a real thrill, when I discovered that my room looked directly across at this 20th century wonder.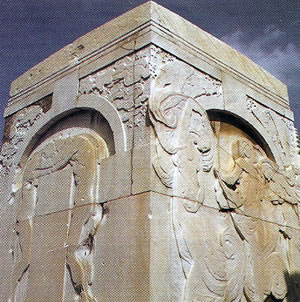 Many famous guests have enjoyed the same view. Those with an artistic bent have particularly patronised the hotel. They have included the diva divina, Maria Callas, the novelist, Ernest Hemingway, and the brilliant conductor, Arturo Toscanini. The last was a local lad, so I went to the Cimitero Monumentale – the Monumental Cemetery which spectacularly lives up to its name – to look at the Toscanini family monument. It is a fine piece, created by Leonardo Bistolfi from 1909 to 1911. I reproduce a picture of it for you. I recommend a visit to this cemetery: I found it a serene delight.
I was delighted, too, by my arrival at the hotel. Upon entering I realised at once that this was my sort of place. I have always liked marble, fine woodwork, columns of polished granite and sweeping staircases. And here they all were. And their setting was of some grandeur, for the one thing which the Méridien Gallia does not lack is public space. When the lift took me up to the third floor, I emerged onto a landing which was the size of a decent ballroom.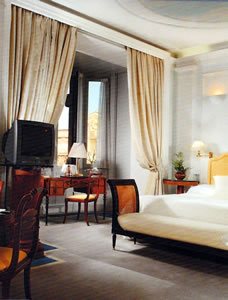 My billet was, of course, more modest in its dimensions. It was at the corner of the building and was therefore of an interesting shape, with one curved wall. Room 313 was a 'Deluxe Double', priced from 334 euros a night for two, according to season. (There is a category below this, but I would suggest that you spend the extra for this higher grade of accommodation.) From the proper hallway were doors to the bathroom and the bedroom. The one to the latter was of polished wood, and led to a chamber of cream and white. The roundel in the ceiling was filled with painted sky. The wall lights were dimmable and the pieces of furniture, like the writing desk, were in the Classical style. The television stood on a wooden column. The fitted wardrobes had full length, mirrored doors and contained my private safe. My two French windows led to small balconies and, of course, had views of the station façade. This was comfortable and spacious accommodation.
In the grey marble bathroom were two wash basins, Hermès toiletries, a tub of decent size and a separate loo with bidet. There were also lots and lots of mirrors, so that I could see myself from all sorts of unusual angles. Such visual treats disinclined me to bother with the pair of scales which had been kindly provided for my use.
As so often nowadays, my back complained about the hardness of the bed. No problem. The splendid Housekeeper – who spoke perfect English, having spent ten years of her youth in Leighton Buzzard – rushed to my room with four soft duvets. With these under me, I slept the sleep of the righteous. This helpful act of kindness I found to be entirely typical of the members of staff I encountered at the Méridien Gallia – not only in the housekeeping department, but also on the Reception desk, on the main door, at the Concierge desk, in the bar and in the restaurant. Marco Olivieri, the General Manager, has every right to be proud of his team.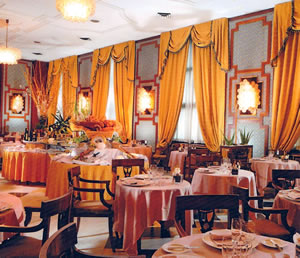 The Gallia Restaurant was the setting for both breakfast and dinner. It is a large, high, pleasantly old-fashioned chamber, with a marble floor, Art Déco chandeliers, lots of brown woodwork, ruched curtains and large tables, dressed with white damask. This is the domain of a fine gentleman from Milan. Maitre d' Domenico Esposito looked after me tremendously well, ensuring that a cushion was provided for me whenever I appeared (that silly back again) and that all was well throughout the room. He is the sort of man you want in a restaurant: a general in full command of his troops, with eyes everywhere, with boundless energy and yet possessed of natural charm and discretion. And he has some jolly good troops – like Pietro from Abruzzo, who was so keen to cater to my every whim.
Pietro it was who rushed each morning to the machine (which looked remarkably like a wireless set from the 1930s) to produce my daily glass of juice, freshly made from blood oranges from Sicily. And then he went to the kitchen for my onion omelette, while I secured from the buffet Corn Flakes, slices of crusty bread, dishes of fresh pineapple, croissants and slices of lemon cake. All this food was to my liking. The standard of these breakfasts (35 euros) meant that I looked forward to returning for dinner.
I was not disappointed. Chef Augusto Paleni sends from his kitchen dishes of carefully prepared, well-presented food, based upon ingredients of high quality. I began with slices of Culatello ham – like Parma ham, but with a stronger flavour. At my suggestion, it was served with grated carrot, dressed with olive oil and balsamic vinegar. This worked very well indeed. Next came tortellini, filled with veal, accompanied by fresh peas and ham, and gratinated. Then it was a joy to eat a really tasty piece of beef: pink and tender chateaubriand, carved by the table and served with béarnaise sauce and chips. These were all substantial portions, so I finished with a dish of proper vanilla ice cream. (These four courses were 95 euros.) This was a good dinner, eaten in a calm and comfortable environment.
Each of the 120 wines on the list has a note of its grapes, which information I find helpful. The prices are also helpful. They start at 25 euros (for a Sardinian white) and end at 285 euros (for the 2000 Barbaresco from Mr Gaja). Apart from the champagnes (1995 Dom Pérignon is 260 euros), there are one or two 'foreign' wines with modest mark-ups, like a 2003 Chilean cabernet sauvignon for 25 euros (Santa Digna, Miguel Torres). Those looking for super-Tuscans will find the 2002 Sassicaia for 278 euros. Into the glasses before me (made by Inncrystal), I had poured a white from Campania, made with the fiano grape – light and elegant, but perhaps more a luncheon wine (Fiano di Avellino, Mastroberardina – 20 euros, half) – and a lovely Brunello di Montalcino, with the typical flavours and aromas of black fruit and damp cellars (Castello Banfi 2002 – 79 euros).
When, as I hope, I return to the Méridien Gallia Hotel, the element of surprise will have gone. Another sort of pleasure will have replaced it: the happy anticipation of knowing that I am heading for a truly fine hotel which offers some of the best value in Milan.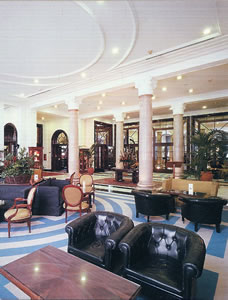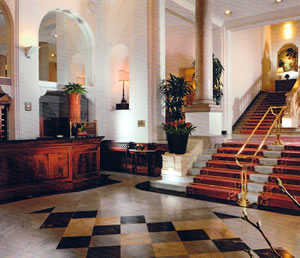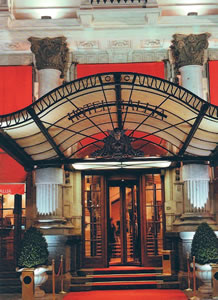 ---
ADDRESSES
LE MÉRIDIEN GALLIA HOTEL
Piazza Duca d'Aosta 9, 20124 Milan, Italy.
Telephone +39 02 67851
Fax +39 02 6671 3239
Email: gallia.milan@lemeridien.com
www.lemeridien.com/milan
Double rooms from 273 euros, according to season
Check rates for specific dates