United States
CALIFORNIA
SAN FRANCISCO
RESTAURANT MICHAEL MINA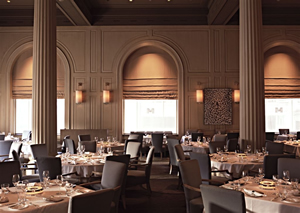 San Francisco is many times blessed. Apart from sharing my Christian name, it has a delightful climate (despite the occasional fog), an attractive location by the sea, a system of cable cars and trams which make travelling around the city a positive pleasure, one of the most famous bridges in the world, a collection of buildings from the 19th century to the present day which restores one's faith in architects and a wonderful proximity to the wineries of the Napa Valley. And, as if all this bounty were not enough for one town, it also has some of the most highly acclaimed restaurants in the whole of the United States. And one of the very best of those restaurants is that named after its Executive Chef, Michael Mina.
The vast Westin St Francis Hotel dominates Union Square, the epicentre of this tolerant and happy community. Few hotels manage the feat of the St Francis – to be both imperious and welcoming. Indeed, in most places, we would never expect so gigantic an hotel to offer anything beyond some decent eating opportunities. Certainly, we would not suppose that it would house anything special. This, however, is San Francisco. So we go up the entrance steps, into a grand entrance hall and there on the left are more steps. And these steps are those which every gourmet on the planet would be happy to ascend, for they lead to the lofty chamber of giant mirrors and fluted Ionic columns which is home to the Restaurant Michael Mina. The Michelin inspectors have awarded two of their stars to twinkle above it, and those stars are fully deserved.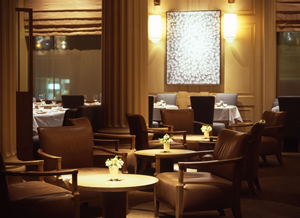 I should warn you that this is a room which, when it is full – and it is always full, because you and I, dear reader, are not the only ones who love good food – can be noisy. People who are enjoying themselves can sometimes make a bit of a din, even when they are being waited upon by waiters as expert and discreet as those here. Helpful fellow that I am, I shall therefore recommend to you my own favourite table. It is number fifty. It is large and square, and immediately to the left of the entrance steps. It is also away from the general clamour, and wonderfully calm.
Seated there, with the white tablecloth before me lit by a discreet overhead spotlight, I could observe this gastronomic temple of greys and browns. Its designer, Barbara Barry, clearly knows how to create sophisticated spaces. The waiters, in brown waistcoats and aprons, conveyed their precious cargoes from the kitchen, occasionally pausing to replace the napkins of those diners who had left their places for a moment. (The General Manager, Mario Daniele, deserves credit for the exemplary service of the staff here.) The glassware before me (by Spiegelau and Schott) glowed in anticipation – as well it might, for the cellar's wonders are famous. And the Royal Doulton porcelain all around – designed by Mr Mina himself – seemed to be smiling to contain food of such quality. I felt hungry.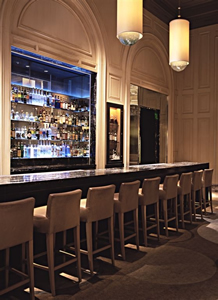 A three-course meal is offered for $100, and a tasting menu is available for $135. I chose four courses from the carte. Mr Mina, who was born in Egypt and raised in Washington, likes both complexity and simplicity. His 'classic' dishes – like a whole fried chicken for two – tend to be straightforward and served by the table, in the old-fashioned way. His 'seasonal' dishes usually come with three accompaniments – and these, more than once, have made me gasp at the sheer amount of work which has gone into them. Apart from the pudding, my courses were of the latter type. The presentation values were remarkably high: the pleasures which came to me were visual as well as culinary. The Chef de Cuisine, Chris L'Hommedieu is exceptionally talented.
I began with 'summer tomatoes'. Thus came heirloom tomatoes (with burrata and crostini), plum tomatoes (with parmesan and cavatelli) and beef steak tomatoes (with gorgonzola and panini) – all thoroughly delicious. Then there was the magnificent highlight of my meal. (I fear there are plans to outlaw foie gras in California. If such a batty regulation is ever enforced, the disappearance of this dish would be a scandal.) The Hudson Bay duck liver came cured (utterly sublime, with compressed melon and Serrano ham), grilled (with melon compote) and as a terrine (with pickled rind and mint). The combinations of flavours and textures yielded by this dish made my spirits soar. Next came duck breast, tasty and tender – with peaches, plums, foie gras, rice, nectarines and other jolly companions whose names I did not record. And finally, a 'classic' – peaches poached in Belgian ale with coriander ice cream. Here came the only element of the whole meal of which I did not approve – soft croutons of pound cake, grumpy bedfellows for such winning slices of peach.
The wine list is a volume of large size and considerable splendour. Perusing its 3,700 offerings, you will quickly conclude that the passion here is burgundy. If you like yours white and of the finest quality, you will be impressed with its 62 Montrachets (with the 1999 DRC coming in at $3,025). If you prefer the red, you can have 1964 Romanée-Conti for $13,085. But there are also pages devoted to "The back-roads of Burgundy", wherein you will find expertly chosen bottles at keen prices from the less well-known appellations. Still, I must not give the impression that you claret lovers are neglected. You can spend your pennies on 1945 Mouton-Rothschild ($14,995) or 1945 Lafite ($9,500). And I was delighted to see 38 dry rieslings from Germany – indeed, so delighted that I asked the Head Sommelier to choose one for me.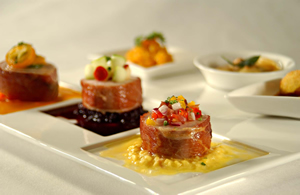 Thus did the charming and knowledgeable Anthony Cha bring to my table a truly superb riesling spätlese, with a massive burst of petrol in the nose, bold fruit of melon and lychees and a lingering aftertaste (Wegeler, Wehlener Sonnenuhr, Mosel, 1994 - $85) – and with only 9.5% alcohol. My red burgundy – from the 'Backroads' section – was good, too, with that nose of rotting vegetation I so love (Coche-Dury Auxey Duresses, 2001 - $98). If it had had the over-ripe strawberries I am always looking for as well, it would have been a super-star.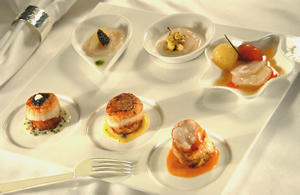 Lucky, lucky San Francisco to have the Restaurant Michael Mina. And lucky me, to be able to enjoy its marvels. There must be something about our common name which brings us blessings. Perhaps we both ought to be grateful to our Patron. St Francis has been good to us.
---
ADDRESSES
RESTAURANT MICHAEL MINA
Westin St Francis Hotel, Union Square, 335 Powell Street (at Geary), San Francisco, California 94102, U.S.A.
Telephone +1 415 397 9222
Fax +1 415 397 9220
www.michaelmina.net
Open daily for dinner
***PLEASE NOTE: From October 2010 Restaurant Michael Mina will be located at 252 California Street (at Battery), San Francisco, California 94111, U.S.A.