United Kingdom
ENGLAND
LONDON
MICHAEL OF THE RITZ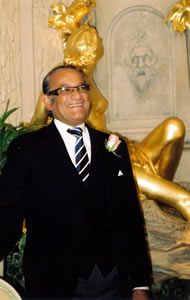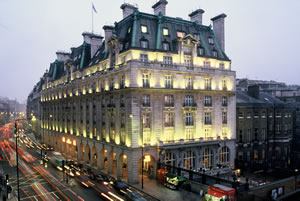 The longer I have to do with the world's great hotels – and I have been loitering about their gilded halls nearly all my life – the more I realize that the personality of each hotel depends upon the individuals who run them. This is why I have decided to pay this tribute to someone who is a great adornment to the hospitality industry. But he is more than this: he is important to me personally. For he plays a vital role in the ongoing life of my favourite hotel in Britain – which is, of course, The Ritz in London. This magnificent temple of hospitality and good living has graced Piccadilly for over one hundred years, but I venture to suggest that it has never been in better shape. And for that my friend – for I hope I may call him such – can take a good part of the credit. His name is Michael Kotb.
When I first went to The Ritz, now well over four decades ago, my lunch was three guineas and my tea was half a guinea (ten shillings and sixpence). To those of you who have youth on your side and who know only the silly money imposed upon us by 'Decimilization', the second sum is 52½ pence. Now tea at The Ritz is £40. In those far off days, I would wander into the hotel through the Piccadilly entrance (long since closed) and select a table in the Palm Court, which was usually empty. Now 'Tea at The Ritz' is one of the most popular activities in London among persons of taste and discernment, and so many good folk wish to avail themselves of this treat that the first sitting for afternoon tea begins at… 11.30 in the morning. One of the undoubted reasons for this explosion of popularity is the level of service and the calm efficiency which are maintained each day throughout this quintessentially English event. The paradox is that the man responsible for this daily miracle was not, in fact, born in England. For Mr Kotb hails from Egypt.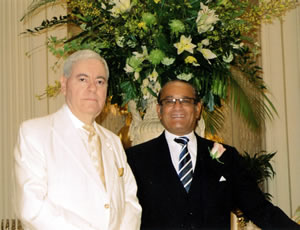 Michael therefore has a surname which needs to be pronounced carefully. We say the name as 'Kot – ub'. This outstanding gentleman – and I use the word 'gentleman' here deliberately – is the Manager of the Palm Court at The Ritz, the exquisite space of plaster, gilt and drapery which is the perfect heart of this great hotel. He has been such for more years than his youthful appearance would seem to allow.
Before coming to The Ritz, Mr Kotb was at the Grosvenor House Hotel and at The Savoy. In both those famous establishments he worked for long periods, and was recognized by both as a man who deserved promotion.
One of my pictures shows Michael standing on the steps of what must surely be one of the most beautiful rooms in London. Another has him with his usual smile, next to your correspondent. Yet another sees him before the fountain of his domain. Look carefully at these pictures. You will see that Michael has a twinkle in his eye, for he is blessed with a good-natured sense of humour. Indeed, I do not think that I have found a more delightful person in all my travels. He presides over his part of The Ritz with the winning authority of a Pharaoh – which is appropriate, given his homeland. Does a fellow having tea make the mistake of removing his jacket? Within seconds, Michael is by his side and, without causing the slightest ripple in the smooth running of the Palm Court, the guest is persuaded in the most gentle of manners to return to sartorial propriety.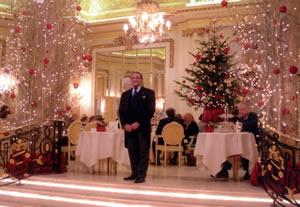 Because The Ritz now serves hundreds of afternoon teas each day, it would be easy for the sense of occasion to be lost. But never does the atmosphere suggest anything but the leisurely enjoyment of a soothing ritual. And the main credit must go to Michael Kotb. He sees all; he directs all; he perfects all. He is one of the chief assets of The Ritz Hotel. And, of course, he is always immaculately dressed, with a tailcoat and a separate, stiff collar. This goes yet again to prove my rule of life: those who dress properly are those with the highest standards in every aspect of their endeavours.
In other countries a man such as this would receive public recognition. If I had any say in the matter, he would be knighted in the next Honours List. But, until Her Majesty is minded to wield the sword, I must continue to call my friend simply 'Mr' Kotb – or, as he is more usually known, Michael of The Ritz.
---
ADDRESSES
THE RITZ
150 Piccadilly, London W1J 9BL, England.
Telephone +44 (0)207 493 8181
Fax +44 (0)207 493 2687
Email: enquire@theritzlondon.com
www.theritzlondon.com