ITALY
AMALFI
CONCA DEL MARINI
MONASTERO SANTA ROSA HOTEL & SPA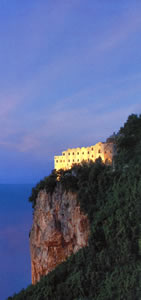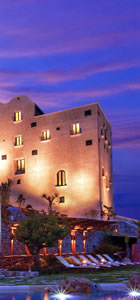 The Monastero Santa Rosa is one of the best hotels in Europe. This is a remarkable fact, for the establishment – after a painstaking restoration lasting eleven years – opened its doors only in 2012. Yet already it has the feeling of one of those lovely hostelries which has been growing better and better over many decades. This I attribute to the outstanding dedication and flair of its owner and restorer, an American lady called Bianca Sharma. I had the privilege of meeting her very shortly after my arrival, when she came upon me in her office (I was there by invitation, you understand), using the internet. Her passionate commitment and attention to detail is evident in every word she says about her creation, and she is to be congratulated on a remarkable achievement. Now, with its gorgeous buildings, magnificent location, charming and sumptuous décor, plush spa, brilliant chef and outstanding staff, the Santa Rosa is a gem.
Those called to the religious life are frequently blessed with the facility for appreciating great beauty. This is surely one of the reasons they have so often chosen to establish their communities in such lovely locations. Thus, in the 17th century, was a large and impressive monastery built in stone on top of the cliffs above Amalfi, overlooking the wondrous Gulf of Salerno. In 1681 it was consecrated and dedicated to St Rose of Lima. Now it is the Monastero Santa Rosa Hotel & Spa, and its position – so high above the busy coastal road which carries the tourists – makes it a retreat of absolute calm and thrilling quietness.
It is my firm belief that the corridors of an hotel carry the spirit of the place. Here they are of golden stone, spacious and exquisitely lit, and dotted with items of historical and aesthetic interest. Here, upon a fine table, is a folio book of carpet designs; and there, bathed in soft light from a rounded window, is a double-sided confessional, no longer used (one supposes), the patina of its dark wood gleaming in mute satisfaction at the grace dispensed within its ancient folds.
The hotel has just 20 rooms. Mine was called 'Laurus'. More prosaically, it is classified as a 'Sea View Deluxe Open Space Suite' – and is therefore 1,540€ – 1,650€ a night, bed and breakfast for two. For more delightful, elegant and comfortable accommodation I could not have wished. I loved its stonework, its vaulted ceilings and the discreet good taste of its furnishings. I entered straight into the room down a couple of steps (made safe for unsteady persons like myself by a wrought iron hand rail – created, I suspect, like so many of the attractive artifacts about the Santa Rosa, by local skilled craftsmen).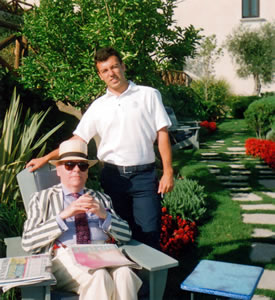 The sitting room part of the chamber measured about 20 feet by 12 feet, a space easily large enough to contain two sofas, an easy chair, a large television, various wooden tables, table lamps and a standard lamp. On the walls were framed photographs of how the room looked when it was used as the then owner's dining room (in the 1940s, I think). But the dominating focal point was a large and beautiful antique tapestry (pictured). I have referred to the television. I never watch television abroad, but I do like to have my morning Mozart and my evening Elgar. The Head Concierge, Lorenzo Bottone – a man of boundless energy and enthusiasm – therefore rushed off and returned with a cd player, which he connected to the television receiver, so that I could play the discs which accompany me on my travels.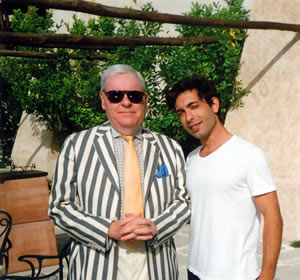 A high screen separated the sitting area from the sleeping area. In the latter resided a huge bedstead with ball and claw feet in gilded wood. Both here and on the corridor to the bathroom were fitted wardrobes (in one of which was a private safe). In the bathroom itself I found heated floors, toiletries by Ortigia, a tub of generous size, one wash basin, a walk-in shower and a separate loo with a bidet. From the apartment's four windows – cut through the massive stone walls of the monastery – were the views of the sea which make the hotel's location special.
I must again mention the members of staff. Each one I encountered was a credit to the General Manager, Flavio Colantuoni, for each had that balance of friendliness, courtesy and efficiency which one hopes to find at the great hotels. This is why I am more than happy to supply you, dear reader, with photographs of some of these paragons. I am not usually a frequenter of the swimming pool, but – tempted by the ravishing and immaculately maintained gardens – I did allow my Cleverley brogues to wander down to the bathing pond of the Santa Rosa.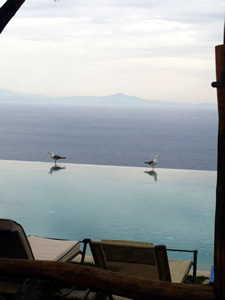 There I found such an outstanding welcome and such kind attention from Filippo Abbate and Alessandro Farina that it seemed only right to have my picture taken with each in turn. (I am sitting next to Filippo and standing next to Alessandro.) Filippo even turned out to be a fine photographer, as you can see from his picture of seagulls by the pool. Good hotels should be staffed by good people, and the Santa Rosa is.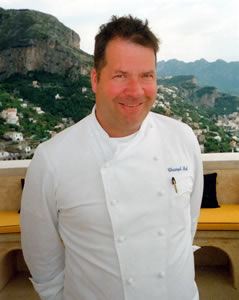 And there were more of them in the restaurant. Christoph Bob (pictured) is a chef from Germany of rare talent. His background is impeccable. (You simply cannot have a more impeccable background than having been the sous chef of the great Heinz Beck at La Pergola in Rome.) And his culinary achievements here will bring him many accolades, I have no doubt. He applies to the very finest ingredients remarkable skill and produces dishes which are ravishing both to the eye and to the palate. If I listed all the dishes from Mr Bob's kitchen I ate with abundant pleasure, you would be reading a very long list indeed. Let me therefore pick out the highlights. A vegetable 'lasagne' was a Te Deum to the bounty of the kitchen garden, with each mouthful a superbly balanced explosion of flavours and textures. Garganelli pasta – soft and yielding – was also blessed with Spring vegetables and an excellent pesto sauce. Yielding sea bass was cooked in salt dough and served at the table with potatoes, artichokes, olive cream and basil sauce. A ravishing ricotta soufflé – turned out onto the plate, in the good, old-fashioned way – was made even more pleasing by its scent of cinnamon and its lovely chocolate sauce. But best of all was the braised rump of lamb – meat so tender and so flattering to the palate that it was almost shocking. (Expect to pay 90€-110€ for four courses from the carte – 4 set menus are offered, costing 60€-110€ – and remember to leave a little room for the exquisite petits fours.)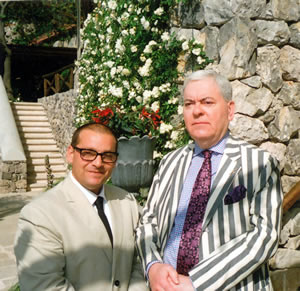 And there was yet another delight in the restaurant: the engaging Sommelier, Daniele di Palma (pictured), whom I knew from his days at the grand hotels of Ravello. Mr di Palma is a real enthusiast (and a knowledgeable one) about wine, and his list of 304 offerings is the list of an enthusiast. Prices run from 35€ for a local red (Piedirosso, Apicella, 2011) to 5,645€ for a magnum of 2001 Pétrus, with wines by the glass from 7€. As well as all the Italian delights, Francophiles will be pleased to find great clarets – like 2007 Le Pin (4,500€), 2001 Mouton Rothschild (1,565€) and 2001 Margaux (1,780€) – and some impressive burgundies, like 2005 DRC Romanée St Vivant (4,045€). There is a Canadian icewine (Pillitteri, 2006 - 215€), and quaffers of champagne will like the 2004 Cristal (320€). The following bottles from Tuscany caught my eye: Luce 2005 (190€), Tignanello 1997 (310€), Solaia 1997 (1,980€), Ornellaia 2001 (720€), Masseto 2004 (1,200€) and Sassicaia 1997 (1,100€). I knew that I could rely on my friend Daniele to recommend good wines, and he did, including two beautifully dense, complex and robustly structured reds from the vineyards owned by the Bocelli family, of which the famous tenor is a member. The 'In Canto' 2010 (65€) lingers in my memory as particularly fine.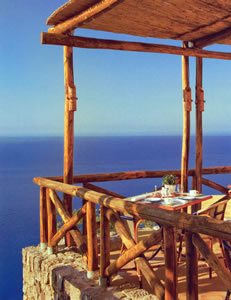 All this excellent eating and drinking I did on the covered rustic terrace of the restaurant. The waiters – good fellows like Antonio and Luca – wore white shirts, the tablecloths were white, the napkins were blue, the glassware was by Riedel and the view was the same panorama I had from my room. The only thing not entirely to my liking was the canned music, but – at my request – its volume was turned right down. In the mornings, the music became Classical and therefore tolerable, although I would still have preferred silence.
In the sunshine of the rising day this terrace really did seem like a foretaste of the Heavenly Places. Daniele was on hand to ensure that the service was as impeccable as the food. And – mirabile dictu! – there was no buffet. All was ordered and all was brought to the table: Corn Flakes, melon and pineapple, croissants, fresh orange juice, sautéed mushrooms and grilled white fish (which changed from day to day), marmalade and crusty bread, silver pots of coffee and my concluding cappuccino. Thus did your correspondent begin his days well.
And those days were spent within the Monastero and its grounds. For the Santa Rosa turned out to be one of those very rare hotels out of which I am happy not to step for a moment.
No. I was wrong. The Monastero Santa Rosa is not one of the best hotels in Europe. The Monastero Santa Rosa is one of the best hotels in the world.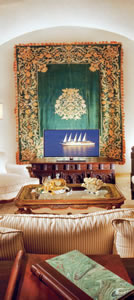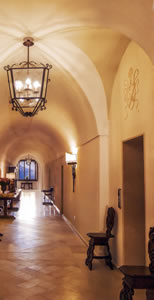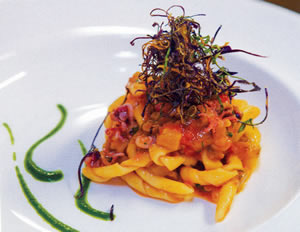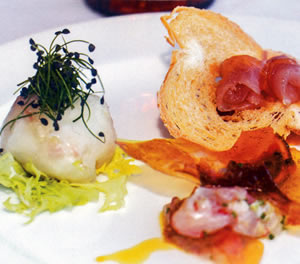 ---
ADDRESSES
MONASTERO SANTA ROSA HOTEL & SPA
Via Roma 2, 84010 Conca del Marini, Amafi Coast, Italy.
Telephone +39 0898 321 199
Fax +39 089 831723
Email: info@monasterosantarosa.com
www.monasterosantarosa.com
Double rooms from 375€-550€, including breakfast, according to season
Open from April to November