ITALY
ROME
MOSAICO RISTORANTE, HOTEL DE LA VILLE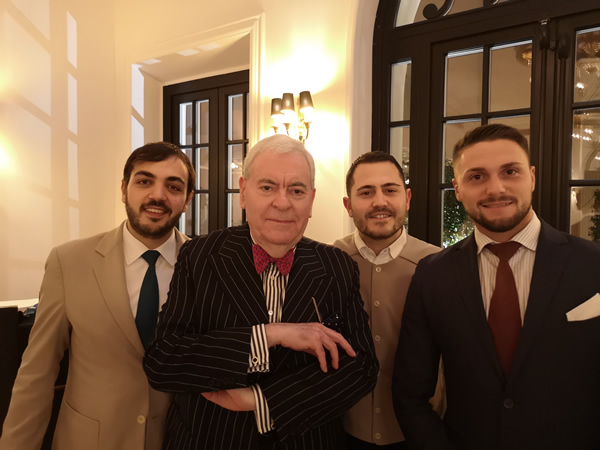 The Hotel de la Ville is the new Rocco Forte hotel in Rome. Created from three adjacent 18th Century palaces close to the top of the Spanish Steps, its luxurious interior is the work of architect Tomasso Ziffer and designer Olga Polizzi. They have taken as their theme, 'The European Grand Tour' and have therefore had much fun in bringing together lots of interesting and quirky objects. The result is both impressive and welcoming. I went along to try the establishment's Mosaico Ristorante, which occupies the inner courtyard in the summer. My visit, however, was in the winter, so I was shown to an elegant chamber with a black and white floor, black pillars, a high ceiling and gilt chandeliers.
I found this setting much to my liking, although I did not get too close to the open kitchen and was not frightfully keen on the canned music. (These are two features on which I have unfashionable views). But I certainly approved of the good white napery and high quality Schott glassware. Service is overseen by the Restaurant Manager Emanuele Bernardini and is both correct and friendly. Indeed, the waiters and waitresses in their fawn waistcoats and jackets so impressed me that I thought I should bring you a picture showing, from left to right, Alessandro (sommelier), myself, Francesco (waiter) and the aforesaid Mr Bernardini.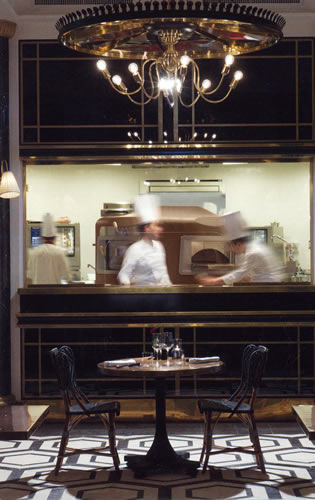 Rocco Forte's 'Director of Food', the Michelin-stared chef Fulvio Pierangelini, has devised a menu of Italian cuisine which incorporates elements from the rest of Europe, Africa and the Middle East. The consequence is a collection of effective and enjoyable dishes, delivered with considerable style and panache by the talented chef Danilo d'Allessandro.
I began with a dish of delightful subtlety, which included a combination which had hitherto eluded me. Delicious scrambled eggs came with black truffle in their mixture. Then, over the top, in front of me, shavings of white truffle were caused to fall onto the dish. I have eaten black truffle many times, and I have eaten white truffle many times – but never before had I eaten the black and white together. I can now recommend this divine marriage. Another food of which I am inordinately fond – at the other extremity of expense – is beetroot. Therefore I could not resist the beetroot salad with yoghurt and Asetra caviar. This balance of sweetness and asperity was a triumph. And so was the dark, tender roe deer loin, served with chestnuts, mushrooms, persimmon, pomegranate and (at my request) some spectacularly wonderful roast potatoes. Again, the culinary intelligence behind the composition of the dish was evident. I finished with gorgeous sfoglietta (millefeuille) with rum-marinated bananas and hazelnut ice cream. This was a delicious meal. (Allow around 100€-120€ for four such courses.)
The wine list spans the world to good effect, with prices running from 32€ for various offerings to 1,200€ for a 2016 vintage of the top white burgundy, Montrachet (Jacques Prieur). The following bottles also caught my eye: Krug Grande Cuvée (500€), Cervaro della Sala 2016 (115€), Palaneta chardonnay 2017 (55€), Ornellaia 2010 (380€) and Masseto 2016 (990€). My own drinking included a typically earthy, sweet and satisfying red from Puglia (Barik Primitivo di Gioia del Colle, 2015 – 48€).
Mosaico is a splendid addition to the restaurants of Rome. I have no hesitation whatever in recommending it for those (like myself) who want a jolly good dinner in the Eternal City.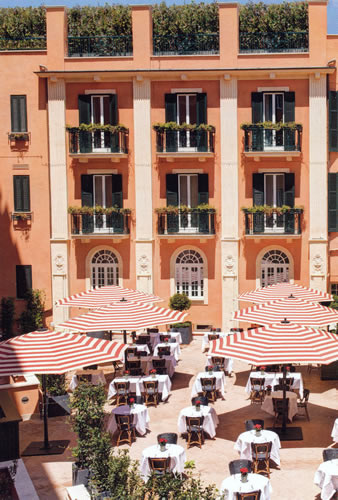 ---