ENGLAND
BERKSHIRE
WINDSOR
OAKLEY COURT HOTEL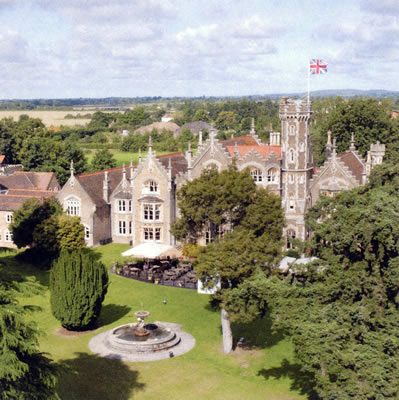 I have known about Oakley Court for many years, but only recently have I paid a visit. I therefore now know what a lot I have been missing. For it occupies a setting of great beauty – its lawns and ancient trees are right next to the River Thames – and provides hospitality of a high order in a most friendly manner. It is thus deservedly popular, and lots of people use its extensive public rooms and facilities. You might know the main house, at least by sight, for it has appeared in many films, including two of my favourites, The Rocky Horror Show and The Brides of Dracula. Built in 1859, it is a remarkable example of the Victorian delight in the fanciful and the grotesque.
There are newer buildings, too – of a more sober sort – in the 35 acres of grounds. The overall effect is of an Oxbridge college, and that is entirely pleasing. Bedrooms can be had in the Courtyard, the East Wing and the West Wing, but I was billeted in the Mansion House itself. I went up a wide oak staircase and found on the first floor room 104, The John Lewis Phipps Suite. (This gentleman was the owner of Oakley Court around 1900.) Classified as a Junior Suite (check the hotel website for the price for specific dates), this was a large and spacious apartment, its substantial bay window overlooking the gardens and the river. Behind the bed was a wall of fitted cabinets, mirrors and niches, which surely dated from the mid-Nineteenth Century. The green carpet and off-white walls seemed right in this context. There was plenty of space for two armchairs and a substantial writing desk, and overhead was a brass chandelier with eight branches.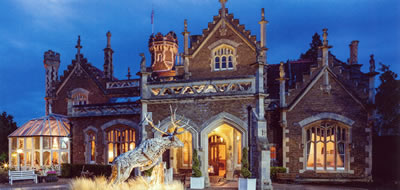 The bathroom was delightfully exotic. I am not sure I have performed my ablutions before in an hexagonal chamber, but I can recommend it. Toiletries were by The White Company. The bath (with shower over) was of a decent size, and there was one wash basin. The window shared the bedroom's view, although modesty required the curtain be kept lowered.
I must make a special mention of the members of staff I encountered. Young, keen and enthusiastic, they are a credit to the Managing Director, Richard Smith. Although I am not a man for the bar, its manager, Warren, proved particularly affable, and the restaurant manager, Andrew – although he gave me a fright by asking if could take my jacket – maintained the standards by being both courteous and efficient.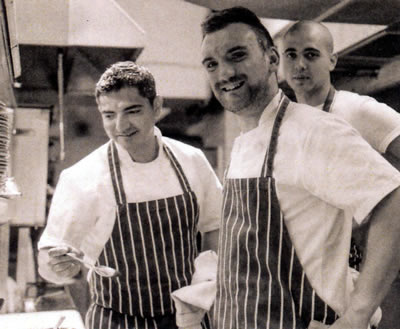 I met the latter at The Scullery, the less formal of the restaurants. (The Dining Room was closed for my visit.) Here, in a room of dark wooden tables, white napkins, C & S glassware and single candles, Chef Damian Broom provides straightforward dishes, based on high quality ingredients, simply handled. I found his dishes full of good, robust flavours.
I began with salt-baked beetroot, with whipped goat's cheese and pine nuts. As I love beetroot, this was a good start. It was followed by excellent fish – Coln Valley smoked salmon with the customary accoutrements. But the star of the show was the main course, because this fillet steak was just so full of lovely, rich taste. And the accompanying Jersey Royal potatoes were the best I have had for a long time. Wonderful beef and wonderful boiled potatoes produced a very happy guest. I finished appropriately – for the school is nearby – with a lemon curd and raspberry Eton Mess. (These four courses were £46∙50.)
The wine list is short, with just 47 offerings, grouped by type – "warming red" and so on – but vintages are not given. (The list for The Dining Room is longer.) Prices run from £21∙50 for a Chilean chardonnay to £185 for Taittinger Comtes de Champagne blanc de blanc. Do not let the brevity of the list put you off, for at the helm of this modest wine ship is Sommelier Alex Futcher. He proved a most excellent fellow. He certainly knows his wines. He recommended three beauties. A 2013 Petit Chablis (Roland Lavatureux) had the right steeliness for the beetroot. Then, for the salmon, a 2013 Sicilian oak-laden chardonnay was perfect – with lots of vanilla and hints of exotic spice (Rapitalà - £45). And the beef was put with a fine cabernet franc from Argentina which was soft, earthy and full of brambles. About each of these wines Mr Futcher spoke with such enthusiasm and knowledge that I marked him down as one of the stars of Oakley Court.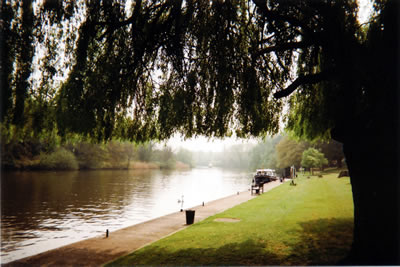 Back for breakfast the following morning – marred only by paper napkins, which should give way to damask ones at once – I was looked after by another good chap, the waiter Jack. He ensured that I could tuck into that strange but magnificent combination taught to me by my grandfather: porridge made with water (not milk), brown bread and butter and chopped raw onion. And from the buffet I secured other good comestibles: sausages, fried eggs and mushrooms, fruit salad, croissants and marmalade. You will gather that I did not go hungry at Oakley Court.
Indeed, this place by the Thames supplied me with an excellent sufficiency of all those things I require when I stay away from home. Comfort, attentive service, beautiful surroundings, enjoyable food and delicious wine – each was available in abundance at the Oakley Court Hotel.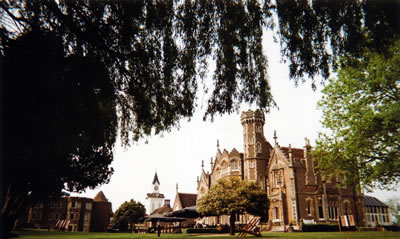 ---
ADDRESSES
OAKLEY COURT HOTEL
Windsor Road, Water Oakley, Berkshire SL4 5UR, England.
Telephone +44 (0)1753 609 988
Fax +44 (0)1753 609 939
Email: guestrelations@oakleycourt.co.uk
www.oakleycourt.co.uk
Double rooms from £160, bed and breakfast
Check the hotel website for special offers and for the rates for specific dates