UNITED STATES
CALIFORNIA
SAN FRANCISCO
OMNI HOTEL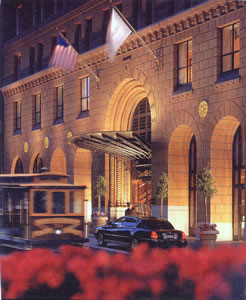 Although in its climate, its buildings and its attitude to life, San Francisco can seem rather like a European town, I find much delight in those things in the city which are resolutely American. One of them is the Omni Hotel. Handy for both Nob Hill and the Financial District, it inhabits a building which the Florentines might have built in the Renaissance, had they – like the Americans in the 1920s – been able to manage 17 floors. Clearly, money was spent lavishly by the original owners, a bank, for the architectural details are impressive both without and within. And even though the entrance hall has been split in two horizontally, it still offers a grand welcome – with its marble floors, crystal chandeliers and eager staff. The last is the immediate giveaway that we are in the U.S. of A.
I do not think I have ever had my name used so frequently in an hotel. Every member of staff I encountered seemed to know it, and to greet me and ask me if I needed any help on every possible occasion. My observations indicated that other guests received the same treatment. How this feat of memory was achieved, I do not know. It seems baffling, particularly when you know that the Omni has 362 rooms.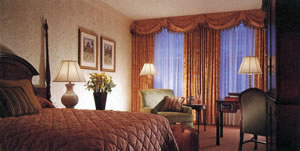 I was in number 1727, on the 17th floor – so that I was just high enough to have a view of the Bay. (Most of the rooms are similar. The price of them varies from $169 to $499, breakfast extra, according to the specific dates required, so you should check on the internet.) This was a bright rectangle of beige, yellow and green, with the bathroom and the fitted wardrobe (wherein was a safe) cut out, on each side of the entrance. All was spick and span and the style was traditional, with swagged and tailed curtains and pieces of reproduction furniture – like the coffee table and writing desk – in mahogany. There was one easy chair. A sliding door led to the small bathroom, with its tub, wash basin and loo.
As I have noted many times before, the sign of a good hotel is not that there is never anything wrong, but that the things which are wrong are put right quickly and efficiently. This is exactly what happened at the Omni. The bed was not soft enough for me; the ironing board did not work properly; the bulb had gone in the shaving mirror; and the air conditioning was not very effective. I gave my little list to the Reception desk, went for a walk to look at St Mary's Cathedral, just up the hill, and by the time I returned everything had been sorted out. That was proper service.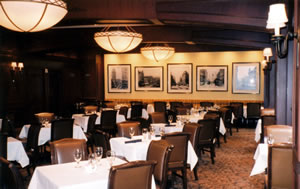 And there was proper service, too, in the dining room, called Bob's Steak & Chop House. I was welcomed – to my surprise – by an Australian, for the tall and charming General Manager of the restaurant, Damien Holloway, is from Melbourne. I did not discover anything about the eponymous Bob, but he must have been a man who liked his food – lots of it. The portions here were truly American, and that means large. I went for dinner in this clubby place, and immediately appreciated the atmosphere created by the dark wood panelling, the discreet lighting, the black and white photographs of old San Francisco, the Schott glassware and the crisp white napery. There was an appealing sense of affluence here. The waiters wore white shirts and black bow ties and were quick to refold my napkin when I left the table for a moment.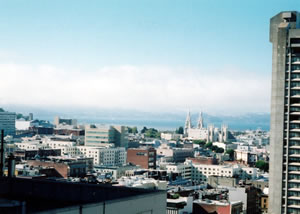 I began with smoked salmon – from Alaska and full of taste. It came with the classic accompaniments of chopped egg, capers and onions. Then I did what everyone should do who eats at Bob's – I had the beef. (All the beef served here is what the United States Department of Agriculture categorizes as 'prime'.) To be precise, I had the 9 ounce filet mignon, which was quite superb – tender and full of powerful, life-enhancing taste. I had it cooked 'charred rare', which meant it was crisp on the outside and rare on the inside. This came with a large carrot, smashed potatoes, sautéed onions and peppercorn sauce. (There were, of course, much, much larger steaks available, but this was more than sufficient for this young lad.) I ended with 'banana nut rum bread pudding with dark rum custard sauce'. It sounds huge now, and it was huge then – and jolly good, too. (These three courses were $65.)
All the 270 offerings on the wine list – except the champagnes – are Californian. Prices run from $27 for a white zinfandel to $515 for the Abacus Napa Valley cabernet, Eleventh Bottling. 2004 Opus One is $295 and 2005 Beringer Private Reserve cabernet is $185. The corkage rule is civilized: the $25 fee is waived for one bottle if one bottle is bought from the list.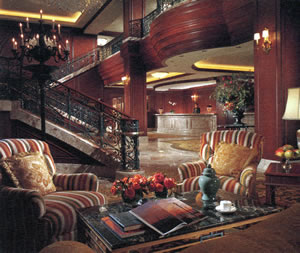 I tried a glass of vanilla-laden Russian River chardonnay, which cut through the oiliness of the smoked salmon effectively (Sonoma Cutrer, 2008 - $16, glass), and an absolutely gorgeous, perfectly balanced, Napa cabernet, oozing ripe black fruit (Beaulieu Reserve, Tapestry, 2006 - $92). This was recommended by Mr Holloway. He deserved (and received) my thanks.
I returned to Bob's for breakfast (around $35) each morning. I noted that, at this hour, it was much patronized by gentlemen from the Financial District. Doubtless, they were about their deals. I concentrated on the pleasures to be had from breaking the fast. And here they were many, for there was no energy-draining buffet for me to cope with and there were still starched white tablecloths on the tables. (How I wish hotels would not abandon tablecloths for breakfast. It is most uncivilized.) True, there was canned music. But it was Ella Fitzgerald, so I was inclined to forgive the intrusion. To my table, waiter Mark and waitress Karen – both of whom proved courteous and efficient – brought bacon, poached eggs, dishes of fresh berries, coffee, ice cubes and bowls of hot, sustaining oatmeal. (My Grandfather would begin each day with such a bowl of porridge, but would accompany it with slices of brown bread and butter and a large, raw Spanish onion. I still find this combination delicious, but I dare not consume it.)
The Omni is a fine, all-American hotel. I commend it to you.
---
ADDRESSES
OMNI HOTEL
500 California Street (at Montgomery), San Francisco, California 94104, U.S.A.
Telephone +1 415 677 9494
Fax +1 415 273 3038
www.omnihotels.com
Double rooms from $169-$499, according to season, breakfast extra