Switzerland
LUCERNE
THE PALACE HOTEL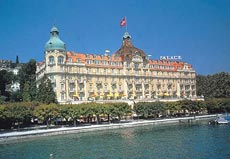 Ducks have all the fun. But no, not all – because while they can, and do, fly off to Lucerne and its glorious lake, they cannot stay at the Palace Hotel. So, while my feathered friends were gliding up and down on the placid waters – and giving an occasional quack towards the backdrop of snow-capped mountains – I think I had the better of it within the portals of this glorious Belle Epoque pile.
We were separated by only a few yards, for one of the many blessings of the Palace is its position – right on the lakeside, with no road to disturb the calm. On the evening of my arrival, it was a moment of sheer joy to return from a pre-prandial stroll along the Promenade, ascend the stone steps and enter the grand hall of my hostelry as the pianist began to tinkle 'As Time Goes By'. With black and white marble underfoot and columns and paintings all around, this was the sort of moment which makes me realize once more why I love grand hotels. Especially when they have been resurrected. For the Palace suffered various indignities in the 1970s – like having its marble floors concealed under carpet and its marble pillars covered with paint. The great and the good still came to stay – folk like Sir George Solti, Leonard Bernstein and Herbert von Karajan (for Lucerne is famous for its music) – but now, thank goodness, the decorative horrors have gone and luxury and good taste have been restored. On the verge of its centenary, the Palace is again a truly wonderful hotel.
And, like all wonderful hotels, it manifests the essential quality of good hospitality: attention to detail. I found this in the little decanter of passion fruit liqueur placed in my room, in the careful siting of the shaving mirror in my bathroom (nine times out of ten, this item is located so as to be unusable) and in the provision of a telephone, not only by my loo but also by my bath tub. Small things, perhaps, but things which speak of expert hands on the tiller. Four hands, in fact, for the general managers here are Andrea and Constancia Jörger, and they clearly know their business very well indeed.
Mr Jörger showed me several rooms, and I can report that all were well-equipped and crisply elegant. My own billet on the fifth floor, number 516, was a 'superior junior suite' (730 Swiss francs a night for two). Its abundance of space impressed me at once. Its hallway alone – at about 16 feet by eight – was larger than the rooms offered as 'doubles' by some hotels. From the four windows of the bedroom I could look down on my duck chums or across the lake at the monumental majesty of Mount Pilatus. I noticed that the beds were covered with the dreaded duvets, but a quick call to Housekeeping and blankets and sheets were soon restored. White walls with modern etchings, green carpet and red upholstery for the French-style chairs and the sofa combined to make this a comfortable and stylish apartment. I could think of only one improvement to the bedroom: the provision of a mirror. (There were plenty around the hanging space in the hall, but I like to wander about when I am dressing.)
From the beige tiled bathroom led a separate loo and bidet and a separate shower. Two wash basins were provided, of course, and the room was well lit by spotlights. Only one detail jarred – the tiny bars of soap. Excellent soap though it was, these small pieces were wrong for this opulent context. A loudspeaker, adjustable for volume, brought in the sounds of Chopin from channel two of the wireless, so my ablutions – like everything else at the Palace – were highly civilized.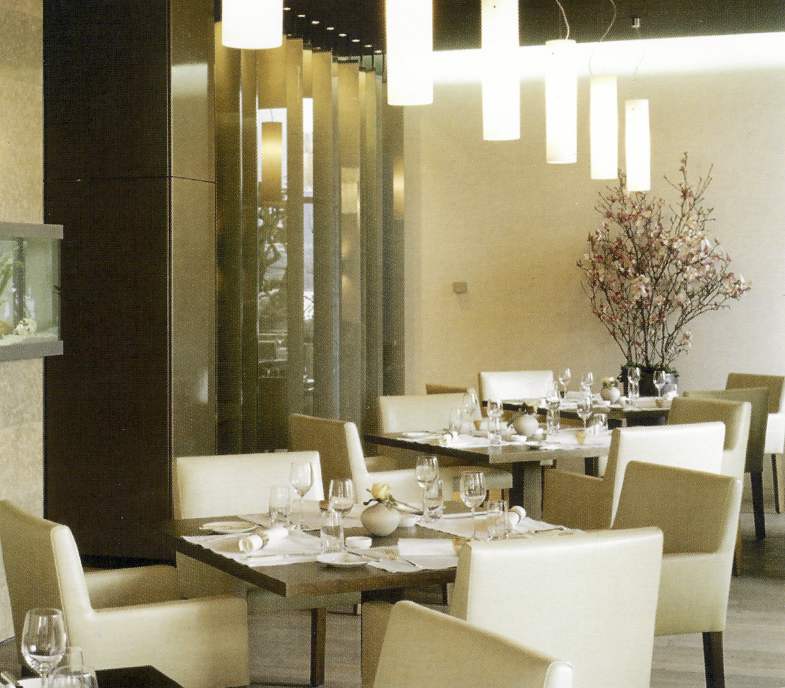 Breaking the fast was done in a room called 'Les Artistes'. This was a lovely way in which to start the day. Sometimes hotelkeepers think breakfast is a meal which should be eaten at tiny tables in cramped surroundings. They are wrong. Such folk should be made to visit the Palace to see how it should be done. Here was a noble chamber, with another marble floor, crystal chandeliers, white tablecloths on large tables and black wooden armchairs. Through the high windows came the view of the lake and the rays of the sun. Would the latter disturb me? Of course not. As a coxless pair dipped and pulled across the water, striped blinds gently eased themselves out to shield my bacon from the glare. From the buffet I also secured wonderful scrambled eggs, a slice of crusty bread and a spoonful of local raspberry jam. Delicious.
My evening comestibles were taken in a room which, stylistically, proved a sharp contrast to the rest of the hotel. Jasper, despite its cream walls and expansive windows, manages to be one of those modern restaurants which enfolds its guests in a warm and dark embrace. The effect is achieved with an oak floor, subdued lighting from lamps of opal glass, staff in dark lounge suits and decorative surfaces of onyx, horn and slate. My table, too, was of dark wood, although with a setting of white linen. I was pleased to note the high quality of the glassware – from Spiegelau.
Ladies rule the roost here. Françoise Wicki is a young Swiss chef who is happy to take her inspiration from around the world. The courses of my dinner revealed a sharp intelligence and an enthusiasm for dishes which require some serious work. Tender lobster with verjus butter and vegetables was a colourful picture in a white bowl: with its green (peas), yellow (butter) and orange (lobster). Calf's head on green cabbage with potatoes and truffle was another painterly piece, although the accompanying vinaigrette was a little strong for this palate. A plate of breast of duck – pink, soft and full of taste – with sweetcorn polenta was superbly balanced, and easily the highlight of the meal. And the concluding pineapple 'tarte tatin' with rum sabayon and passion fruit sorbet was a satisfying conclusion to my repast. (142 Swiss francs for these four courses.)
Another lady, the maitresse d' Christiane Braun, oversees the courteous service. From her cellar (an interesting selection of Swiss, French, Italian, Spanish and Portuguese offerings) she produced a Swiss viognier of melon with a hint of honey (Grillette, Dom. de Cressier, Neuenburg, 2002 – 69 Swiss francs) and a big Sicilian cabernet with liquorice and black cherries (Camelot, Firriato, Paceco, 2000 – 111 Swiss francs). Two enjoyable bottles.
Lucerne is a lovely place – and is full of interest, as well as beauty. (Do make sure you visit the astonishing painting 'in the round' of the internment in Switzerland of Napoleon's Eastern Army. It has its own circular gallery near the town centre.) At the Palace Hotel you can eat, drink, rest and sleep in luxury and style. And I predict you will enjoy yourself even more than the ducks.
---