AUSTRIA
VIENNA
PALAIS COBURG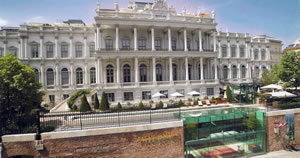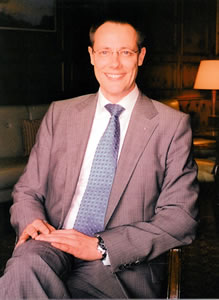 In at least one important respect, hotels can be likened to schools. If you are looking for a good school, you need to find a good headmaster. And, if you are looking for a good hotel, you need to find a good general manager. In this period of what is ludicrously called 'reality television' – there is nothing 'real' about television, as those of us who have had even the slightest acquaintance with life on the other side of the screen can testify with certainty – it has become a popular pastime to watch amateurs as they try to set up and run hotels. The popularity of such entertainment is easy to understand, for the people involved inevitably end up at the bottom of a pit of despair and failure, and these programmes are based firmly upon something we all love – schadenfreude. So let me state the obvious truth yet again: running a great hotel successfully requires huge amounts of skill, flair, intelligence, knowledge, experience and charm. Such a combination is not common. This is why I am pleased to bring you a photograph of one of the best hotel general managers I have met – Mr Thomas Kléber.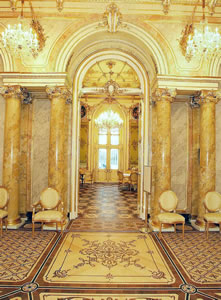 I first encountered Mr Kléber at the wonderful Park Hotel Vitznau, by Lake Luzern, in Switzerland. Now he is the General Manager of the Palais Coburg in Vienna. I take it that he does not have an ageing portrait in his attic, so the secret of his youthful appearance must remain unknown to us. But I can reveal that he possesses all the qualities I have set out above, and can therefore inspire his staff to reach the highest standards of service.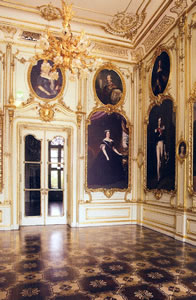 The Palais Coburg demands such excellence. Not only is it located well within Vienna's central Ring – and is therefore ideally placed for those guests who wish to visit the heart of the old city – but it also has a distinguished history of its own. It was built in the 1840s by the architect Karl Schleps for a member of Prince Albert's family, who rejoiced in the name, Herzog Ferdinand Georg August von Sachsen-Coburg und Gotha. I do not know whether Queen Victoria ever visited her husband's relative here, but, if not, she missed some exquisitely decorated salons. They have now been carefully restored, as I hope you can see in the photographs.
Indeed, the whole building has been renovated, and a modern front, with much glass, has been added. There are now 35 rooms and all of them are suites. As the pictures reveal, they are comfortable and possessed of a style which combines both the old and the new. Prices for a double room begin at 590 euros, including breakfast.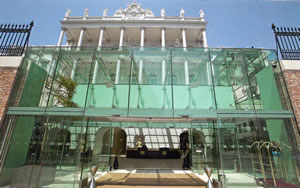 Apart from the excellence of its location and its atmosphere of stylish luxury, the Palais Cobug possesses another attraction for the sophisticated traveller: its wine. In its 'Wine Archive' the hotel has 60,000 bottles. And these are not ordinary bottles. They include what is thought to be the oldest drinkable wine in the world – Rüdesheimer Apostelwein from the vintage of 1727. Some other gems to catch my eye were: 1811 Yquem, 1870 Lafite, 1900 Margaux, 1945 Mouton-Rothschild, 1961 Latour, 1961 Pétrus and 1985 Romanée-Conti. You will notice that I have not mentioned the prices of these bottles. The prices are 'on request', and I suspect that the old adage might be appropriate – "If you need to ask, you can't afford it." Still, there are plenty of less precious bottles for those with shallower pockets.

With my meal in the Garden Pavilion room of the Restaurant, I decided to allow my choice of wine to be made by the Sommelier. I knew this was taking no risk at all, for the young gentleman in question – Thomas Fassl – knows about wine. I last encountered him at the Restaurant Le Ciel (at the Grand Hotel), and I was so pleased to find that he is now in charge of the magnificent cellar at the Palais Coburg. He poured into the Riedel glasses a perfectly balanced German Riesling from the Mosel, with low alcohol (8%) and the gorgeous petrol aromas I love (Kesselstatt Josephshöfer spätlese, 1994 – 75 euros), and a wonderful Napa Valley cabernet with as much ripe black fruit and residual sweetness as even my palate desired (Montelena Vinery, 1996 – 95 euros, half).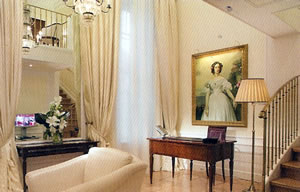 Chef Martin Kammlander-Löwe's food was also pleasing, for he prepares his straightforward dishes with skill and uses fine ingredients. With the floodlit façade of the palace towering high above the glass roof over my head, I tucked into tasty beef tartar with red shallots, precisely seared scallops with gnocchetti – strangely, on a plate which was far too small – some top quality rack of lamb (pink and really full of flavour) and helpings from the pudding trolley of apple strudel and nougat mousse. (Allow around 60 euros for four courses.) Service was attentive and proper, as I expected it to be at an hotel of this quality.
And, presiding over all this, is Mr Thomas Kléber. With such a general manager, you can be sure that the Palais Coburg will remain one of the very best hotels in Vienna.
---