ITALY
RAVELLO
PALAZZO AVINO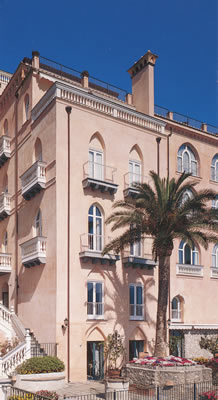 The Palazzo Avino is one of the undoubted stars of the Amalfi Coast. Part of its building dates back nine hundred years, and it is named after the family which now owns it. It is elegant, refined and luxurious. It occupies a position one thousand feet above the sea, and from its windows and terraces is a panorama which makes even an old curmudgeon like your correspondent feel glad to be alive. It is rightly one of the top destinations for the world's most discerning travellers, who love the remarkable comfort, the good taste, the acclaimed gastronomic restaurant, the wonderful wine cellar and the impeccable service.
But there is one piece of advice I need to give to the sophisticated and demanding readers of Bown's Best: do not stint on your accommodation here, for your choice of accommodation at this establishment is of crucial importance. Among its forty or so rooms are some of the most elegant and comfortable apartments you will find anywhere. But the hotel has some smaller, cheaper apartments with no sea view. On no account should you opt for one of these. The Palazzo Avino is about grandeur and breathtaking panoramas: it is not about saving a few euros. Indeed, I would strongly urge you – if the pennies are available – to opt for a 'Deluxe Suite, Sea View'. On my recent visit I stayed in room 209 on the second floor – a 'Deluxe Sea View' and therefore 595€-850€ a night, bed and breakfast for two, according to season. But, despite its pristine smartness, its modest dimensions lead me to recommend instead the billet in the grander category in which I have stayed previously. This was on the third floor and was 1,045€-1,650€ a night, bed and breakfast for two. It was one of the loveliest suites I have ever occupied – and that, my dear friends, is saying quite a lot.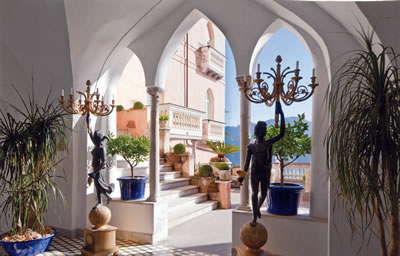 In the proper, long hallway (I paced it out at 18 feet) were the fitted wardrobes (containing the safe), an antique commode and the door to the bathroom – a chamber of sparkling white tiles, spotlights, two wash basins, a loo, a bidet, a tub of decent size (with a jacuzzi facility), a separate shower, towels and bathrobes by Frette and Bulgari toiletries. But, of course, it was the sitting room which really took my fancy. It was a near-ideal size – 16 feet by 15 feet. Here the pristine white of the walls and the floor was set off by the gilt of the mirror and the console table, by the blue of the upholstery of the Louis XVI style fauteuils, by the reds of the Persian rugs, by the glistening brown of the writing desk and the inlaid cabinet and by the green of the potted palms. Then there was that view. And through one of the three French windows was a wonderful open loggia, easily accommodating four chairs and a marble-topped dining table. Beyond the stone balustrade – distant and magical – was the sea, the sky and the coastline.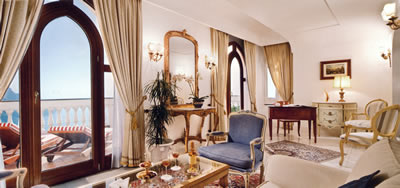 I must here record my thanks to the good ladies of the Housekeeping department, who have laboured long and hard (and to good effect) to ensure that my bed on all my visits has been soft enough for my wretched back. They typify all the members of staff at the Avino, who are a credit to the Managing Director, Mariella Avino.
Eating at the Palazzo Alvino is a particular joy, for the standard of food is exceptionally high. I dined first at the Caffè dell'Arte, on its Terrace Belvedere, a swish place with The View, metal chairs with cushions, glasses by Riedel and by Spiegelau and friendly waiters in black waistcoats. Here I found well-prepared and attractive dishes of straightforward food. I began with Parma ham of high quality, with mozzarella and cantaloupe melon – a classic combination, well realised. Then it was pasta – Tortelli Caprese, with tomato fondue, burrata cheese and pesto sauce – another decent dish. My main course was excellent – sea bass, grilled simply and served, at my request, with roasted potatoes, boiled peas and sautéed onions. An apple tart with vanilla ice cream concluded this satisfying repast. (Expect to pay around 85€ for four courses.)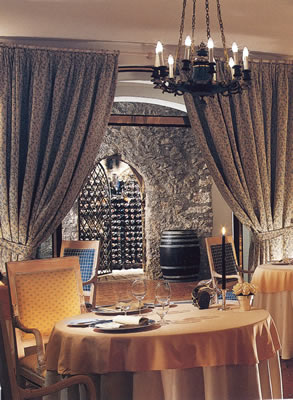 But there is no doubt where the gastronomic heart of the hotel is to be found – at Rosselini's. This is the restaurant with a Michelin star and this is the place to which gourmets come from far and wide. The walls and the napery are white, the glassware is by Riedel, the waiters wear black waistcoats and the service is courteous and proper. (Napkins are replaced if a diner leaves the table for a moment.) I was looked after exceptionally well by the Second Maitre d' Francesco Pignatiello. My only regret was that the chairs no longer have arms.
The Chef had changed since my last visit, but I realised very quickly that the kitchen remains in very safe hands. Chef Michele Deleo is a cook of enormous talent, who is not afraid to present dishes which demand a great deal of hard work. My amuse-bouche consisted of nine items, and one of the dishes on the menu is "Quail Six Ways". He offers four tasting menus (including one for vegetarians) at 80€, 90€, 98€ and 140€. My four courses from the carte were 141€.
I began with a dish brilliant in both conception and execution. Foie gras and langoustines do go very well together, and here they were combined with stewed spring onions and an infusion of apple scented with elderflower which sent the whole, pretty confection into the stratosphere of gastronomic achievement. Magnificent. Surely my pasta course could not be as good? But it was. With peas, marinated shrimp, bacon foam and egg yolk sauce, this was gorgeous from first to last. My main course of lamb was less successful, largely because its Cacciatora sauce rather overwhelmed the flavour of the meat. But things were back on course with the light and delicious pudding, an "East and West Awakening", with green tea ice cream, strawberry infusion, lemon grass, almond sponge cake and vanilla oil. This was a truly interesting as well as a hugely enjoyable meal.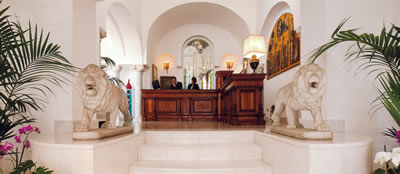 Daniele Arcangeli is a fine and knowledgeable sommelier – which is what he needs to be, for he has charge of a good cellar. The list has 297 offerings, with prices running from 30€ for a 2008 Spumante (Borboni) to 1,900€ for 1990 Biondi Santi Riserva Brunello di Montalcino and 2,000€ for 1997 Pétrus. The grapes are given for each wine. Italian temptations include 1995 Sassicaia (550€), 1971 Tignanello (1,200€), 1996 Luce (125€) and the 2002 vintage of one of my favourite sparkling wines, Franciacorta, Anna Maria Clementi, Ca'del Bosco (150€). From France you can have 1988 Latour (500€) or 1993 Margaux (1,000€). I was pleased to see, too, five dry whites from Germany. 16 wines are offered by the glass and there are half a dozen 'tasting options' – for example, four glasses of "The great wines of Italy" for 85€.
In the mornings, shaven and blazered, it was back to the restaurant terrace to break my fast from the buffet, on which all the food was of the very top quality. From its bounty I took pineapple, strawberries, fruit tart, crusty bread, bacon and mushrooms, ham and tomatoes and Corn Flakes – and also asked for onion omelettes, cooked by the chef at his station. To my table were brought silver pots of coffee, buckets of ice and plates of fresh mozzarella. These were leisurely and substantial breakfasts, enjoyed shaded from the bright sun and with the panorama of the Amalfi Coast laid out before me.
Immaculately maintained, wonderfully located, sumptuous in its furnishings, with a superb kitchen and an impressive cellar, and blessed with members of staff who will go that extra mile for their guests, the Palazzo Avino is an hotel for stars and a star among hotels.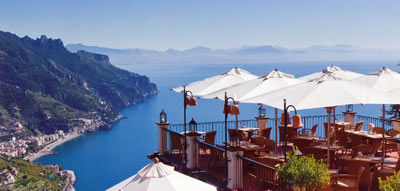 ---