ITALY
ROME
HOTEL PALAZZO MANFREDI & RISTORANTE AROMA
A Relais & Chateaux property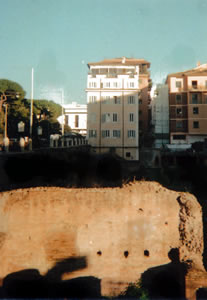 The Colosseum in Rome is one of the most impressive buildings ever constructed. To stay in a 17th Century palazzo, built upon the site of the Roman gladiators' barracks and looking directly upon this antique masterpiece, was a temptation I could not resist. The Hotel Palazzo Manfredi has just 13 rooms and 2 suites, together with a very highly regarded restaurant called Aroma. It is located on the side of the Colosseum away from most of the tourist activity – which is an advantage, given the huge number which daily arrives to visit the monument. Nevertheless, this is, of course, still a busy part of town.
I tried both of the hotel's suites. To be more accurate, I only looked at the larger one. On the first floor, it is a remarkable example of designer chic. But I soon realized that I would have had to be considerably more agile than I am to be able to use its bath. I therefore forsook its modernist charms and went down to the ground floor for the altogether more traditional comforts of the Junior Suite, room number 11. (You will need to look on the hotel website for the prices for particular dates, as they change from day to day.) Like its senior counterpart, its windows look directly onto its grand neighbour, so I had my 'Colosseum view'.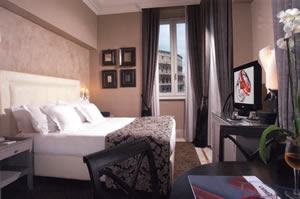 My bed/sitting room measured about 16 feet by 14 feet, and had a floor of red and grey marble. There was plenty of hanging space for my suits in the two fitted wardrobes, one of which contained a private safe. Two upright armchairs and a sofa-bed provided the seating. Behind the headboard of the main bed was a writing desk. In addition to the table lamps, lighting came from two wall-mounted golden roundels, behind which were electric bulbs. In the marble-clad bathroom were toiletries by Battistioni, one wash basin, a tub of reasonable size (with an overhead shower), a loo and a bidet. This was a comfortable billet. And my stay was made all the more comfortable by the help and kindness I received from the hotel's suave manager, Bruno Papaleo, who goes to considerable lengths to ensure that his guests are looked after well.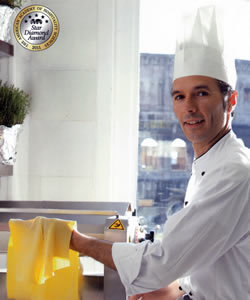 Eating at the Palazzo Manfredi was a particular pleasure. The Restaurant Aroma, at the top of the building, enjoys the best views of the Colosseum and is blessed with a brilliant chef, Giuseppe di Lorio (pictured), to whom the Michelin inspectors have awarded one of their coveted stars. To reach the dining room, one uses the lift to the third floor and then walks up the stairs to the fourth. (Remember, this is a 17th Century building.)
For dinner, I settled into one of the metal chairs (with cushions) and gazed at the panorama, which included two floodlit beauties – the Vittoriano (the grandiose monument to King Victor Emmanuel II) and the dome of St Peter's basilica. On my table the napery was grey and the glassware was by Riedel. To this sopisticated setting were brought dishes of impressive refinement. There was canned music, yes, but the Restaurant Manager, Maurizio Ciurli – who looked after me exceptionally well – had it turned down at my request. The service over which he presided was both courteous and correct. It included not only replacing the napkins of those who left the table for a moment, but also providing me with an extra table lamp, so that I could see more clearly the food before me.
I wanted to see it clearly, because it was so good. An amuse-bouche of beef tartare set the high standards which were maintained throughout the meal. Culatello ham from Zibello, served on a large white, square plate, was balanced in a delightful manner by peach and lemon compote. Spaghetti (very slightly al dente) came with a subtle rabbit ragout and zolfini beans with a hint of cumin. But the star of this particular performance was the sliced Wagyu Kobe beef – of such tenderness and rich flavour that I was overcome by carnivoral joy. The conclusion was nearly as good and was full of fun – a coconut sphere with an apricot heart on white chocolate crumble. (These four courses were 193€.) This was a lovely meal.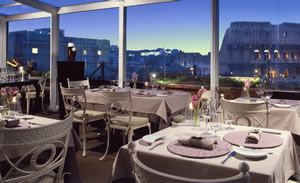 The wine list has several hundred offerings, which are mostly Italian and French, although there are a few 'others' from elsewhere, including Germany. There are some good champagnes – Krug Grande Cuvée is 350€ - and my favourite Italian bubbly (Anna Maria Clementi, Franciaorta, Ca' del Bosco) is present in its 2006 vintage for 210€. Other bottles to catch my eye were: 2005 Cervaro della Sala (150€), 2012 Masseto (1,250€) and 2011 Sassicaia (650€). The knowledgeable sommelier, Massimiliano Coletti, recommended an exceptionally good primitivo from Puglia, which was packed with enticing ripe black fruit and was so refined that I would have supposed it to be a super-Tuscan (Manduria ES, Gianfranco Fino, 2014 – 105€).
Each morning I returned to the fourth floor for breakfast. All the food on these happy and leisurely occasions (one should never rush the first meal of the day) was exceptionally good, whether it was from the buffet (like poached pears, fresh melon and pineapple, Allbran with banana and slices of chocolate cake) or brought to me from the kitchen (like bacon and poached eggs – the latter with gloriously dark yolks – white jugs of coffee, dishes of ice cubes and orange juice squeezed 'al momento').
The Hotel Palazzo Manfredi is a small, distinctive hotel with a dedicated staff and a remarkable restaurant. If you want to be near the Colosseum, this is the place for you.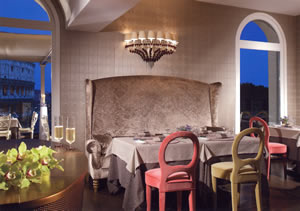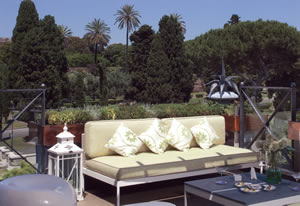 ---