ITALY
NORCIA (UMBRIA)
PALAZZO SENECA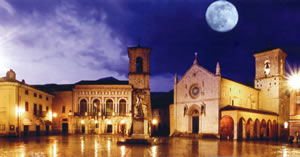 It is time for me to make a confession. For many years I have suffered from, and frequently given way to, a powerful addiction. I call it trufflomania – the desperate desire to eat truffles. It can overtake me in the morning, at lunchtime, in the afternoon and at dinner. It was inevitable, therefore, that one day I would make my way to the town in Italy most famous for black truffles. Norcia is the place where everyone knows that the divine black fungus comes in three types, according to the time of year: tuber melanosporum vittadinis (November to March), tuber aestivum (June to August) and tuber uncinatum (September to December). Visitors therefore will be unlucky if they do not find some sort of black truffle on offer here. As I drove into this charming little place, I had further cause for eager anticipation, for I was going to stay at a restored 16th century palazzo just off the main square – the Palazzo Seneca.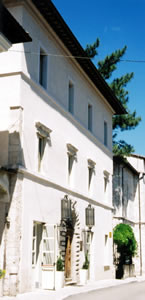 This excellent hotel is only twenty steps from one of the prettiest piazzas in Italy. If you are looking for the perfect setting for your outdoor opera, search no more. Here it is. The church on the piazza is dedicated to St Benedict – which is as it should be, for the great man was born in Norcia. It is attached to a monastery, wherein a community of young Benedictines has, I am delighted to be able to report, turned its back of modern liturgical fads and returned to the dignified beauty of the old Latin ways. I duly attended both Compline in the crypt and Mass in the main church, and found both deeply impressive. The former was recommended to me as I checked in at the hotel – a welcome first, for hotel receptionists are not often given to directing one to the Offices of the Church.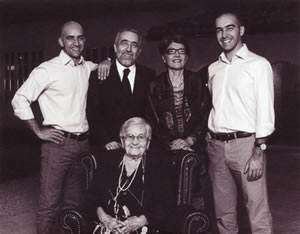 The Palazzo Seneca has been an hotel for a hundred years, but you need to go back another half-century before you reach the time when the Bianconi family began to offer hospitality to weary travellers. (There are other hotels in Norcia which are in the Bianconi ownership.) I present to you a picture of the current family. The recent restoration of the palace was undertaken by Vincenzo and Federico Biaconi, and they have done a fine job. Pristine elegance is all around, but so, too, is a sense of intimacy and welcome – both in the public rooms (which include an exquisite little library) and in the bedrooms.
My own room was on the first floor. Number 106 (pictured) is classified as a 'Superior Room' and is therefore 215-310 euros a night, bed and breakfast for two. Here was an elegant confection of white painted walls, terracotta floor tiles, exposed stone work and dark wood. In the long entrance hall was the hanging space, a private safe, a mini-bar and facilities for making tea and coffee.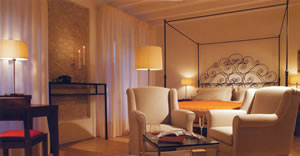 The bedroom – measuring about 12 feet by 18 feet – had space for two easy chairs and a built-in desk at one of the two windows. The bed was made specially soft, at my request. Much limestone was to be seen in the bathroom and in the separate loo. The former had a tub of decent size and one wash basin; and the latter had a bidet. (Some of the cheaper rooms have only a shower and not a bath, so you might wish to avoid those.)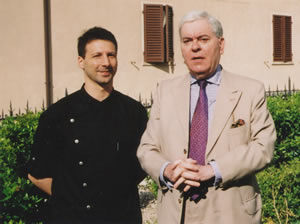 Dining at the palazzo is done in the Ristorante Vespasia. Like ancient Gaul, it is divided into three parts: two discreetly elegant rooms and a terrace by the garden. The weather being clement, I decided to eat to eat al fresco, next to the greenery, with the surrounding hills just visible over the orange tiles of the neighbouring roofs. Here I found cream napery and good Schott glassware and a friendly waitress in a white apron – Michela. She brought to me plates of fine food from of the kitchen of Flavio Faedi. Chef Faedi likes to sport black, rather than the more usual chef's whites – and thus he is dressed in the picture with your correspondent.
He has a painterly approach to presentation, and each of my dishes was exceedingly handsome. He also likes local produce. I began with terrine of goose foie gras, with apple strudel and dried fruits, served on a large black plate. The unusual ingredient was whisky – which, although interesting, for my palate was a little strong for the delicate liver. Next came, of course, truffles. A silver dome was lifted. Beneath was soft, yielding tagliolini, luxuriating in its abundance of black flecks. Truffle was in the aroma and truffle was in the taste. This was pasta as it should be: rich, satisfying and absolutely delicious. My meat dish had more of the dark gold, but this time it was less forward, in a lamb casserole with lentils. I concluded with rum parfait "with tobacco odour" – and it really did smell of tobacco. (The price of these four courses depends upon the season of truffles, and varies from 90 to 110 euros.)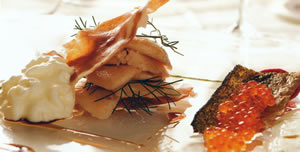 The wine list has 420 offerings. Most are Italian, but there is much to interest the Francophile. Prices are friendly and range from 12€ for a local red to 547€ for Haut Brion from the rather difficult vintage of 2004. Other bottles to catch my eye were: Krug Grande Cuvée champagne (274€), Yquem 1995 (353€), Luce 2005 (103€), Ornellaia 2003 (114€), Sassicaia 2004 (155€) and Amarone, Bertran, 1967 (242€). My bottles were Umbrian. I considered both to be bargains. For 22€, the Orvieto Classico Superiore (Riserva del guardian, Palazzone, 2007) yielded pear and kiwi fruit on the nose and was a careful balance of fruit and acidity in the mouth. The red, at only 19€, was also structurally robust, with plenty of ripe black fruit (Montefalco rosso, Colpetrone, 2007).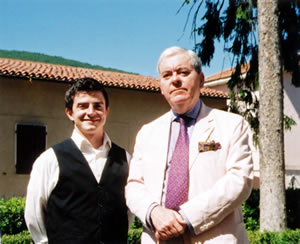 I did not meet the waistcoated maitre d' until breakfast in the dining room. So the portrait of myself with Mauro Clementi is a morning one. He is a fine fellow. I very much liked his observation, when I asked him to turn off the canned music: "The best music is silence." I could not have put it better myself. Mr Clementi made the orange juice at the bar there and then – from real oranges – and it was delicious. He also organized my omelette. What sort of omelette? A truffled one, of course. Jugs of coffee and milk were brought to my table, and I secured from the buffet fresh pineapple and banana, puffed wheat, croissants, bread, confit of wild strawberries and slices of local cow's cheese. These were good starts to each day. They pandered to my trufflomania. Indeed, why should they not? My addiction is, after all, a benign one. And where better to indulge it than in beautiful Norcia?
The Roman philosopher Seneca had some good advice for the critic. "Be not too hasty with praise or blame." My judgement of the hotel which bears his name is therefore carefully considered. The Palazzo Seneca is elegant, comfortable, welcoming and conveniently located. If you share my passion for the black truffle, it will be your spiritual home.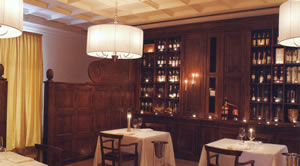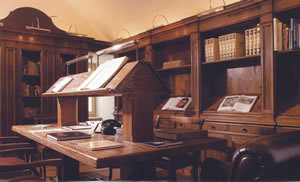 ---
ADDRESSES
PALAZZO SENECA
Via Caesare Battisti 12, 06046 Norcia, Italy.
Telephone +39 0743 817 434
Email: info@palazzoseneca.com
www.palazzoseneca.com
Double rooms from 150-195 euros, including breakfast, according to season