Italy
UMBRIA
CITTÀ DI CASTELLO
PALAZZO TERRANOVA
THIS PROPERTY IS NOW UNDER NEW OWNERSHIP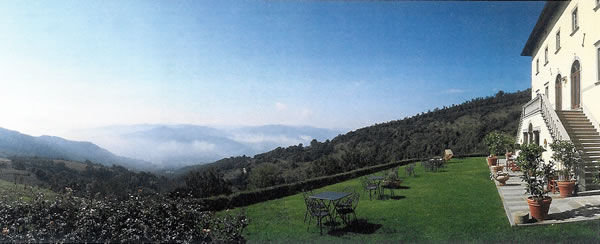 If you love the art of painting, you know that – sooner or later – you will have to go to Italy to see the frescoes of Piero della Francesca. For frescoes do not travel. So for years I have been thinking about making my pilgrimage – to see the pregnant Madonna at Monterchi, the Legend of The True Cross at Arezzo and (acclaimed by Aldous Huxley as the greatest painting in the world) The Resurrection at Sansepolcro. But my visit had to be made in style. I therefore decided to make my base one of the most beautiful properties in Italy, the Palazzo Terranova.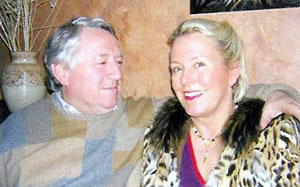 Sarah and Johnny Townsend from England lost their hearts to this 18th century pile in Umbria on a rainy day in 1990. Then it was an example of sad dilapidation: now it is a by-word for luxury and comfort. It would have exhausted me to try even to imagine the amount of hard work which secured its transformation. Instead, as I followed the precise (and very necessary) instructions to the modest turning off the public road near Ronti, I looked forward to some serious pampering in elegant surroundings. Then both I and the hire car had a shock.
I am accustomed to roads of tarmacadam. These ten minutes of lurching and pitching over gravel and pot-holes were therefore more than a little alarming. Still, I persevered. And was glad I did. For, when I sat on the palazzo terrace with a pot of Earl Grey, laid out before me was a view of surpassing loveliness: a long, green valley with no sign of any other habitation. The original builders certainly knew how to pick their spot.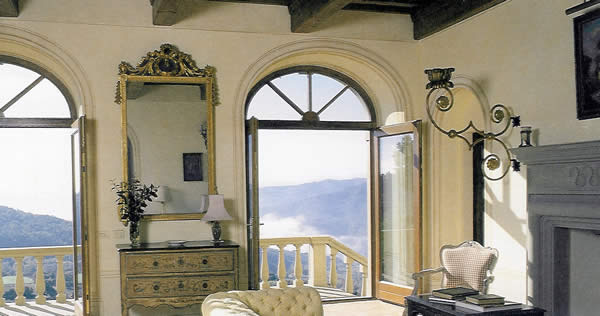 Sarah Townsend is a charming and vivacious hostess. Her establishment is both dog-friendly and child-friendly. It is also full of the paintings, the furniture and the porcelain which she and her husband have collected over the years. The resulting atmosphere is less that of a luxury hotel, more that of a sumptuously appointed country house.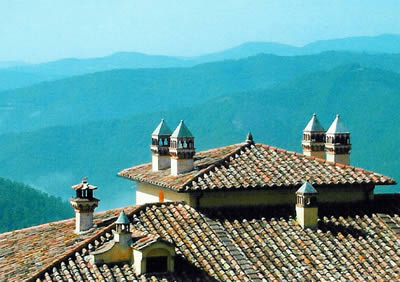 Each of the 12 bedrooms has a name to do with opera. Mine, on the first floor (the piano nobile), was 'Bellini'. It was a gorgeous and impressive chamber and certainly worth the price of 550-595 euros, bed and breakfast for two (according to season). From its two windows was that panorama of the valley. I loved its heavy, beamed ceiling, its light, vibrant colours (of peach and dove grey), its massive stone fireplace and its antique furniture (including a sofa table, a bureau and a substantial dining table). It was a joy, after a hard day of sightseeing, to retire here, to sink into the wing chair, to rest my feet on the faded pink of the Aubusson carpet and to gaze over at the large oil painting of a Renaissance picnic, as I rested before my pre-prandial ablutions. (These were performed in the bathroom through an archway – an arrangement which allowed sufficient space for two wash basins, a bidet, a separate shower and a tub of generous proportions.)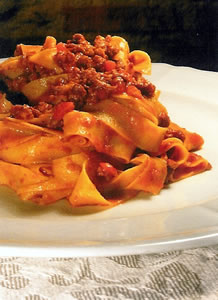 My fellow guests adopted a casual style for dinner. Never having knowingly under-dressed myself, my own attire was of the usual sort, including a starched collar. All of us, however, seemed to merge quite comfortably into the surroundings of the ground-floor dining room. Under its brick vaults, oil paintings both ancient and modern gleamed in the candlelight. Scattered rose petals enlivened beige tablecloths, upon which stood good Italian glasses by Richard Ginori. Floren, an excellent fellow from Rumania, worked hard to ensure that everyone received prompt and courteous service.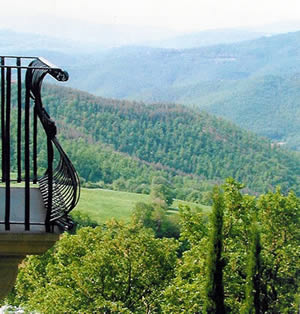 I was impressed by the standard of the food. Honor Townsend is a chef of considerable talent. During my meals I was repeatedly struck by the clear, direct flavours of what came from the kitchen. This was skilful, intelligent cooking, treating produce of the highest quality with the utmost care and respect and presenting it in a way to give delight to the eye, as well as the palate. I would rate it at the level of one Michelin star.
The menu is short and changes daily. A four course meal costs between 65 and 75 euros. Of the many simple, effective, well-balanced and flavoursome dishes I enjoyed, the following stand out in my memory: chicken liver terrine with apple jelly, a warm mousse of red pepper and ricotta, ricotta and spinach ravioli, a risotto of spring peas and mint (to which I awarded my highest score of the visit), guinea fowl with porcini mushrooms and roast chicken with Mediterranean herbs. You will notice that there are no puddings on my list. This is because the portions are generous, and I simply could not manage the tempting final offerings.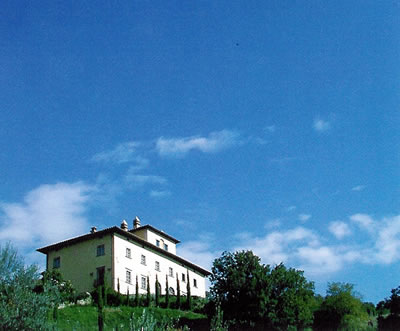 Around forty wines are offered, including a 1976 riesling beerenauslere (price on request). 2001 Solaia is 230 euros. I tried the house wines at 28 euros a bottle. The white is a grechetto (an Umbrian grape) – well-balanced, with forward acidity (Arnaldo Caprai, 2005) – and the red is tannic, with plenty of black fruit (Belvedere Rosso, Arnaldo Caprai, 2004).
And those frescoes by Piero della Francesca? Yes, I did see them and now count them among the highest achievements of man's artistic endeavours. You should go to see them, too. If you do, you ought to find a billet which offers a warm welcome, luxurious surroundings and superb food. In other words, you will probably want to stay at the Palazzo Terranova.
---
ADDRESSES
PALAZZO TERRANOVA
Ronti, 06012 Città di Castello, Italy.
Telephone +39 075 857 0083
Fax +39 075 857 0014
Email: bookings@palazzoterranova.com
www.palazzoterranova.co
Double rooms from 295-350 euros, including breakfast, according to season.