UNITED STATES
CALIFORNIA
SAN FRANCISCO
PARALLEL 37, RITZ-CARLTON HOTEL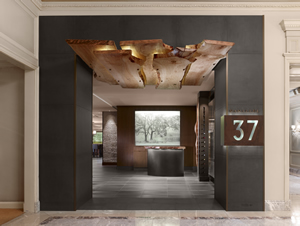 The very first hotel in which I stayed in San Francisco was the Ritz-Carlton. Grand and imperious, it provided an impressive introduction to the city. That was many years ago. I have not laid my head in the Ritz-Carlton since then, but I have eaten there on several occasions. Now I have tried its new restaurant, named after the line of latitude which runs close to San Francisco Bay – Parallel 37. Its chef is a local man, Ron Siegel. I was attracted by his declared emphasis on the quality of ingredients and his stated determination to provide a cuisine which is "not overly-manipulated". I therefore arrived before the stately Classical columns of the hotel building (which was once a bank) full of expectation.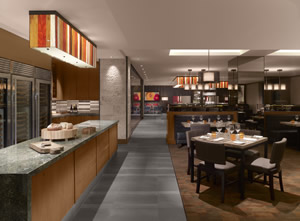 The dining room is to the left of the entrance. It is a softly-lit and intimate space, with carefully-placed spotlights. I was shown to an oval table and settled myself onto the black banquette. Before me was good glassware by Spiegelau and in my ears was the sound of canned music of the inoffensive (i.e. Classical) sort. The waiters in their white aprons went about their work with discreet purpose. This was, I thought, a fine place for a fine meal.
Chef Siegel offers dishes of contemporary American food which are modestly sized and prettily presented. This is no steak house of huge portions and haphazardly arranged plates. A 6 course tasting menu is 95$, but I decided upon four courses from the carte. I began with quail, looking exquisite on a large, white round plate. (I do wish that all chefs would realize that this is the sort of crockery which best displays their efforts, so that we could have an end to having to eat off tree trunks and manic displays of porcelain 'art'.) With the quail came chanterelle mushrooms, peppers, bacon and fresh chick peas. This was a dish of strong, forceful flavours and I was determined to eat it all – so I made good use of the finger bowl which was brought at my request.
Next I went for some decent pasta – ravioli with tomato and eggplant, with charred tomato sauce, sweet peppers and pesto. My main course proved the highlight of the meal, and was a happy vindication of the Chef's determination to secure the finest ingredients. The flat iron steak was, quite simply, a superb piece of beef, full of rich taste. Served medium-rare, it came with spinach, onion jam and a pepper reduction. I ended with a lemon semi-freddo, with blueberries and meringue. (These four courses were 74$.)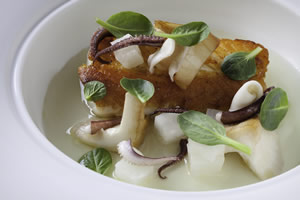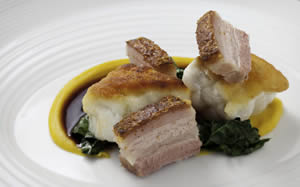 The wine list has 700 offerings from around the world, with prices running from 38$ for various local bottles to 16,000$ for the 1947 Cheval Blanc and for the 1945 Pétrus. If you would prefer other grand clarets, there are 1959 Haut Brion (2,600$), 1970 Latour (1,380$) and 1982 Margaux (2,980$). Lovers of the best from Burgundy will like the 2003 DRC Montrachet (3,200$) and the 2000 La Tâche (1,280$). From Spain there is the 1970 Vega Sicilia (1,350$), and from Italy the 1988 Sassicaia (1,040$).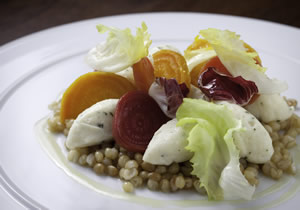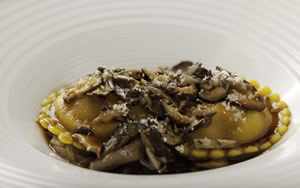 My own drinking included two wines from the Napa Valley. A big, buttery chardonnay went exceedingly well with the quail (Antica, 2010 – 13$, glass). And my red stood its ground with the steak. In fact, this 2007 Falcor (65$) was a revelation to me, for I had not previously tasted a wine from the Napa which was predominantly (70%) sangiovese. Its heavily perfumed nose and thrilling depth of ripe blackcurrant demonstrated just how well this grape can perform in California.
So, once again, the Ritz-Carlton in San Francisco did not let me down. Parallel 37 is a good restaurant with a good chef. You will enjoy eating there.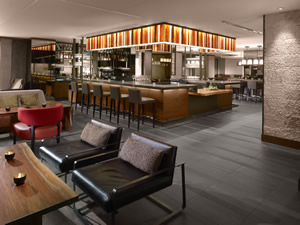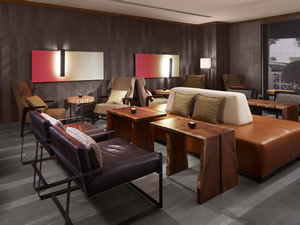 ---
ADDRESSES
PARALLEL 37, RITZ-CARLTON HOTEL
600 Stockton Street (at California), San Francisco, California 94108, U.S.A.
Telephone +1 415 773 6168
www.parallel37sf.com