Italy
GUBBIO, UMBRIA
PARK HOTEL AI CAPPUCCINI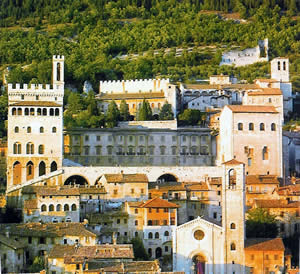 Gubbio is the perfect Umbrian town. Perched on a hilltop and crammed with mediaeval churches and palazzi, it looks almost too good to be true. Yet this is assuredly the real thing. In the Piazza Grande I came across some gentlemen with crossbows, practising for the following day's festival. A recent invention, I mused, dreamt up by the tourist board. I was gently corrected. In fact, the crossbow competition has been going since 1410… And so it was with my lodgings. For the Park Hotel ai Cappuccini is no pastiche. It is the beautifully restored Monastery of San Nicolò di Monte Foce, erected in 1631.
The Capuchin friars chose a site outside the mediaeval walls, so the hotel is a short drive from the centre of town. This provides some quietness and seclusion, two qualities I always welcome after a day of sightseeing. Well-kept gardens surround the property, and the combination of the greenery and the stone walls soothed my spirit – just, I imagine, as the original builders intended.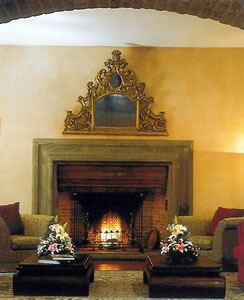 Within was a surprise. I had not expected the spare, modern style. It gives to the public areas – which are vast – a note of coolness. Yet there is much to delight those (like me) whose taste is more traditional, for – around every corner – the minimalism is relieved by a painting by an Old Master, or a piece of antique furniture or a mirror in a flamboyantly carved gilt frame. There are also various pieces of contemporary art, of the less startling sort. The setting, then, is one of contrasts. And it is made welcoming by the friendliness of the staff. Every member of staff I encountered was both courteous and helpful.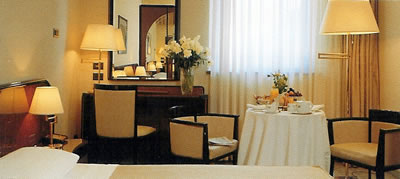 On the second floor, my room (number 207 – 220-280 euros a night, bed and breakfast for two, according to season) had a tiny hint of Art Deco in its black and maple-wood furniture. Spick and span – like all the hotel's 95 rooms – and sufficiently spacious, with plenty of hanging space and lots of full-length mirrors, this was a comfortable and convenient billet. From it I sallied forth on my search for aesthetic fulfilment and gastronomic pleasure.
I whizzed down to Spoleto, and found both. Trying to park in this famous city is the stuff of nightmares, but I think my guardian angel was with me. I found a space near the duomo, and went to look at the frescoes by Lippi in its apse. Beauty of this order brings a smile even to my grumpy features. I was still beaming as I walked out of the west door and across the sunlit piazza to a shaded chair outside the Ristorante Tric Trac. Here I ate fried eggs with gratings of fresh white truffle, gazed at the Cathedral's 12th century façade… and thought Heaven had come down to earth.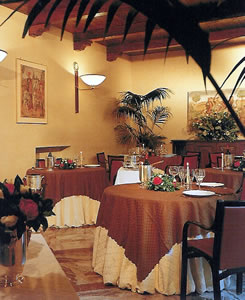 Eating at the hotel was perhaps less ethereal, but there was one aspect of the experience which impressed me mightily: the cellar. I liked the glasses, which were Czech; but I liked what was poured into them even more. I am used to finding good value on Italian wine lists, but here the low prices were truly remarkable. A glass of sauternes could be had with your pudding for 3 euros. A bottle of chardonnay/sauvignon blanc from Tuscany (Fumaio, Banfi, 2004) was 8 euros. The big, buttery Antinori chardonnay (2003) was 18 euros. The superb 2002 Planeta merlot from Sicily, full of ripe, luscious black fruit, was only 20 euros. These were lower than shop prices.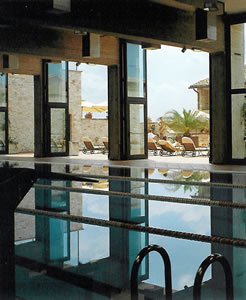 Nor were the offerings confined to the well-known Italians. I spotted two mature bottles of red from the New World. The price was the same for each: 20 euros. I tried both. Here was the lovely, soft, perfumed elegance of old wine – a taste our palates nowadays encounter too infrequently. The 1988 Chilean cabernet Reserva (Maipo Valley, Santa Rita) was, I think, the oldest Chilean I have yet tasted. Much of the fruit had gone, but it was still a delicious and subtle mouthful. The 1989 cabernet from New Zealand (Darthmoor-Smith) was slightly more robust, with a higher degree of roundness. Who would have thought I would encounter these charming old ladies in Gubbio?
This drinking was done in a dining room of heavy beams (overhead), marble (underfoot), bright lights, leather armchairs and good oil paintings (of Renaissance chaps with horses). Here, too, the waiters in their black shirts brought to me dishes prepared by Chef Ivano Monni.
From these I would recommend to you the aubergine flan and the strangozzi pasta, with rabbit and mushroom sauce. (Expect to pay around 50 euros for a four course meal.)
My morning comestibles were taken on the terrace of the breakfast room. The valley stretched out into the distance and, from the left, the clanging of bells from the church towers of Gubbio competed with the morning chorus. Yes, Gubbio is the perfect Umbrian town. And the Park Hotel ai Cappuccini offers its civilized hospitality to those who visit.
---
ADDRESSES
PARK HOTEL AI CAPPUCCINI
Via Tifernate, 06024 Gubbio, Italy.
Telephone +39 075 9234
Fax +39 075 9220 323
Email: info@parkhotelaicappuccini.it
www.parkhotelaicappuccini.it
Double rooms from 220-280 euros, including breakfast, according to season