Switzerland
LAKE LUCERNE
PARK HOTEL VITZNAU
Do you need a few days (or perhaps a few weeks) of rest and quiet? Are you looking for a grand hotel of the traditional sort, with lofty ceilings and stone columns? Should it be in an idyllic location, efficiently run and furnished with elegant antique furniture? Then I think I have the perfect place for you. Only half an hour by car from Lucerne and right next to the Lake is a handsome Belle Époque palace. Since 1903 it has been welcoming guests with gracious charm and old-fashioned courtesy. And now it has welcomed me. As soon as I stepped into the lobby, to be greeted by Thomas Kléber, the young and enthusiastic Managing Director, I knew that I would like the Park Hotel Vitznau.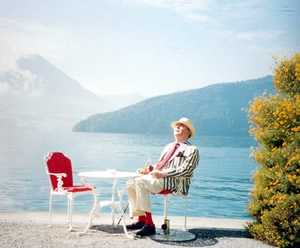 My drive from Belgium had been difficult. There always seems to be a traffic jam in Basel, and the one I encountered had been worse than usual. I arrived at Vitznau tired and irritable. But this is a therapeutic spot. The surrounding peaks – the Unterwalden and Uri Alps – somehow convey a sense of calm. Ten minutes after my arrival, I was sitting on one of my two balconies, nibbling on shortcake, sipping Earl Grey tea and watching an ancient paddle steamer glide through the still waters of Lake Lucerne. The green clad mountains stood by, impassive and indifferent. Down below, other devotees of afternoon refreshment sat in red and white armchairs, surrounded by the hotel's manicured gardens, and gazed out at the same view. The movement of the steamer seemed only to confirm the stillness of the scene. (Later, I went to sit right by the Lake, too – and my moment of reverie is captured in the picture.)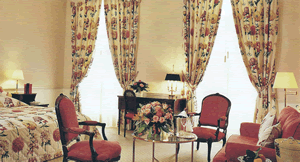 My billet was a 'double deluxe with Lake view' (pictured) and therefore 690-750 Swiss francs (446-484 euros) bed and breakfast for two, according to season. I estimated its size at about 18 feet by 15 feet. Certainly, there was a feeling of spaciousness, helped by the white décor and the mirrored doors on the fitted wardrobes, and there was plenty of room for the sofa, two fauteuils and the writing desk. Five table lamps and a chandelier of crystal and gilt provided the lighting. My bathroom (pictured) was equally impressive, with large slabs of white marble, two wash basins, a tub of good size and (behind doors of frosted glass) a separate loo and a separate shower.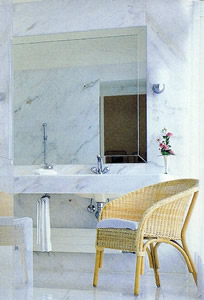 Although there was no air conditioning in the room, the temperature always seemed to be just right. Indeed, lots of things were just right about this accommodation. I have mentioned the balconies and the views. Not all of the hotel's 101 rooms overlook the Lake, so I would urge you to pay the little bit extra required for one which does. To wake in the morning and behold the early mist beginning to clear from so magical a scene is a tonic not to be missed. And then there was the quietness. Deep, profound quietness is too seldom found in our noisy lives. Here it was available in huge, generous draughts, and it took away the cares of the world like true medicine for the soul.
Of course, at the Park Hotel there is no obligation to be still. Next door is the station of the first cog railway in Europe, which will transport you up Mount Rigi in some style. And then there are the hotel's tennis courts and its two boats. But, should your fancy be for something less strenuous, the Park is the only hotel in the world to offer in its spa a massage of the 'Taitibe' sort. This, I am told, combines the healing massage of Thailand with the 'sound bowl' massage of Tibet. Quite what this means, I do not know, but I expect it is jolly pleasant.
I confined myself to gastronomic pleasures. The hotel's Quatre Cantons Restaurants is well regarded and seemed the right place for dinner. Mr Zolla, the maitre d', from Stresa, met me as I walked into this brightly lit, panelled room by the Lake. As the lady pianist played, he took me to a table with white wooden armchairs. On its white cloth were good Schott glasses, German crockery and a single red rose in a silver vase. The waiters and waitresses, in white shirts and white jackets, were properly attentive, and I should thank particularly Philipp Pitke, a waiter from Berlin, who looked after me with particular kindness and diligence.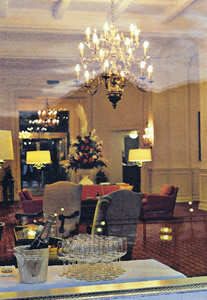 Chef Torsten Götz describes his cuisine as Mediterranean. I found it to be intelligently conceived and based on good quality ingredients. Two set menus are offered: a five-course fish menu for 139 francs and a six-course menu for 153 francs. I chose four courses from the carte for 145 francs. My opening Scottish salmon (smoked and marinated) was well matched with guacamole and a mustard emulsion. There was also an enjoyable combination of flavours in the truffled cheese mousse in crispy cannelloni with watercress pesto. My meat course was the highlight of the meal – wonderfully tasty Irish saddle of lamb with a crust of pecorino cheese. Then Mr Zolla came to my table to conduct the ritual of crèpes Suzette.
The wine list is a heavy and substantial volume, with around 800 offerings from the New World and the Old. Many of the prices – which range from 49 francs for a local white to 1,600 francs for 1996 Pétrus – are attractive. Red Bordeaux is well represented, although I would avoid the difficult 1997 vintage, of which there are many examples. Of the rest, the following caught my eye (prices in Swiss francs): 1989 Ducru Beaucaillou (248), 1995 Palmer (255), 1996 Haut Brion (380) and 1999 Cheval Blanc (455). I was pleased to see one of Hermann Dönnhoff's brilliant German sweet wines for just 115 francs (Riesling Auslese Schlossböckelheimer Felsenberg, 2004).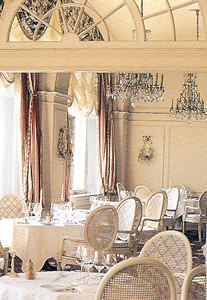 I stayed in Switzerland for my white, a mixture of sauvignon blanc and chardonnay. To my surprise, it turned out to be just like a good, dry riesling from Germany (Vinattieri Bianco, Ligometto, 2005 – 38 francs, half). My red was the great Mouton Rothschild, in its 1990 vintage, in a half-bottle (175 francs). Again, I had a surprise, for in the mouth it still possessed the stern quality of youth, although with lots of concentrated, dense black fruit. Still, there was a good farmyard nose to intrigue me. I ended with a glass of well-balanced Swiss sweet wine (Larme de Décembre Johannisberg, Thierry Constantin, 2004 – 20 francs).
Breakfast was in the larger Panorama Restaurant (pictured). Its name points to its chief adornment, which can be seen through massive windows of plate glass. Yet this is a stylish place inside, too, with crystal chandeliers and Classical features painted white. I particularly liked the crisp damask napery, always a sign of an hotel with high standards. To my round table, waitresses in red skirts brought pots of coffee and, another good sign, new cups whenever the pot was changed. From the buffet table I secured Rice Crispies, an onion omelette, crusty bread and some super rhubarb compote. With good food and the view, you will not be surprised to learn that I lingered over breakfast.
In truth, the temptation to linger here is very strong indeed. Tradition, tranquillity, luxury and location – the Park Hotel Vitznau has them all. Fortunate indeed are its guests.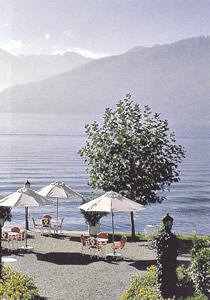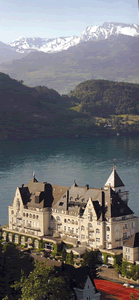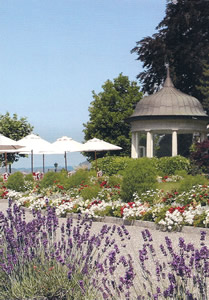 ---