SWITZERLAND
LAKE LUCERNE
WEGGIS
PARK HOTEL WEGGIS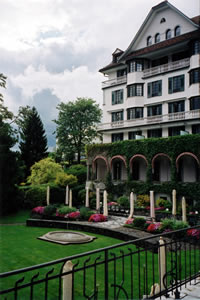 On the shores of Lake Lucerne is located one of the happiest hotels in Europe. And I certainly needed a dose of happiness by the time I arrived. The Royce had 'declined to proceed' in Northern France, and I had been obliged to entrust her to the hands of those who said they would transport the old dear safely back to England. Thus I arrived at Weggis in a hired car and in a state of considerable anxiety. But I had come to the right place. The Park Hotel, with its friendly staff, its admirable location, its renowned food and its splendid accommodation knew how to look after me. As soon as I stopped the Ford outside the Art Nouveau façade and allowed my eyes to travel over the trimmed lawns to the gentle waters of the lake, I knew that all would be well, that the Silver Cloud would reach Blighty without hurt, that she would speedily be restored to health and that my time at the Park Hotel would be happy.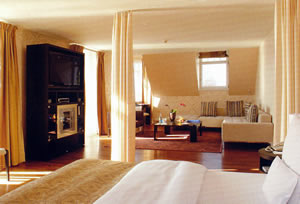 Samuel Langhome Clemens – known to his readers as Mark Twain – lodged in Weggis for a time, and it easy to understand why. It is quiet and charmingly situated: the ideal place to think and to write. I do not know whether he stayed at the Park Hotel – which opened in 1875 and was then known as the Bellevue – but he would have chosen well if he did, for the views from its rooms are exceptionally pleasing. The hotel has three Mark Twain suites 1,300frs – 1,450frs a night, according to season) and I stayed in one of them.
Room 120, its more prosaic designation, was on the first floor. Like the rest of the establishment, it was elegant and absolutely pristine, as I hope you can see from my pictures. This was an extensive air-conditioned apartment, with two bedrooms and enough seating for a football team, had one decided to call upon me. Its entrance hall, with fitted wardrobes and a safe, was over twenty feet long. The main bed sitting room was about 30 feet by 13 feet. With its wooden floor, sofas covered in beige suede leather and white and silver wallpaper, this billet was both modern and comfortable.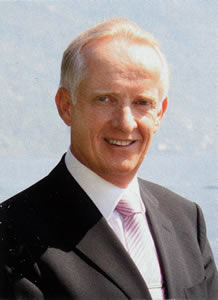 The chairs, however, were a little low for my ailing back, so a fauteuil in red velvet was brought in as my throne – a small example of the solicitous service I received throughout my stay. (Indeed, the happy atmosphere throughout the Park Hotel Weggis is surely a product of its happy and motivated staff, led by the Manager, Peter Kämpfer, pictured, and his splendid Vice-Director, Marc Eichenberger.) There were many, many technological gizmos for those guests who care for such things – I am not among their number – and a large bathroom for those who care about their ablutions, as I most certainly do. Here, on floor tiles of terra cotta, was a free-standing bath, a separate shower, two loos and two wash basins. But perhaps the best feature of my suite was its 'wrap-around' terrace, which enabled me to enjoy the panorama of water and mountains which you can see in the photographs.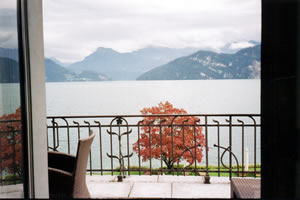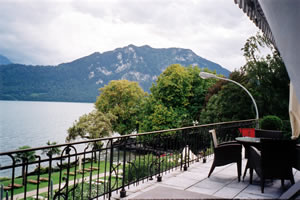 The Park Hotel has a Japanese garden and a wellness centre (housed in a striking modern building), but I confined my exertions to those of the gastronomic kind. There are two restaurants in the building, and I tried both of them. Sparks (pictured) is the larger. Its Chef, Florian Gilges, concentrates on Swiss cuisine. Crystal chandeliers, red velvet and columns of trompe l'oeil marble create a lovely setting for food of a very high standard. Diners who are on diets will be pleased to know that the menu gives the fibre and fat content of each dish.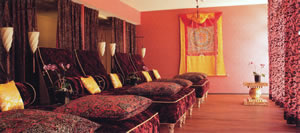 Certainly, I began in a very healthy fashion, with a pretty and tasty salad of raw vegetables, with sprouts, herbs and cress. Then I went for something more obviously indulgent – roasted duck foie gras on strawberry risotto, a beautifully balanced and expertly executed dish, given an effective little punch by Szechuan pepper. Saddle of venison with local cherries and a slice of white bread brought gloriously tender and satisfying meat, and the final course of cold rice pudding with kirsch and nougat proved a jolly conclusion to a thoroughly enjoyable dinner. (These four courses from the carte were 99frs. A four course set menu is offered at 84frs.)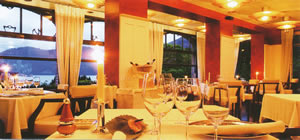 At the Annex Restaurant Chef Renée Rischmeyer cooks with an eye to Mediterranean and Asian influences, and his efforts have brought him a Michelin star. Here, surrounded by copies of Impressionist paintings, I sat at a big round table with white napery and looked through a large window directly at the lake. I was pleased to note that napkins were replaced. Guests are asked to choose – by 'mixing and matching' from three set menus, and wine pairings are available. 5 courses cost 140frs and 9 courses cost 200frs. 5 courses with the recommended wines are 206frs. My charming waitress, Erika, brought five dishes to me, one of which was absolutely stunning.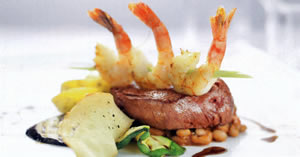 My first was truly excellent: tartare of Piedmont beef with avocado, goat's cheese and – the touch of brilliance which added exactly the right element of contrasting asperity – caviar. But then came the star of the show, the magnificent plate which alone would make any trip to the Park Hotel Weggis worthwhile. This was braised cheek of young pig on Alsatian plums and almonds with terrine of duck foie gras. I have tasted foie gras in many combinations: this was one of the best. The tastes were so gloriously vibrant, and they came together to produce such an explosion of joy in my mouth, that I decided that the chef possessed not only a fine culinary intelligence but also a perfectly tuned palate. Inevitably, the following three courses could not compete with such fireworks, but the South African langoustines on peas, coconut, tarragon, hazelnut and green apple were precisely cooked, the grilled sirloin of beef, carved by the table, was delicious meat and the crème brûlée with wild blueberries and white chocolate was a sweet conclusion to a fascinating evening.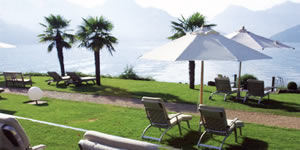 The wine list is common to both restaurants. It is monumental and magnificent. Its 2,600 offerings include, of course, the very grandest names, but prices start reasonably at 46frs (for a Swiss white from the Waadt area). You should keep your wits about you if you want an older wine, for the price appears to reflect what the hotel paid for the bottle rather than its current status. Thus, for example, the famous 1982 vintage of Margaux is 2,010frs, but the 2005 is 4,029frs. Wine lovers could spend much time admiring the runs o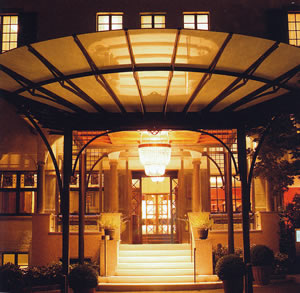 f first-growth clarets (there are 14 vintages of Latour, with the 1982 at 3,468frs) and the 23 DRC red burgundies (the 2000 Romanée-Conti is 3,570frs), and they will be full of admiration for a list that includes 50 sweet wines from Germany. But I threw my selection into the hands of the excellent Chef Sommelier Wolfgang Kneidinger. I was rewarded with two contrasting reds from Tuscany – the one, bold, masculine and with a backbone of steel (Oreno, Sette Ponti, 2005 – 108frs), and the other charming, feminine and typically laden with the bright fruit and vanilla one expects of the sangiovese grape (Cepparello, Isole e Olena, 2007 – 123frs). This was good drinking.
My breakfasts were had back in the Sparks Restaurant – or, more accurately, on its terrace, so that I could continue to enjoy the views of the lake. On these mornings the high standards of the kitchen were maintained. Poached eggs on toast were brought to me and, from the buffet, I obtained slices of really good crusty bread, bowls of corn flakes, croissants, slices of rare roast beef and dishes of fresh fruit salad. These comestibles made me happy.
In fact, everything about the Park Hotel Weggis made me happy. It is a happy place. It was just what I needed, having suffered the trauma of the Silver Cloud's breakdown. But you do not need to have your Rolls-Royce 'decline to proceed' in order to visit this establishment on Lake Lucerne. You just need to like being happy.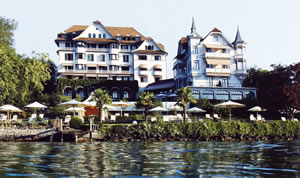 ---