ITALY
MILAN
PARK HYATT MILAN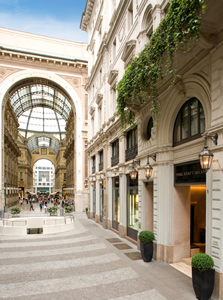 The Park Hyatt Milan is a supremely sophisticated establishment at which one can rest easy in the knowledge that everything within its walls is of the very best. Indeed, it is in the top league of the world's great hotels, with a fine General Manager (Mr Gorka Bergareche – pictured with your correspondent) and a brilliant chef (Mr Andrea Aprea, pictured). Moreover, it has the perfect location. First, it is quiet, and quietness is an absolute requirement for a luxury hotel. Second, it is central, and being at the heart of things is necessary in an important city like Milan. And third, it is close both to the magnificent gothic Duomo and to one of the finest opera houses in the world, La Scala. It is therefore always a joy for me, when I am in the capital of Lombardy, to be staying at the Park Hyatt Milan.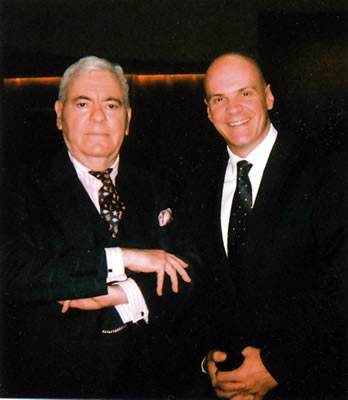 Another vitally important factor at any hotel is the staff. All the ladies and gentlemen I encountered here – and there were many of them - were smartly dressed, highly motivated, courteous and friendly. Clearly, under Mr Bergareche's leadership, they are proud of their hotel and of its standards of service.
It is a handsome hostelry, occupying a 19th century palazzo, next to the famous Galleria (the enormous shopping arcade which is called 'Milan's drawing room'). Built in 1870, the palazzo was converted into the Park Hyatt in 2003. Externally, its period elegance has been perfectly preserved. It looks the sort of place in which persons of refinement would feel at home. Internally, its elegance is of an altogether different kind. Designed by Ed Tuttle, the interior is discreet and sophisticated. Natural light is everywhere. Granite and marble are all about and Classical references (like the octagonal columns of pink granite around the central cupola) subtly suggest the timelessness of this form of luxury. It is 'cool', in all senses of the word.
I was shown to room 312, an Excutive Suite on the third floor. (You should check the rates for specific dates on the internet.) Here was more cause for pleasure. Shutters to the tall windows, overhead spotlights, modern wall lights of Murano crystal and cleverly placed panels of mirrored glass, together with high ceilings and a subtle, muted colour scheme of grey, beige and dull gold, made this apartment feel both spacious and welcoming. In the sitting room I noted with approval the stone writing desk, the Bang & Olufsen television, the round table and three chairs and the window seat with purple cushions. No noise seemed capable of penetrating this billet. And, just as important, the very efficient air conditioning was silent. Sliding doors revealed the bedroom, with the second television and the second stone desk.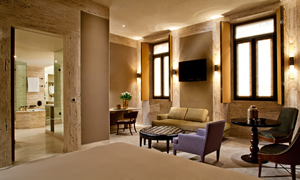 My bathroom was reached through another sliding door and was of a very generous size indeed. I liked particularly its stone floor and its abundance of mirrors. It also provided me with generous hanging spaces, a wall-mounted safe, 2 wash basins, a large bath-tub in which I could (and did) happily submerge, a separate loo, a walk-in shower, toiletries by Laura Tonato and a plentiful supply of large white towels.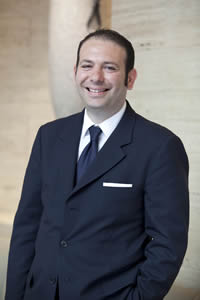 Having performed my leisurely ablutions in these cosseting surroundings and having dressed with my customary care, I set off for the ground floor and dinner in the hotel's less formal dining room, the Mio Bar. Here I was looked after very well by Alessandro Vitoni, the Bar & Lounge Manager. Gentlemen in black suits brought to me four dishes of food which were simple, properly cooked and delicious. As it was the season of the white truffle, it would have been churlish to ignore the divine fungus – so I did not. A plate of fried eggs was covered by its shavings, and proved so delightful I could not stop smiling. And more of the soft, gentle flakes from Heaven attended my plate of tagliolini. Lovely. Then it was almost back to Blighty with 'fish and chips' – although the battered and fried cod came in small pieces, rather than one large piece, and the chips were probably more gorgeous than any I had previously encountered. I finished with a well-balanced confection of cooked vanilla cream with apple and cinnamon. (Allow around 90€ for four courses, plus 15€ per gramme of truffle.)
To accompany this excellent repast, I had poured into the Zafferano glass a magnificent white from the Curtefranca region. This 2011 chardonnay from the famous house of Cà del Bosco was big, bold, full-bodied and beautifully harmonious – not a string quartet, but a whole symphony orchestra of robust flavour.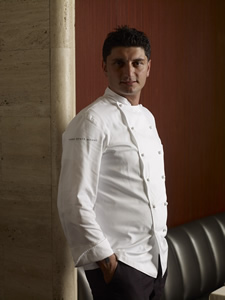 More formal dining at the Park Hyatt is done in the Restaurant Vun, to which I repaired on my second evening. ('Vun' means 'one' in the Milanese dialect and the postal address is number one, via Tomasso Grossi.) This restful room is reached in a theatrical manner, for the entrance takes you first into darkness before the light – an effect which rather appealed to me, and reminded me of my Christmas visits as a child to see Santa Claus in his grotto at the local department store. Happy days. It was a happy day at Vun, too, because here Chef Aprea sets off the culinary fireworks which have gained him a Michelin star. And I love pyrotechnic displays of the gastronomic sort.
The setting raises expectations, because it is clearly the product of much careful thought. The waiters wear dark waistcoats, and are careful to replace the napkins of those who leave the table for a moment. Service, orchestrated by Restaurant Manager Nicola Ultimo (pictured) is properly formal. The glassware is good, by Zwiesel. The lighting, from spotlights, is well judged. The tablecloths are grey and the napkins are brown.
It was only right, I thought, to seize again the truffle moment for my first two courses. This brought a truly superb opening: a soft egg, with mashed potato, foam of aged Parmesan and... white truffle. These four elements were so brilliantly realised and so perfectly balanced that the whole was triumphantly more than its parts. This was a wonderful dish. Then more truffle graced spaghetti with sliced porcini mushrooms, Cacio cheese and porcini sauce. My main course was pigeon – lovely, tender, sweet pigeon – set off intriguingly with coffee sauce. I finished with a pudding of coffee, almond, milk and salt. (You should allow around 120€ for four courses, plus supplements for any truffle.)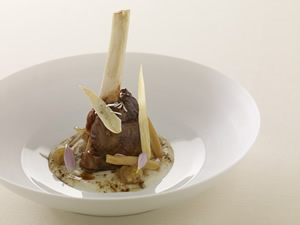 Sommelier Michele d'Emilio presides over a cellar with 370 offerings. Most are Italian, but there are also plenty of champagnes and a few serious temptations from the Old and New worlds. Prices run from 30€ for a moscato giallo from the Trentino to 1,600€ for a 2004 barolo riserva (Montfortino, Giacomo Conterno). 19 wines are available by the glass, including the always reliable Cervaro della Sala (Antinori, 2013) for 17€. Bottles to catch my eye included one of my favourite champagnes, Charles Heidsick Blanc de Millenaires, in its 1995 vintage (350€) and these lovely super-Tuscans: 1997 Solaia (650€), 1997 Sassicaia (690€), 2007 Ornellaia (430€) and 2012 Tignanello (150€).
Mr d'Emilio recommended a great red from Lucca (Tenuta di Valgiano, Colline Lucchesi, 2011 – 130€). At first it seemed closed and unyielding, but ten minutes after decanting it opened up remarkably and flattered the palate with masses of ripe black fruit. This was lovely drinking, and I finished the wine with enthusiasm. Had I not done so, the staff would have been happy to re-cork the bottle so that I could take it home. (I had never before encountered this kind service and was impressed by its availability.)
For my breakfasts I went again to the Mio Bar and sat at a round table near the large windows. Of course, I expected the food to be of exceptional quality. And it was. To my table were brought pots of coffee, my concluding cappuccino and glasses of the most wonderful, freshly squeezed green apple juice. Do not mss this apple juice. From the buffet I secured croissants, slices of ham and of crusty bread, cheeses, tomatoes, strawberries, slices of roast turkey and dishes of melon and pineapple. My days started well.
And they continued, developed and concluded well, too. That is what days do when you are staying at the Park Hyatt Milan. For it is a sophisticated establishment. It is a place where only the best will do.
---
ADDRESSES
PARK HYATT MILAN
Via Tommaso Grossi 1, 20121 Milan, Italy.
Telephone +39 02 88 21 1234
Fax +39 02 88 21 1235
Email: milan.park@hyatt.com
www.milan.park.hyatt.com
Check on the hotel website for the rates for specific dates
Restaurant Vun – dinner only – closed: Sunday and Monday