FRANCE
PARIS
PARK HYATT PARIS – VENDÔME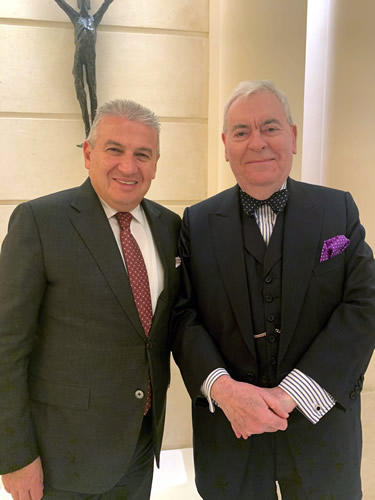 A great hotel needs a great manager. And the Park Hyatt Paris - Vendôme has one. Mr Claudio Ceccherelli (pictured, with your correspondent) is charming, affable and is always on-hand to ensure that his establishment continues to be one of the very best hotels in Paris. Opened in 2002, the Park Hyatt occupies five 19th century Haussmann-style buildings a few steps from the gorgeous Place Vendôme, in the very centre of the city. If you look at the hotel façade from a distance, you will probably admire the sense of unity in its appearance. This was achieved by physically raising one of the stone fronts by several inches – a remarkable feat of modern engineering. Clearly, no expense was spared to make the exterior right.
The same sense that everything had been made 'just so' can be found inside, too. The interior design is the work of Ed Tuttle, an American from Seattle. His creation is modern, but not aggressively so – with Classical references in the colonnades, and hints of Art Déco fun in the use of gold and silver leaf. With lots of limestone and mahogany, Mr Tuttle has produced welcoming spaces which speak of cool sophistication and luxury. I think you will like them.
Certainly, I liked the emphasis on contemporary art throughout the hotel. Most of the paintings and sculptures were created for their current locations, so the establishment has been a major patron of the arts. Interesting canvases are all over the place. Some were more to my taste than others, but that is the way it must be with art. Even the door handles and light fittings are the work of a distinguished sculptress – Roseline Granet.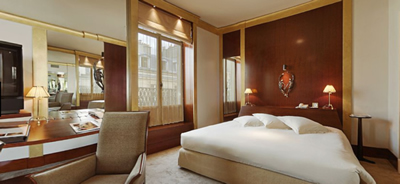 Of the 178 rooms, mine was on the third floor. A Deluxe Double, this offered high ceilings, gilt cornicing, spotlights, dark wood and tones of beige. Its quietness (even with the air conditioning working) so close to the centre of the city was remarkable. A sliding wall revealed the bathroom, with its wash basin, decent tub and walk-in shower. It also boasted a loo which was a marvel of modern technology. Indeed, it was such a marvel that it completely defeated this old fuddy-duddy – but one of the ever-helpful members of staff rushed to answer my summons and turned off the more exotic functions of this Japanese ceramic miracle. Still, the sense throughout was of gentle and comfortable luxury.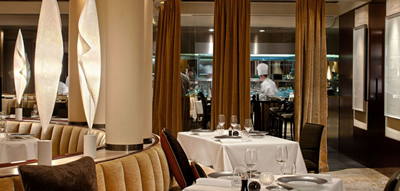 From this pleasant lodging I sallied forth to the Park Hyatt's grand restaurant for dinner. PUR' Jean-François Rouquette is open only in the evenings. It occupies an interesting chamber, reminiscent – to this diner, at least – of a domed orangery. I sat within the circular central space, and felt very much at ease, for the service – orchestrated by maitre d' Cyril Bruneau – is courteous, attentive and proper. I was pleased to note that napkins were replaced when diners left their places for a moment. On my table were fine Riedel glasses and white napery. All was set for a splendid meal.
Chef Jean François Rouquette (who has worked in some of the greatest French kitchens, like Taillevent) says, "I like my cooking to be tasty, genuine and bear my personal stamp." He has a Michelin star, and my meal demonstrated that it is fully deserved. Indeed, the arrival of a second star would not surprise his many admirers (among whom I include myself). The ingredients he uses are impeccable, and he and his Assistant Chef Ai Okabayashi handle them with intelligence, skill and flair. This is food which impresses with its beautifully judged complexity.
I began with a dish which I simply adored. Indeed, I think it was one of the finest foie gras dishes I have ever eaten – and I have eaten a great many. This was pan-sautéed duck foie gras, with dried cape gooseberries, fennel, soba noodles and grilled buckwheat broth. The divine liver was in big chunks and the broth was poured out at the table. Every element of this dish was entirely right, from the caressing lusciousness of the foie gras to the enticing bitterness of the fennel. I could easily have composed my dinner of another three servings of this gastronomic miracle. But other joys awaited, not least the small pumpkin gnocchi which followed – made special by white truffle and a light soubise with lemon zest. My meat was venison. These lovely roasted medallions were subtly enhanced by salsify, artichokes, puffed quinoa, vinaigrette sauce with pepper, Arabica butter and Mexican vanilla. You see what I mean about complexity? But it was all to a purpose. I ended with a triumph from Pastry Chef Jimmy Mornet: shortbread with Corsican chestnuts, iced chestnut cream, confit of kumquat and cottage cheese sorbet. (These four courses were 300€.)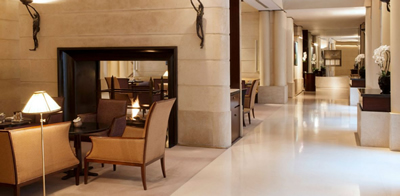 Sommelier James Barnett, a most knowledgeable fellow from the United States, presides over a list with 533 offerings, including a good selection of half-bottles. Prices range from 70€ for a Provençal rosé to 10,080€ for the 1998 vintage of Pétrus and 10,500€ for the 1989 DRC Richebourg. France dominates, of course, but there are tempting 'foreigners', such as 2004 Opus One from California (1,080€). Other bottles to catch my eye were: 1988 Margaux (1,800€), 2000 Cheval Blanc (2,340€), 1995 Latour (1,560€) and 1971 Yquem (4,220€). Mr Barnett recommended a fine bottle from Spain, densely packed with black fruit, with firm tannins and hints residual sweetness (Ribiera de Duero Pintia, Vega Sicilia, 2014 – 190€), which was a treat with the venison.
For less formal dining, there is La Cheminée – the area around the fireplace, as the name indicates. Here I tucked into three courses of good, uncomplicated food (prosciutto with Parmesan, fillet of Simmental beef with magnificent chips and a chocolate éclair) for 105€ – delivered to me by a friendly waitress dressed in black. My drinking comprised glasses of a very quaffable white burgundy (Meursault, Narvaux, Vincent Girardin, 2015 – 36€, glass).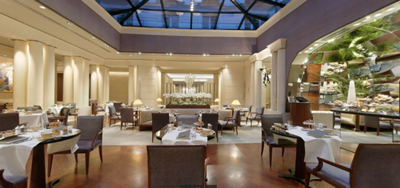 My breaking of the fast was done each morning in Les Orchidées, a restaurant in which meals are served during the day. This is another handsome space, with columns and a glass roof. I selected a corner table (remarkably, with a black leather tablecloth) and a decent, supportive armchair. Members of staff (again, in black) brought to me specially warmed croissants and pain aux raisins, lovely mushroom omelettes and pots of coffee. All the food on the extensive buffet was of the highest quality. I marked the cheeses particularly highly.
Indeed, I marked everything about the Park Hyatt Paris – Vendôme highly. It is a top class hotel in the best part of town, with fine food and comfortable accommodation. And, of course, it has its great manager.
---