SWITZERLAND
ZURICH
PARK HYATT ZURICH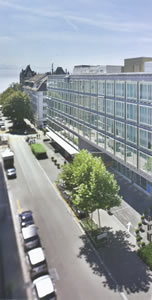 Switzerland offers mountains, snow and lakes. But let us not forget its cities, for they too have much for the discerning traveller. Indeed, Swiss cities are rather like me: calm, well-mannered and properly turned-out. Zurich is one of the best. Dr Johnson said that if a man was tired of London, he was tired of life. I say that if a man is tired of Zurich, he is tired of civilization. Be assured, then, that I like Zurich. It has the reputation of being a quiet, respectable town. But, in fact, it has a racy past. James Joyce wrote much of Ulysees here, and you don't get much racier than that. Here, too, was born the silliest of artistic movements, Dada. And here, during the early years of the First World War, Lenin sat about, dreaming of revolution in Russia. Zurich therefore knows all about the shock of the new. It was thus entirely appropriate that I should seek out one of the town's temples of modernity. But, of course, modernity can never be sufficient in itself: any hotel I visit must also be possessed of enormous quantities of style, luxury and comfort. I found all in abundance at what is certainly one of Europe's finest hotels – the Park Hyatt Zurich.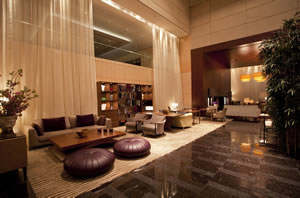 You will see from my picture that the exterior of the hotel is angular and laden with glass. Meili and Peter, the architects, added this building to the city's financial district in 2004. The façade is clean and clinical, but the interior (designed by Jan Clausen) is completely different. I walked through the low entrance and found myself suddenly in a huge hall of light. All around were colours both subtle and reassuring. The effect is of having stumbled into a hidden palace of warmth and welcome. And part of the scheme's success must be attributed to the presence of contemporary art. Good paintings – like Heinz Mack's Lumière et Couleur – are hung strategically throughout the hotel, and give the whole place a delightful air of aesthetic sophistication.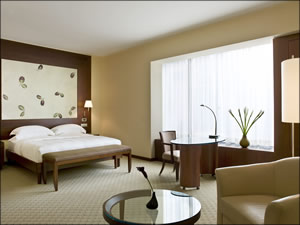 Upstairs, my billet was on the top floor - the 6th (what we English would call the 5th). Room 604 was a Park Executive, and therefore 740 - 1,300CHF a night for two, according to season, breakfast extra (although you should, of course, check the hotel website for special offers). This was not a particularly large space, but it was so well planned and so lavishly equipped that it had the feeling of an apartment twice the size. It suited me very well indeed. I liked particularly the restful combination of subtle colours – cream, light green and dark brown (the last from the abundance of high quality fitted woodwork).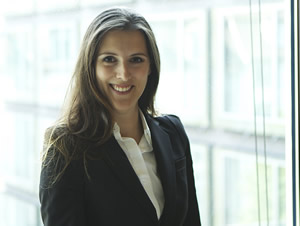 Off the hallway was a walk-in wardrobe – wherein I found what I like to find: an iron and an ironing board. A sliding door led into the bathroom, a place of grey marble and spotlights, with a tub of proper size, one wash basin, another sliding door (this time of frosted glass) to the loo and a separate shower over the floor next to the tub. (This arrangement had a slightly disorientating effect on me at first, but I soon accustomed myself to its charms.) One side of the wall between the bath and the bedroom slid back, thus helping to create that sense of space I have mentioned. The bedroom itself was well lit by two table lamps, two wall lights, a standard lamp and a feature I will call "an opaque box". One wall was of plate glass, overlooking the hotel's large inner well. I need hardly record that the air conditioning was effective – it would be a strange Park Hyatt if it were not. Seating was provided by one large soft armchair and two upright chairs, the latter useful for work at the oval, glass-topped writing desk. There was even a small vanity unit, cleverly tucked in opposite the mini-bar. And, a telling little provision, there was a proper little alarm clock with a dial on the bedside table.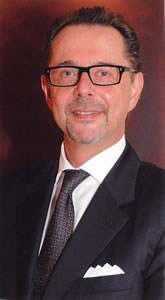 Such attention to detail is impressive – and it applies not just to the things which are provided but also to the things which are done. Indeed, I can think of no other hotel at which I can be more certain that, if I ask for something to be done, it will be done. This makes for a relaxing and enjoyable stay – and, of course, is dependent upon members of staff who are both highly skilled and highly motivated. Ten gold stars, then, must go to the General Manager, Jacques Morand (pictured). And some stars must also go to the hotel's Marketing & Communications Manager, Laura Amanzi (pictured), for dealing with my many enquiries so efficiently.
Other items should also be mentioned: the umbrella, the clothes brush, the shoe horn, the private safe, the torch with batteries, the grand coffee-making facility (which was so easy to work that even your technologically illiterate correspondent was able to make himself a decaffeinated espresso), a magnificently comfortable bed (which had been made extra soft for me) and a large television with an attached cd player, so that I could play my travelling selection of Sir Edward Elgar.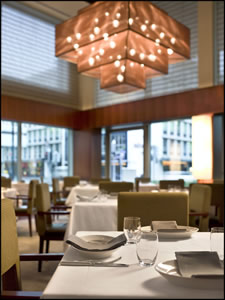 You will have gathered that I liked my billet. Yet I was happy to leave it each morning to go to the Lounge, another handsome and well-designed space on the ground floor. (An important tip: if you wish to avoid breaking your fast in a low easy chair, reserve a table the day before, for the higher tables and chairs are few in number.) Here I tucked into a really handsome breakfast. From the buffet – almost a work of art itself, so beautifully was it arranged – I took chunks of fresh pineapple and melon, with heaps of sweet strawberries, plates of rare roast beef and of cheese, slices of crusty bread, brioche with raisins, dishes of raspberry crumble and pots of the most wonderful stewed rhubarb. You don't normally have stewed rhubarb for breakfast? Well, you should. Here it was was so scrumptious that I had to make a serious effort of will to stop myself from eating far too much of it. To me were brought my chosen hot dish of crispy bacon, mushrooms and tomatoes, pots of coffee (with my customary dishes of ice cubes) and my concluding cappuccini.
The napkins of those who left the Lounge for a moment were replaced. Readers sometimes ask why I remark upon this small courtesy so often. It is because it speaks eloquently of the level of service being provided. Here, it was being done even at breakfast, which is unusual.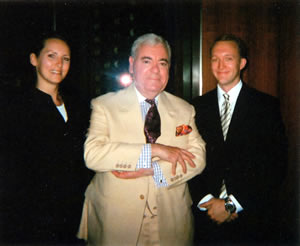 In the evening I dined at the Park Hyatt's main restaurant, the Parkhuus (pictured). The term 'gastronomic temple' is particularly relevant here, for not only is the food excellent, but also the room is impressively long and high, with colours which are dark and warm. When the weather is clement, I like to sit at one of the outside tables, on Beethoven-Strasse. But it was chilly, so I was inside, which was certainly no penance. Here Zwiesel glasses and Sola cutlery stood on my white tablecloth and waiters and waitresses with white shirts, were – once again – careful to replace the napkins of those who left their places for a moment. This atmosphere seemed to be pleasing the other diners, and it certainly pleased me. In the absence of the delightful Restaurant Manager, Susana Sampaio (pictured) – who was enjoying a well-earned holiday in her native Portugal – I was looked after splendidly by her charming assistants, Stephanie Prazak and Jan Kübler (pictured, with your correspondent).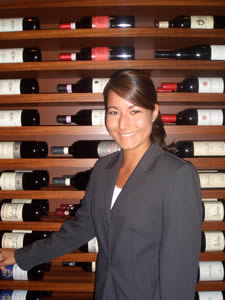 Young Mr Kübler bursts with enthusiasm for wine. This is fortunate, for the cellar here offers 674 bottles, 28 magnums and 68 half-bottles, as well as 28 wines by the glass. (Yes, I did count them all.) Prices run from 52CHF for an Italian primitivo to 9,900CHF for the 2009 Romanée-Conti. Other bottles to catch my eye were: 1996 Penfolds Grange (860CHF), 2001 Opus One (990CHF), 1998 Vega Sicilia Unico (1,800CHF, magnum), 1998 Pétrus (7,300CHF), 1990 Sassicaia (890CHF), 2006 Masseto (1,280CHF) and 2012 Coudy Bay sauvignon blanc (105CHF). One very appealing section of the list has 32 second label clarets – like 1998 Les Forts de Latour (550CHF). I drank a good example of St Aubin, with the discreet fruit and vanilla I like in my white burgundy (Dom. Pierre-Yves Colin-Morey, 2011 – 16CHF, glass), an interesting Canadian white, with pleasing apple and peach notes (Tidal Bay, Nova Scotia, Dom. de Grand Pré, 2011 – 14CHF, glass), and a rather austere and tannic Gevrey-Chambertin (Dom. Olivier Bernstein, 2010 – 175CHF, bottle), which proved a brilliant accompaniment for the rich flavours of my main course.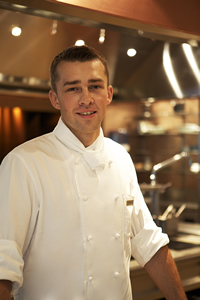 The menu takes a Minimalist approach. You will find no flowery descriptions. Each dish is simply given its ingredients, their country of origin, the name of their producer and the manner of cooking. You are invited to choose your own sauce, warm or cold, from those listed. I confess that this is not my favourite menu layout. But do not be put off. For the food of Chef de Cuisine Steffan Heerdt (pictured) is very good indeed. Chef Heerdt is a talented gentleman. All the dishes I ate were immensely enjoyable. They were based upon an approach of which I heartily approve: taking the finest ingredients, combining them with flair and intelligence and cooking them with admirable skill and subtlety.
I began with a salad – a substantial and enjoyable confection of butterhead lettuce, cecina de léon (cured beef), burrata cheese, grapes, pine nuts and balsamic vinegar. Each part was excellent, and the whole was very well judged. Then I tried some sea trout, pickled, medium pan-fried and served with trout 'caviar' (which I would have preferred absent, I think) and red onion compote (which was wonderful). Next came the undoubted star of the meal, a portion of pan-fried roebuck sirloin, tender and yet full of robust, meaty favours. With it came gooseberries, to create a contrast which must surely have been made in Heaven. And do not on any account neglect to order some side dishes, for they are magnificent. Mine were roasted carrots, grilled green asparagus and sautéed onions. They were so good that I could not resist finishing them – which, given the size of the portions, was a considerable feat. It meant, however, that I had not a square millimetre of space for the pudding I had selected – a peach mousse, with iced bellini, raspberry macaroon and raspberry clafoutis. (These four courses were 107CHF.) This was a marvellous meal.
In fact, my whole stay was marvellous. The Park Hyatt Zurich shows that modernity can be stylish, luxurious and wonderfully comfortable, when it is combined with friendliness and absolute efficiency. Yes, I like the cities of Switzerland. Yes, I like Zurich. But, best of all, I like the wonderful Park Hyatt Zurich.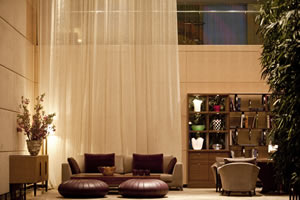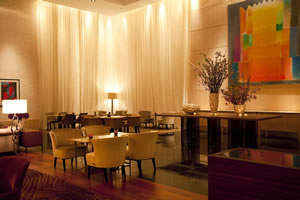 ---