United Kingdom
ENGLAND
LONDON
THE PARK TERRACE,
MANDARIN ORIENTAL HYDE PARK HOTEL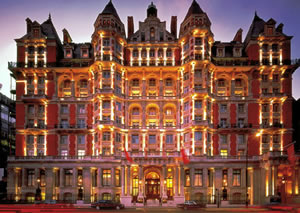 I never thought I would be able to have a good meal in Hyde Park. But there I was, sitting on the green cushion of an armchair made of wood and metal, next to a grass lawn, with the leaves of ancient trees moving in the gentle breeze overhead and with waiters all around, topping up my glass with wine of high quality and bringing to my table plates of proper food. It seemed for a moment that I had left London far behind and was in the depths of the English countryside. But no, it was true: it was Hyde Park in front of me and I was eating at The Park Terrace of the Mandarin Oriental Hyde Park Hotel.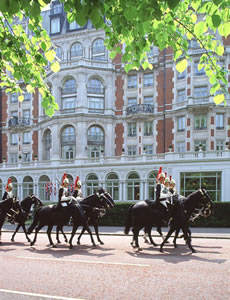 Of course, I was not actually in the Park. Between me and the verdant pastures so beloved of all Londoners were the aforementioned strip of lawn, a trimmed hedge and a road (along which the Household Cavalry rides to and from its duties). But the feeling of the outdoors was very strong. With the grand old hotel at my back (the Dowager of Knightsbridge, as she is called by some), I had a fleeting sensation of sitting by the sea at one of those Belle Époque piles on the French Riviera. But that was a silly notion, with the great trees directly in my gaze, so I directed my thoughts instead to the meal at hand.
The menu of The Park Terrace embraces breakfast, lunch, tea and dinner. Its sections include 'Asian', 'Arabic' and 'European', as well as numerous sandwiches and pizzas. For my dinner, being the fellow I am, I naturally turned to the European offerings, as I sipped a glass of bubbly (Moët - £13) and thought what a good idea it was, in the clement weather, to eat al fresco. This initial libation had been brought to me by the friendly Italian waiter from Venice, whose name I omitted to note. I did, however, write down the names of two other excellent chaps who made my visit particularly pleasant: Giuseppe Casella from Naples, the Junior Assistant Restaurant Manager, and Daniel Walder from San Paolo in Brazil, the Head Waiter of the Park Terrace. Although the bread took too long to arrive, I attributed this minor failing to the teething problems of a new venture, for The Terrace had been open for not much longer than a week when I paid my visit. Overall, the service was attentive and efficient.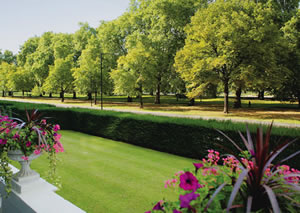 I found the food of Chef Chris Tombling entirely right for this context: unfussy, carefully prepared, well-presented on white porcelain and based upon ingredients of high quality. My steamed asparagus with lemon and hollandaise sauce was simple and tasty, just like the dish which succeeded it, beef carpaccio, with rocket, parmesan and lemon oil. For my main course, I wondered about the roast lamb rump, but decided upon the fillet of beef, with (admirable) thick chips and field mushrooms. This was good English meat, full of flavour. My concluding rice pudding was English, too. We should all eat rice pudding more often. This was enlivened by a dollop of raspberry jam and some ripple ice cream. Lovely. (These four courses were £58.)
The Terrace's own wine list is short and to the point, with vin de pays D'Oc at £18. But connoisseurs can certainly splash out on some grand bottles, should the fancy take them: 1970 Vega Sicilia Unico is £512 and 1989 Pichon Lalande is £293. I thought a German Riesling would be perfect for the asparagus, and so it was. This, though, came from the longer list used in the Foliage Restaurant. Its seductive blend of petrol, citrus and honey was a delight (Scharzhofberger, Egon Müller, 2003 - £58), and its typically low alcohol – just 10% – was good news for my constitution. For my red, I chose from the smaller list. 2004 Tassinaia, from Tuscany, needs another couple of years to mellow its tannins and stern black fruit (Castello del Terriccio - £13, glass).
After dinner, I walked back through the hotel, out of the main entrance and into busy Knightsbridge. I had enjoyed my evening. The Park Terrace is an excellent new facility for London. And I never thought I would be able to have a good meal in Hyde Park.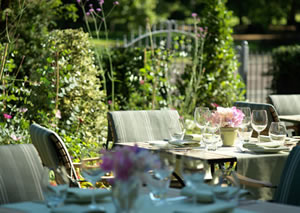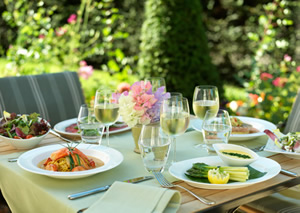 ---
ADDRESSES
THE PARK TERRACE
Mandarin Oriental Hyde Park Hotel, 66 Knightsbridge, London SW1X 7LA, England.
Telephone +44 (0)207 201 3849
Fax +44 (0)207 235 2001
www.mandarinoriental.com/london/dining/the_park_terrace
Open daily until September for breakfast, lunch, tea and dinner