ZURICH (KÜSNACHT)
PETERMANN'S KUNSTSTUBEN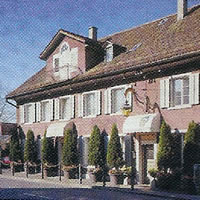 I have to confess. I lead a privileged existence. I eat at many of the world's grandest and most highly rated restaurants. These afford me exquisite pleasures, which I know are available to only a tiny proportion of humanity. Still, as that rather vulgar saying goes, "It's a tough life, but someone has to live it." Many of these meals are memorable; some are remarkable gastronomic experiences; and a few – a very few – are so brilliant that they leave me startled at the culinary heights to which man can occasionally ascend. In this last category I have placed my dinner at a village on the side of the Zurichsee, five miles from the city of Zurich. It was eaten in the dining room of Petermann's Kunststuben.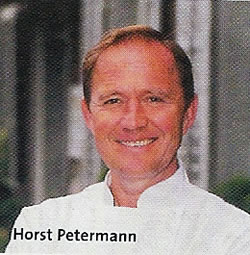 Chef Horst Petermann (pictured) was born in Hamburg. With his wife, Iris, he opened the Kunststuben Restaurant in Küsnacht in the 1980s. 'Kunststuben' means art room, and the name is doubly appropriate: not only because this modest roadside house (pictured) - built in 1873 - was once an art gallery, but also because Mr Petermann's own art collection now lines its walls. And fine paintings they are – somewhat reminiscent (for this British visitor) of the works of the Camden Town Group. I have called the building modest; and such it is, with the dining room seating a maximum of 55 (which can be supplemented by another 20 on the terrace in summer). Yet it is decked out with such flair and sophistication that it comes as a shock when you step through the doors and go straight from the pavement into so charming a chamber.
One thing which should not surprise us is the presence of the chef. Mr Peterman is not one of those 'celebrities' who, having established a famous restaurant, then goes off to spend his time before the television cameras. The delightful Iris Petermann sees that all is well (very well) in the front of house; but the kitchen is the domain of Horst Petermann. His masterly cuisine has long been awarded two Michelin stars. On the evidence of my meal, two stars are woefully inadequate to convey the brilliance of his food. Three stars should have been here long ago.
I eased myself onto a banquette of buttoned beige leather to the left of the front door, and adjusted several cushions until I was perfectly comfortable. Before me was a white tablecloth, upon which were glasses by Riedel and Spiegelau and nine (yes, nine) glass vases with flowers. An overhead spotlight shone down upon this little rose garden as the waiters and waitresses, in black, moved purposefully about their business. As my eyes wandered over the large menu card, I knew that all was set fair for a most enjoyable evening.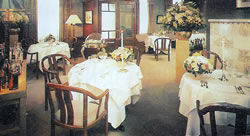 A seasonal set menu of six courses is offered for 210 Swiss francs. An entrée, main course and pudding can be had from this menu for 140 francs. I decided to have the first three courses of the set menu and to choose my main course and pudding from the carte – an arrangement which took the cost of my five courses to around 300 francs. For food of this standard, served in such lovely surroundings, I judged all these prices to be very good value.
First came fried foie gras, on a salad of green beans and mange-tout peas, with grilled nuts. Here was an object lesson in the subtlety of perfect balance. The plate, with its dark browns and bright greens, also looked wonderful. Now there was no doubt whatever that prodigious skill and intelligence were at work in the kitchen. My palate had been caressed, and was anxious for more wonders. They came with steamed langoustine tails, wrapped in slivers of courgette, sitting atop stewed sweet peppers. This combination of flavours and textures was truly ravishing. Next was perfectly cooked sea bass, with a pleasing conceit: delicately spiced mousse of carrot, shaped to look like the solid vegetable. I smiled as my knife sank so easily into the orange. My main course was beef – magnificent fillet, full of robust flavour and served with the noblest of accompaniments, confit of shallots and slices of black truffle from Périgord. For this dish alone was my journey to Switzerland worthwhile. And my dinner ended as impressively as it had begun, with a great vanilla soufflé, with caramelized apples. This was a soufflé of the old-fashioned sort, large enough for two good trenchermen, and made in the proper way, with crème pâtissière, so that it had some body and did not collapse, like the silly modern versions tend to do. Utterly delicious.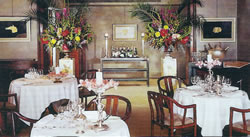 To go with a feast of such supreme quality, fine wines were needed. The cellar at the Kunststuben has Swiss wines, of course – like a white from the Lavaux for 70 francs. But you will not be surprised to learn that its real strength lies with the grandest wines of France. Should your pockets be very deep, the prices of those burgundies produced by the Domaine de la Romanée-Conti are available 'on request'. I was pleased to see so many top clarets from fine vintages and, for your convenience, noted the following: 1982 Margaux (3,500 francs), 1982 Mouton Rothschild (3,600 francs), 1990 Latour (3,200 francs) and 1995 Cheval Blanc (1,280 francs).
I tried (by the glass) a riesling spätlese (medium sweet, with good aciity) with the foie gras, a Swiss sauvignon blanc (of typical fruit) with the langoustine and a steely Chablis with the sea bass. For the beef, it was one of the greats from Bordeaux – the fifth growth Lynch Bages, from the mighty 2000 vintage (810 francs). A huge contrast to the ripe, accessible reds from the New World, this damson-laden beauty was still firmly tannic, although – having been decanted – with time in the glass it began to yield suggestions of caramel from its dense complexity. In ten years time, it will be a prince of wines.
I salute Petermann's Kunststuben for giving me one of the finest meals I have ever eaten. Sometimes I can scarcely believe how privileged I am.
---
ADDRESSES
PETERMANN'S KUNSTSTUBEN
Seestrasse 160, 8700 Küsnacht, Switzerland.
Telephone +41 910 07 15
Fax +41 910 04 95
Email: info@kunststuben.com
www.kunststuben.com
Closed: Sunday and Monday