United Kingdom
ENGLAND
LONDON
PLATEAU RESTAURANT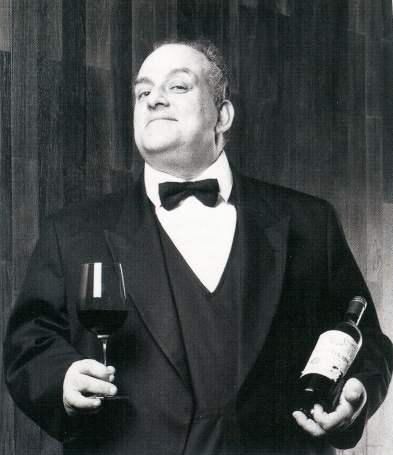 Let us now praise great sommeliers. The sommelier is a man of real consequence in a good restaurant. His knowledge must be both wide and deep. He must be ready to share his enthusiasms, and be prepared to exercize courteous discretion. He needs tact and diplomacy. Sometimes he will have to probe to discover the nature of a customer's palate; sometimes he might even have to steer the customer away from a wine which would have been chosen unwisely. He can make a meal, and he can mar a meal. My own respect for sommeliers is second only to my respect for the clergy. As with the clergy, bad ones are vile and good ones bring multitudes of blessings. My picture shows Mr Michael Simms, who is a very good sommelier indeed. He presides over the cellar at the Plateau Restaurant.
Plateau is located on the fourth floor of Canada Place, in London's Canary Wharf. Its walls of glass look down upon Canada Square Park. Opposite is Canary Wharf's original and most famous tower block. This collection of skyscrapers is London's tribute to Manhattan: shining, confident and sophisticated. Even this old reactionary has to admit that Canary Wharf buzzes with energy and style. Despite myself, I like it.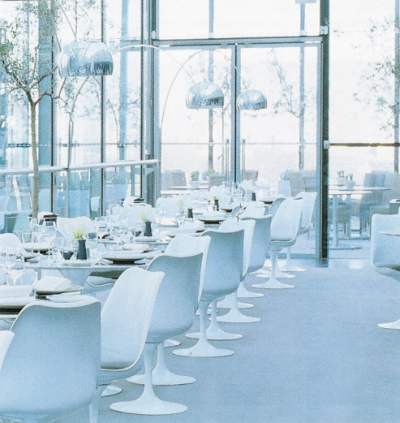 And I like Plateau, opened in 2003. Inside, its modernity is in the manner of the 1950s. Eero Saarinen's white tulip chairs cluster round tables with tops of Italian marble, and the cutlery has been made to a David Mellor design of 1957. Conran & Partners based their colour scheme on the olive tree. Gentle tones of green, grey and brown create an atmosphere of calm, from which to view the architectural pyrotechnics going on outside. This struck me as a clever and effective device, and just right for this context.
I sat down in one of the tulip chairs and immediately my silly back protested. (When does it ever do anything else? Still, the attentions of my new physiotherapist, Mr James Clear, are giving me some hope for the future.) The Assistant Manager, Jean-Baptiste Astier, hurried to my assistance. A larger version of the tulip chair, with arms, was brought, and this – together with a strategically placed cushion – ensured that I passed the evening in perfect comfort. Monsieur Astier was equally helpful throughout my visit. I noted him down as a good and efficient man.
My table was right next to the plate glass. I gazed down at the young folk sprawled across the lawns of Canada Square Park. They were enjoying their conversations in the sunshine. And I was enjoying my glass of pink champagne, as the waiters and waitresses in white shirts and dark ties went about their business around me. The menu offered two set options: a three course dinner for £26.50 and a five course tasting menu for £52. I chose four courses from the carte, for £57.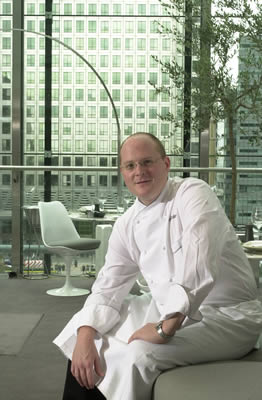 Chef Tim Tolley (pictured) has worked for the great Jean Georges Vongerichten. He describes his cuisine as 'modern French'. I can report that he cooks his fine ingredients with skill, that he combines them with intelligence and that he presents them in an attractive and modern manner. I began with green asparagus, with morels and sherry hollandaise – a dish as pretty as it was well balanced, the mushrooms being particularly tasty. Foie gras roulade was served with strawberries and basil. It was sensible to put the liver on crisp toast, because the result was a good contrast of textures. Flavoursome suckling pig came with potatoes with summer truffle emulsion and minted peas. And the meal ended as well as it began, with a mixed berry sponge, iced jasmine tea and white peach sorbet.
Michael Simms, as I knew he would, provided me with some delicious drinking. His list contains about 250 offerings, and they are well chosen. Prices range from £21 for an Alsatian pinot blanc to £1,100 for the 1988 vintage of Pétrus. France dominates, with some particularly tempting clarets – like 1985 Mouton Rothschild (£620), 1989 Lafite (£489) and 1990 Palmer (£485) – and one or two gems from the Rhone – like Monsieur Guigal's 1995 Côte Rôtie, La Mouline (£442). But other countries are represented. Italy offers the 1999 Sassicaia (£312) and Australia 1992 Penfolds Grange (£364).
The last time I visited Plateau and perused its wine list, I wrote, "The only serious blemish I detected was the absence of German sweet wines." The blemish is there no longer. Shortly after my comment, Mr Simms travelled to Germany on a tasting trip. And now on the list is a real gem, of low alcohol (one of the unique features of these great sweet wines from Germany), piercing sweetness and gorgeous acidity – Riesling Beerenauslese, Sharzhofberger, Kesselstadt, 1995 - £130, half). How do I know it is so good? Because I drank it with my pudding, and it was a privilege to do so. Mr Simms must have a truly discerning palate – because it agrees with mine.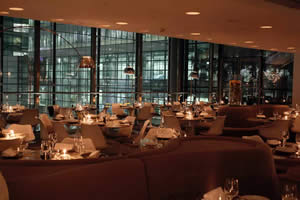 He also brought to me a New Zealand white I have not tasted for some years. Indeed, when I last drank the Kumeu River chardonnay its bottle had a traditional cork. Here it was the 2004 vintage, with a screw top. It was as I remembered – big, bold, forward and laden with vanilla. To go with the sucking pig, I went for a red burgundy. With these wines, I am a seeker of the aromas of the farmyard and this Vosne-Romanée yielded them (1er cru, Aux Petits Monts, Dominique Laurent, 1999 - £125). It lacked the over-ripe strawberries of the greatest burgundy, but it was still an enjoyable bottle. Indeed, enjoyment is what Plateau gave to me in huge quantities.
Mr Simms discussed each of these wines with me at some length before they came to the table. This is what I admire in him and in sommeliers of the best sort: they are happy to share their knowledge. They use their expertise in the service of all of us who eat and drink at their establishments. That is why we should praise great sommeliers.
---
ADDRESSES
PLATEAU RESTAURANT
4th floor, Canada Place, Canada Square, Canary Wharf, London E14 5ER, England.
Telephone +44 (0)207 715 7100
Fax +44 (0)207 715 7110
www.plateaurestaurant.co.uk
Closed: lunch on Saturday and Sunday, dinner on Sunday
3 course set dinner - £26.50
5 course tasting menu - £52