POLAND
WARSAW
POLONIA PALACE HOTEL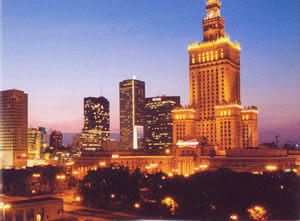 I was shocked by Warsaw. So many people had told me that I would not like it, because it was a big, noisy city full of ugly modernism. Well, of course, Warsaw's buildings are mostly post-War. They could hardly be otherwise, for the response of the Nazis to the Warsaw Uprising of 1944 was to destroy systematically 85% of them. And it must certainly be admitted that much of the architecture of the Communist period deserves (as did the regime) the term 'brutal'. And yet there is much more to say. For both the 'Old' and 'New' towns have been reconstructed as facsimiles of what was there before. The result is a delightful city centre, full of reproductions of 17th and 18th Century (and older) masterpieces. It is now a real pleasure to walk among these fine churches, elegant squares and wide boulevards. The visitor feels, as perhaps he did in the 1920s, that he is at the heart of European culture. And that visitor will be well billeted, if he chooses to stay at the Polonia Palace Hotel.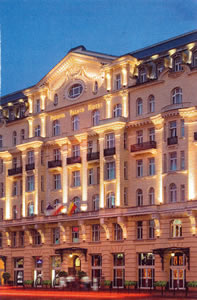 The Polonia Palace was opened in 1913, and is a handsome stone pile in the Classical style. Perhaps its solidity was its salvation, for it was the only hotel in the city to survive the Second World War relatively undamaged – which is why, one supposes, General Eisenhower stayed here when he visited Warsaw in 1945. After a two-year restoration, it re-opened in 2005. Its location is perhaps its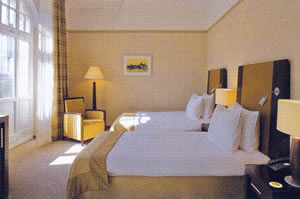 least happy feature, for its main façade is on a very busy road. But I can report that I was not disturbed by traffic noise, either in my room (which looked into the hotel's central well) or in the public rooms.
My main impression upon entering the main lobby, which has been created by covering over the inner courtyard, was of a bright and airy place, upon which much money had been spent. The grandest feature of the building, however, I was to discover only later, for it is tucked away from this busy area. It is the main staircase. Made of sparkling white marble, this is an impressive construction, and tempted even your correspondent occasionally to abandon the lifts to seek out its graceful treads.
My room was on the fourth floor. Number 436 was a standard double room, decorated in the neutral modern style (with colours of brown and beige) which has been applied to the hotel's accommodation.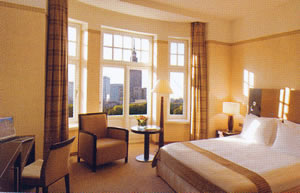 (The prices vary greatly according to date, so I will refer you to the hotel website for details.) The size was modest, but there was enough space for an armchair and a writing desk with its own chair. Everything here – as throughout the hotel – was spotlessly clean. The lighting from table lamps was good and the air conditioning was effective. In the bathroom I found a tub of acceptable size, one wash basin and the loo. The towels were rather small and, strangely, there was only liquid soap. But I supplied the latter deficiency quite easily, for I travel with my own emergency supply of bars.
I do not travel with a computer, nor do I possess a portable telephone which is able to perform a computer's tasks. It was therefore convenient for me that the Polonia Palace provided free internet access at two machines situated in the hotel lobby.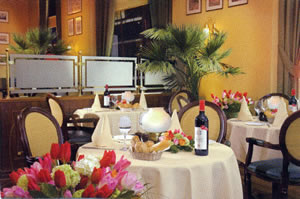 Breakfast, lunch and dinner are all provided in the Strauss Restaurant. In the evenings, I found this a pleasant place in which to dine, with its polished wooden floor, frosted glass screens, yellow walls, white napery and good glassware (by Spiegelau). Chef Grzegorz Goleń deals with his ingredients in an accomplished manner and produces enjoyable, straightforward dishes. I liked his beef carpaccio so much that I had it several times. It came with a rocket salad, pine nuts and Grana Padano cheese, but what made it particularly fresh and tasty was the lemon juice. This I squeezed from the segment which came on the plate, which was proudly erect on its own bright metal pedestal. (This was a conceit which appealed to me no end. I asked my excellent waiter, Daniel, whence such an item might be obtained, but he did not know.)
Other items I can recommend to you are the tagliatelle with a rich sauce of chanterelles and cream, tender fillet of Polish beef with chips and sautéed onions, grilled New Zealand lamb chops with ratatouille and a pudding of iced parfait with poppy seeds, roasted almonds and warm forest berries in red wine. (Expect to pay around 200 PLN for a four course dinner.)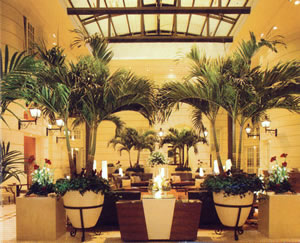 The wine list has just 28 offerings, with 16 of them available by the glass. Vintages are not given. Prices run from 90 PLN for the Chilean house wines to 320 PLN for our old favourite from Mr Antinori, Cervaro della Sala chardonnay and 365 PLN for champagne. I can commend to you the two Ventisquerro wines from Chile. (The vintage of each is 2011 and each is 120 PLN.) The cabernet proved smooth, sweet and accessible, with lots of ripe blackcurrant, and the chardonnay had a firm structure, with discreet fruit and hints of vanilla.
I returned to my round corner table each day for breakfast. (I found it worthwhile reserving the particular table I liked, for the hotel is popular with groups and the restaurant can be busy in the mornings.) The lady chef who made my daily tomato omelettes deserves a gold star, for they were excellent. And so were the items I secured from the buffet – orange juice, apple pastries, fresh fruit including pineapple and melon, slices of crusty bread and various jams. The waitresses worked hard to keep me supplied with dishes of ice, pots of coffee and, of course, my concluding cappuccini.
I do not usually mention hotel cars, but here I think I should. For not only was the Mercedes smart and comfortable (as they often are), but the driver – I think his name was Robert – was exceptionally courteous and charming. I left the hotel by this means, and it was an appropriate symbol for the establishment as a whole. If you decide to visit Warsaw, the shockingly attractive city, the Polonia Palace awaits.
---