United States
NEW YORK
THE POST HOUSE, THE LOWELL HOTEL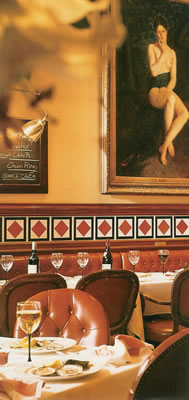 Every so often an urge comes upon me to eat a large amount of beef. I refer to this recurring condition as Desperate Dan Syndrome. (Readers of a certain generation might recall the stubble-chinned cowboy and comic strip hero. His favourite dish was cow pie – made, of course, with a whole cow.) The desire came upon me forcibly in New York. This was convenient, for in Manhattan is the ideal destination for anyone with a craving for the red stuff: The Post House at The Lowell Hotel.
Walking along the pleasant East 63 rd Street, it is quite easy to pass by The Lowell. Its luxury is of the discreet kind. Even the Art Deco of its 1920s façade is muted. The street entrance to The Post House is on the left of the hotel frontage, and only when I had penetrated some distance did I sense the real character of the dining room. Here was a cross between a gentlemen's club and a Parisian brasserie. The leather armchairs, the white jackets of the waiters and the obvious affluence of the diners suggested the former; the wooden floor, the blackboards with the day's specials and the oil painting of a naked lady reminded me of the latter.
I was shown to a table on the higher level. From here I looked over the balustrade at an assembled company which was tucking in with gusto. On the white tablecloth in front of me were decent (nameless) glasses. I always hope that the provision of good glassware indicates an interesting cellar, and The Post House did not disappoint me. The list is printed on one giant card, with prices starting at $41 for a Sonoma merlot (Benziger, 2001). Appropriately, most of the offerings are red. Grand clarets from good vintages abound: 1986 Lafite is $585, 1988 Mouton Rothschild is $609, 1995 Gruard-Larose is $149 and 2000 Lynch Bages is $350. But Napa cabernets also show strongly, with 1999 Far Niente at $240 and 2001 Stag's Leap Cask 23 at $388. And there is a smattering of temptations from elsewhere, like 2000 Sassicaia at $350.
My own two bottles were both from the Napa Valley. The 2003 Cakebread chardonnay ($88) was full-bodied and long-lasting, with lots of vanilla on the nose and plenty of sherbet in the mouth. My red was a massive beast, in its infancy – full of power, with strong tannins and vast reservoirs of black fruit – a Californian muscle-man in the making (Stag's Leap, Artemus, 2002 - $125). For these recommendations I have to thank Wayne, my waiter, who was impressively knowledgeable not only about wine but also about England – having, it transpired, had the benefit of an English mother, born in Islington.
What of my food? The Post House is a place where you eat in the old-fashioned way – so that is what I did, and enjoyed myself. To begin, two straightforward and honest courses: gravlax, with a separate dish of vinaigrette, and a salad of buffalo mozzarella with roasted peppers. Then came The Beef. Now, as you would expect, the meat can be had in various forms. I chose chateaubriand ($77 for two). And it turned out to be probably the largest chateaubriand I have ever encountered. This was a fine piece, full of flavour and properly cooked, so that my plate was soon a glistening red. With it I had asparagus ($9·50) and some delicious baby carrots, boiled whole ($9·50). There were no half-measures here. The most demanding of beefeaters would have been happy. I paused, and thought a smidgen of coconut cake ($12) might make a pretty conclusion. But this, too, was vast. So, after a couple of tasty mouthfuls, I sat back, utterly replete.
My yearning for beef was satisfied. But I have no doubt it will come again. And when it does, I will count myself fortunate if I am in New York, so that I can again sample the delights of The Post House.
---
ADDRESSES
THE POST HOUSE
The Lowell Hotel, 28 East 63 rd Street (between Madison and Park Avenues), New York, NY 10021-8088, U.S.A.
Telephone +1 212 838 1400
Fax +1 212 319 4230
Email: reservations@lowellhotel.com
www.lowellhotel.com