ITALY
SORRENTO (NERANO)
QUATTRO PASSI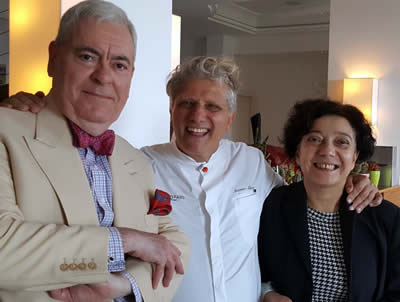 Quattro Passi is a place of sophisticated elegance and gastronomic brilliance, a beautiful retreat for those who love both good food and natural beauty. Its presiding genius is the irrepressible Antonio Mellino, an inspired chef to whom the Michelin inspectors have awarded, quite properly, two of their coveted stars. In the picture, Chef Mellino and I are joined by Rita, his charming wife, who does so much to ensure that the whole establishment runs smoothly. Unseen, because in the kitchen, is their son, Fabrizio, another chef of remarkable talent. This, then, is a family affair – not least because the patron picked up the love of cooking from his mother.
Born in Argentina, Antonio returned with his family to Nerano – on the Sorrentine Peninsula, half an hour's drive from Sorrento – when he was six. In the 70s he cooked on cruise ships, but his heart was always back in his home village by the sea. As he says, "A chef has to be first of all a witness to the place from which he comes." He opened his dining room in 1983. In 2000 the first Michelin star arrived, and in 2011 it was joined by a second. Now this restaurant with rooms is one of the gastronomic destinations of Italy.
When I arrived, tired from my watery journey from Capri, my spirits were lifted immediately as I walked into the entrance off the narrow road leading downhill. The place is so swish and so welcoming. I felt at home, and my smiling hosts were on hand to say, 'Hello'. Soon I was unpacking the Globetrotters in the Suite Teranto on the ground floor. This is a spacious apartment, with substantial pieces of ancient furniture. But later I was able to have a peep into the (nearly completed) new rooms higher up the property, and these are the ones to go for: they are bright, full of natural light and have lovely views of the sea. They share the sense of joie de vivre I found in the restaurant.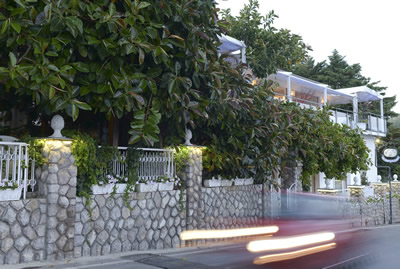 I was looking forward to a magnificent dinner, and a magnificent dinner is what I had. The dining room and its terrace are cool and comfortable. The wicker armchairs are wonderfully supportive, the napery is white, the glassware is by Spiegelau and the view of the sea is delightful. Most important, there is a sense here that the food is being prepared, not for the vanity and self-aggrandisement of those in the kitchen, but for the absolute appreciation and enjoyment of those fortunate enough to be sitting at the tables. This is exactly what a great restaurant should be like. And Quattro Passi is a great restaurant.
A 'menu surprise' of 10 courses, based on market produce, is offered for 180€, and a 7 course set menu for 160€. I chose four courses from the carte, for which you should allow around 130€. Given the quality of the food, I judged these prices to offer excellent value.
I began with crispy red mullet with orange and rosemary. Fine cuisine should not avoid humour, and this dish amused me enormously. Its appearance was that of a sandwich, to be picked up with one's fingers and dipped into the orange cream. This is what I did, and I was enchanted by the subtle textures and harmonious marriage of tastes which resulted. Delicious, but messy for my fingers – although decency was quickly restored by the use of the proffered finger bowl. The next course was just as good – a homemade potato dumpling (gnocco) with lamb and asparagus, soft and flattering to the palate. But the highpoint of the meal was the main course, an astonishingly tender and flavoursome piece of veal in crust, with fresh peas (how I love fresh peas!) and three sauces. These included the finest tomato ketchup I have ever tasted. I concluded with a ravishingly good warm apple tart with crème Anglaise.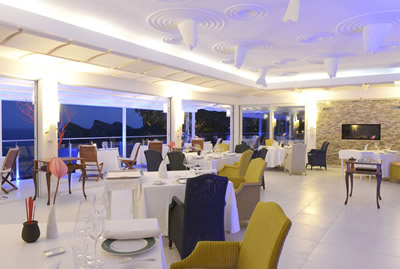 You would expect a restaurant as good as this to have a splendid wine list, and your expectation will not be disappointed. There is also an impressive cellar, created out of a well in the volcanic rock. I was shown around the gems it contained by Salvatore, a knowledgeable gentleman I last met at the Hotel Excelsior Vittoria in Sorrento.
I counted 914 offerings on the list, which spans the world. In price, they run from 35€ for a Pallagrello Bianco from Campania to 15,800€ for the grandest red burgundy, Romanée-Conti. There are many top-quality clarets, but you will need to keep your wits about you – so that you do not pay 2,200€ for 1980 Lafite when you could have the famous 1982 Latour for 1,500€ (which is quite a snip). There are lots of Mr Gaja's wines, like his 1995 Barbaresco (540€). And lovers of super-Tuscans will find much to bring them pleasure, including 1999 Sassicaia (600€), 1995 Solaia (600€), 2012 Masseto (770€) and 1997 Luce (280€). My own drinking included a superb red from Paestum, a blend of cabernet, merlot and aglianico – as subtle, elegant and well-structured as one could wish (Montevetrano, 2013 – 120€).
I returned to the restaurant for breakfast the next morning and sat on the terrace. I looked down on the distant bay as exquisite pieces of white porcelain with their morning delights were arranged on my table: brioche, cherries, melon, pineapple, pear tart, tart Caprese and surely the best sfogliatella frolla napoletana in the world. As I concluded my consumption of these wonders, my companion wandered over to the piano and played a little Brahms. Life should be full of such perfect moments.
And life, for the discerning gourmet, should be full of visits to Quattro Passi, a place of sophisticated elegance and gastronomic brilliance.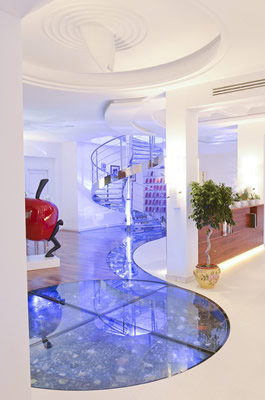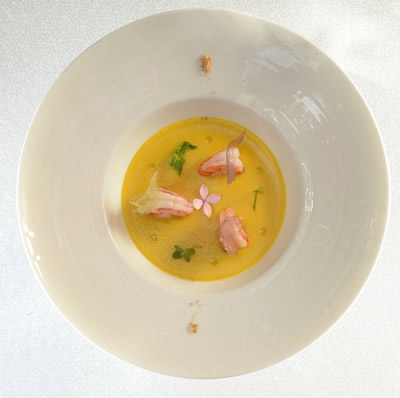 ---