United States
CALIFORNIA
RUTHERFORD, NAPA VALLEY
RANCHO CAYMUS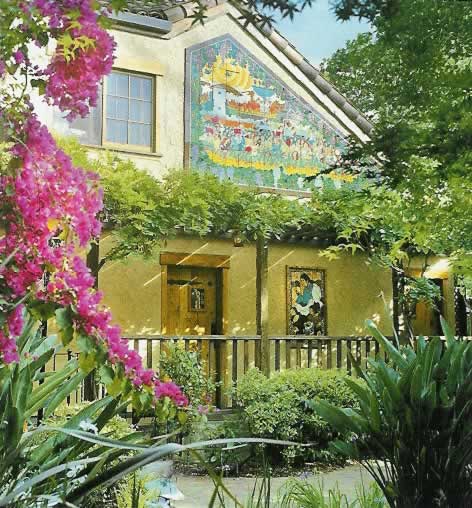 If you are looking for a quirky and stylish base from which to explore the delights of the Napa Valley, and you do not wish to spend an enormous amount of cash, you might care to consider the Rancho Caymus. Created by Mary Tilden Morton in the manner of a Spanish hacienda, its 26 rooms are large and are filled with all sorts of bits and bobs brought back from Mexico and South America by the great lady.
True, the setting is not the most delightful you will find in the Valley. Heading north on Highway 29, you turn right onto Rutherford Road (128 east) and the hotel is on the left – an oasis of bright flowers and Hispanic style, in a desert of wine warehouses and car parks. But once inside, things are much better – for the accommodation is clustered around a delightful central courtyard. Around this hidden garden of fountains and tropical plants, I walked to room 109.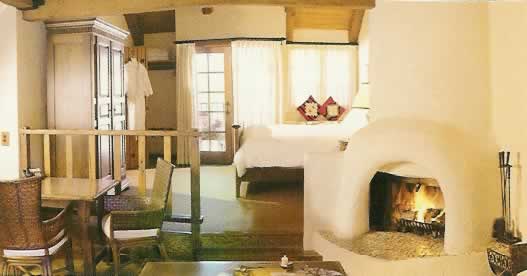 Classified as a 'master suite', this air-conditioned apartment costs $195 to $390 a night, bed and breakfast for two, according to season. And here was the spaciousness to which I have referred: around the kitchen area (with its sink, microwave and refrigerator), at the dining area (with its round table and three wicker chairs) and in the seating area (with its long brown sofa). French windows led to a long balcony, but – given the modest size of the hotel's grounds – the view did not tempt me outside. Pride of place within was taken by a large fireplace and chimney, the sinuous forms of which put me in mind of Art Nouveau or Gaudi. It made an atmospheric setting for a roaring blaze of logs in the evening. Up two steps was the sleeping area, with a substantial four poster bed. The rococo swirls of its wrought iron frame stood in cheeky contrast to the sombre carved walnut of the wardrobe.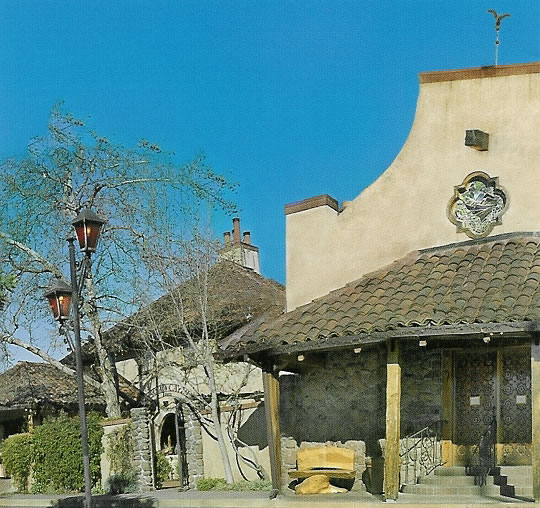 Nor were my ablutions done without a surrounding of strong colours. With brown tiles on the floor and blue tiles on the walls, it seemed not at all out of place that, over the square bathtub, there should be a stained glass window. A pity, though, that the towels were so small.
The breakfast buffet is set out in a large, high room. Here I sat on a green wooden chair at a large round table with a white tablecloth. As I quaffed a bowl of fruit salad, I listened to the canned music (of classical guitar) and admired the exposed roof beams overhead.
While you are in the Valley, I have a tip for you. Drive to downtown Napa (it takes about 30 minutes from Rancho Caymus) and seek out the corner of First and Main Streets. Here you will find a shop and wine bar called The Bounty Hunter. Go in for a glass of wine. There is a vast selection of wines by the glass, and nearly all the 'unobtainable' boutique wines are available for purchase by the bottle. This place is much patronized by local wine-makers – a fact which should set the pulse of any sensible wine-bibber racing.
---
ADDRESSES
RANCHO CAYMUS
1140 Rutherford Road, PO Box 78, Rutherford, California 94573, U.S.A.
Telephone +1 707 963 1777
Fax +1 707 963 5387
www.ranchocaymus.com
Double rooms from $135-$240 (according to season)