United States
CALIFORNIA
REGENT BEVERLY WILSHIRE, BEVERLY HILLS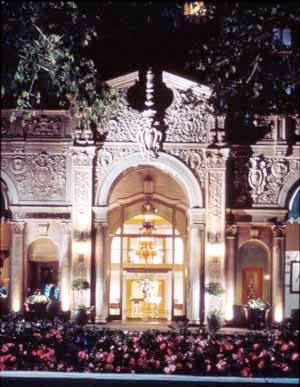 Mad, bad and dangerous to know. People can be unkind about Los Angeles. Personally, I have always found the City of the Angels appropriately angelic: sunny, attractive and sweet. But perhaps this is because I tend to stick to Beverly Hills – the only place in the world where I have observed a crossroads at which the traffic in all four directions comprised Rolls-Royces.
And if you too want to stick to Beverly Hills, you might be in the back of one of those Royces. For the Regent Beverly Wilshire Hotel has a brand new Silver Seraph for the use of its guests. (It goes out for short local trips on a 'first come, first served' basis and I never managed to arrive at the right moment, so alas! I cannot report on its ride quality.) A Royce is exactly the right motor car for this hotel, a huge quasi-Renaissance fortress guarding the intersection of Wilshire Boulevard and Rodeo Drive. You will know Rodeo Drive. It is the pretty street inhabited entirely by the most expensive designer boutiques known to woman (or man). To be seen shopping there imparts a Louis Vuitton trunkful of cachet, even in this seen-it-all, done-it-all town.
So staying at the Beverly Wilshire is ideal if you want to spend a few thousand dollars on nick-nacks. It is also ideal if (like me) you love really grand hotels. Arrive by car – and how else can you arrive in Los Angeles? – and you will pull up in the hotel's own private road between the original 1928 Wilshire wing and the 1971 Beverly wing. This driveway is lined with 38 lanterns, brought over from 'a castle in Edinburgh'. (Intriguing, but I thought it better not to enquire whether Her Majesty had been selling off bits and pieces of Holyrood…) You will then be ushered through to the entrance hall to register.
Registration has never been a highlight of my travelling. But here I liked it, because it gave me a moment to take in the sumptuousness of my surroundings. Even in the land of conspicuous spending, the spending here has been conspicuous. Marble, gilt, crystal – all here, and here in profusion. As is the courtesy and efficiency of the staff, both at the reception desk and throughout the building.
I was taken up to Room 1178 in the Beverly wing and was impressed some more. This is an 'executive suite' and is therefore £430 a night for two (breakfast extra). Now, of course, this is not the cheapest accommodation in LA; but I do venture it might be some of the best value. In a pleasing confection of Art Deco (the geometric pattern of black and silver on the standard lamp) and colonial (the white louvred doors), this high ceilinged apartment was spacious. Through a large square hallway I went into a handsome sitting room and then opened sliding doors into the bedroom. Both rooms had balconies outside their curved bays, affording views up to hills and that famous HOLLYWOOD sign.
Back inside I could lounge on the brown sofa, admire the brass handles on the pieces of mahogany furniture or freshen up in the grey and white marble bathroom – all the while being kept comfortable by the cooling breeze from the air conditioning. I felt at home.
As I did down in the Dining Room when I went for dinner. It was Friday. And – as the BBC programme on the wireless used to remind us all those years ago – Friday Night Is Music Night. Not here the pianist Semprini bringing us "Old ones, new ones", but an enthusiastic trio strumming out dance music for the assembled regulars. I knew they were regulars, because they told me so. In fact, two of them – a distinguished actor who had trod the boards in London for 35 years and his attractive wife who still writes for the Times Literary Supplement – stopped at my table and encouraged me to join in. I declined, but was much taken with this small act of friendliness. It reinforced my impression of Beverly Hills as a pleasant village community, in which folk still speak to each other and observe the courtesies. (I thought this again the following morning when Mohammed Ali came in for breakfast, nobly bearing the afflictions of his illness and saying 'Good morning' to each table as he passed.)
Rovena Gaut manages the Dining Room with appealing vivacity. She is an admirable foil to the traditional surroundings (frescoed ceilings, glass chandeliers and mahogany panelling). Breakfast was the better of my meals here. Melon, bacon and eggs, raspberries and toast and marmalade (in that order) set me up perfectly for the day.
Dinner was rather more hit and miss. Fried foie gras with rhubarb compote and baked Granny Smith had far too little liver and far too much apple. Penne with a ragout of mushrooms and tomatoes had suffered from over-heating. Grilled lamb chops were enormous with lots of fine meat, but the rest of the plate (like the potato and white bean croquettes) was less inspiring. And the Grand Marnier soufflé was on the heavy side. (£45 for these courses.) Chef Fabrizio Schenardi is quite new and is as charming as he is tall – and he is very tall. He is also full of good ideas, so I hope and expect that the kitchen will improve.
The short wine list has aspirations as well – in the sense that you can choose from a dozen Italian reds produced by Signor Gaja or drink some very grand clarets, like 1982 first growths (Latour is £900, Haut Brion is £525). I drank "claret" (thus described in the list, not on the bottle) from California, the blend of cabernet sauvignon, cabernet franc and merlot produced by Pahlmeyer (1995 - £60) – highly perfumed and well structured.
I was slightly sad to leave Beverly Hills and the Regent Beverly Wilshire. The area is delightful. Its inhabitants are open and welcoming. And its palace hotel is a supremely comfortable and well run home-from-home – complete, of course, as all homes should be, with its own Rolls-Royce.
---
ADDRESSES
REGENT BEVERLY WILSHIRE HOTEL
9500 Wilshire Boulevard, Beverly Hills, California 90212, U.S.A.
Telephone +1 310 275 5200
Fax +1 310 274 2851
www.regenthotels.com
Double rooms from £270