Switzerland
ZURICH
THE RESTAURANT
THE DOLDER GRAND HOTEL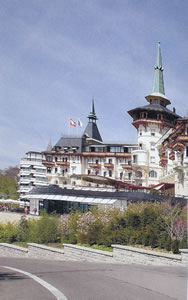 When I first encountered The Dolder Grand, she was wonderfully old-fashioned. Perched high above Zurich and bedecked with spires and pinnacles, she had something of the fairy-tale about her. Visitors could have been forgiven, in those days, for expecting to catch a glimpse of Hansel and Gretel, playing in the grounds. I remember my bathroom was covered in bright green tiles and contained a bath tub which could have accommodated half a Swiss lake. I thought the whole place marvellous. But nowadays the world tends to be impatient with such elderly dowagers. She was pronounced 'tired' and in 2004 she was closed for a massive reconstruction. Four years, many, many millions of Swiss francs and the attentions of the architect Lord Foster later, she re-opened. I thought I ought to go for dinner.
As my taxi turned into the drive, I was startled to find myself speeding along by a sinuous block of modernity. You can see it in one of the pictures. This, I realized, must be one of milord Foster's contributions. But then we reached the building with which I was familiar, the giant confection of wood and stone which had just managed to claim membership of the Nineteenth Century (having been opened in 1899). Inside, the columns and high ceilings were still there, but the new decorative scheme has given them an air of greater restraint. Sobriety has come to The Dolder Grand.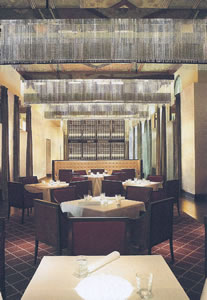 I turned left and walked to The Restaurant. It has one Michelin star and 54 seats. I was pleased to find it also has a bit of decorative jollity. The original painted ceiling is still high above, and the walls have been covered with a patchwork of gold leaf, which appears at first glance to be gilded brickwork (which it is not). The chandeliers are like curtains of crystal beads, the floor is wooden and polished and the carpet is brown. I settled myself into one of the red leather armchairs and looked at the middle of my square table. My attention was drawn by a light shining through the white tablecloth from beneath. This is not an arrangement I have encountered before. It gave a slightly surreal aspect to the occasion – as did the waiter, with a white glove on just one of his hands, who replaced the napkin of my companion when he left the table for a moment.
Chef Heiko Nieder offers his guests some unexpected combinations of flavours. These often involve putting fruit with meat or fish, and, on the experience of my meal, they are very successful indeed. You will readily understand what I mean when I tell you that I began my dinner with a dish which put on the same plate lobster, strawberries, beetroot and nasturtium. This was so pretty that it seemed a pity to disturb the composition. But tuck in, I did. Then came something which almost made me laugh out loud. Who on earth would ever think of putting ice cream with foie gras? Yes, ice cream with foie gras… Yet there it was: a scoop of pear ice cream on top of a slice of hot, fried, duck liver – together with some laurel and mustard sauce. Did it work? By golly, yes. It was – and there is no hyperbole here – an absolute triumph. If you visit The Dolder Grand, this is one dish you must have.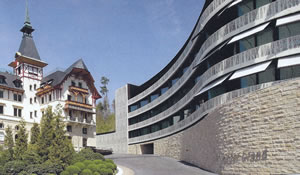 My meat course was a little less exciting. Along with the chicory, gruyère, fig and coffee, came braised shoulder of beef, which was tender and full of taste. But the grilled fillet of beef – which looked quite superb – was strangely bland in the mouth. My concluding 'cherry cake' was about as far from what these two words generally describe as it possible to go if they are still to be used. What came, on an oblong white plate, was a 'deconstructed' cheesecake. If you like black cherries, this is for you – particularly the remarkable sorbet. These four courses from the carte were about 220 francs. Set menus, with four, five or seven courses, are offered at 138, 162 and 208 francs. A vegetarian five-course set menu is 135 francs.
I should say a word about the bread. I lost count of the different sorts I could have eaten. Each one I tried was exceptionally good. Service was correct and proceeded at a leisurely pace. Into the Riedel glasses set out on my table were poured some interesting wines, recommended to me by the Assistant Restaurant Manager, Matteo Previsdomini (an enthusiastic young man from St-Moritz). The list has 500 offerings from around the world, ranging in price from 45 frs for a Tuscan red to 4,300 frs for the 1993 vintage of the grandest white burgundy, DRC Montrachet. Other notables to catch my eye were: 1997 Ornellaia (498 frs), 1998 Vega Sicilia Unico (516 frs), 1982 Latour (3,840 frs) and 2000 Yquem (989 frs).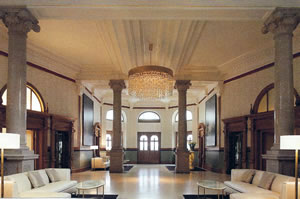 I began with a sauvignon blanc from Austria, which was bright and fresh, with hints of peach and pear (Manfred Tement, 2008 – 89 frs). The sweet wine for the magnificent foie gras was also Austrian – a delicious, syrupy mouthful of orange marmalade (Ruster Ausbruch, Cuvée Heidi Schröck, 2006 – 101 frs, half). And my red was a Cornas from the Rhone, which, although still too young and tannic, had plenty of black cherries among its fruit (Auguste Clape, 2004 – 180 frs).
Before I left I went downstairs to wash my hands. I was the only person about in the vast space of the lower ground floor. I had a sense of being surrounded by history. The Dolder Grand has awoken once more. Having enjoyed this dinner in her restaurant, I wish the great lady every success.
---