FRANCE
CANNES
RESTAURANT L'ANTIDOTE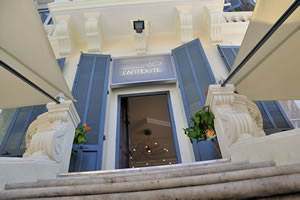 The Restaurant L'Antiote in Cannes is one of those good, out-of-the-way dining rooms we all search for but seldom find. It has charm, excellent food and courteous service. Its chef, Christophe Ferré, is enthusiastic and talented. And so is his son, who – when I paid my visit – had just won a prize for his own culinary achievements. The cup was shown to me by his proud mother, who runs the front of house. This, then, is a family establishment. And I like family establishments.
The house at number 60 boulevard d'Alsace is white and handsome, and has a pretty front garden, in which meals are served when the weather is clement. Both the house and the garden are protected from the busy traffic outside by a high wall. (There are many motor cars whizzing about on what I suppose we might call Cannes' inner ring road.) The palm trees and boutiques of the Croisette are – at my modest rate of locomotion – about a ten minute walk away.
After that perambulation I was pleased to open the gate, walk through the garden, ascend the steps to the front door and enter the intimate dining room. Here I found black armchairs, small tables, spotlights, candles and good glassware by C & S. On the white walls were coloured photographs of film stars, and on the top of the cupboard was an elderly film projector. I was in Cannes, after all. Service from the two young waiters, Andrea and Nassine, overseen by Madame Ferré, was friendly and efficient (despite an initial confusion between a spoon, cruyère, and the cheese, Gruyère – due entirely to my feeble attempts to speak French).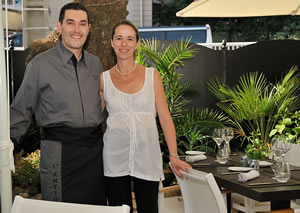 The menu is sensibly structured and offers very good value. A set lunch is 21€, and set dinners are available at 29€, 39€ and 49€, with one or two supplements. Much of the food, including the bread, is made in-house, in the impressive basement kitchen. I liked my opening salad – a straightforward and effective confection of greenery, tomatoes, Parmesan cheese, artichokes, peas and green beans, with a well-balanced dressing. And I liked even more the delicious duck foie gras, fried and served with raspberry vinegar. (My companion had the cold foie gras – mi-cuit – and pronounced it 'splendid', so you must make sure you have the foie gras, hot or cold, at L'Antidote.) Then, being at the seaside, I thought I should try some fish. I was glad I did, for the sea bass, with its crisp skin, was perfectly cooked, and was well served by its accompanying linguine. And then the best came last: a large and wonderfully luscious Grand Marnier soufflé – as rich and indulgent as one could wish.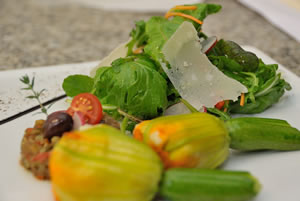 The wine list has 187 offerings, all French. Prices run from 21€ for a local rosé to 450€ for the 1990 vintage of Château Beychevelle. Other bottles to catch my eye were: 1995 Château Canon (225€), 1996 Clos du Marquis (115€), 2009 Chevalier Montrachet, Domaine Colin (263€) and 2009 Echezeaux, Domaine H.Naudin-Ferrand (200€). My own drinking was recommended by Madame Ferré – a very interesting Provençal white, like a full-bodied chardonnay, with discreet fruit and clear structure, which was only 5€ a glass and which was so good I went on to a whole bottle (Château Miraval, 2011). I enjoyed this wine, and I enjoyed my whole evening.
L'Antidote is good restaurant. If you are going to Cannes, seek it out.
---