ITALY
CAPRI
ANACAPRI
RESTAURANT LA ZAGARA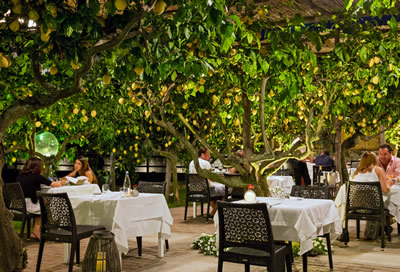 The Casa Mariantonia is a swish little hotel – a boutique hotel, I should call it, I suppose – hidden deep in the heart of Anacapri. It took me a little concentration to find it, as I am not very good at navigating my way through unfamiliar streets, even when they are as pretty as those of Capri's upper town. But I was so glad I made the effort, for it contains a restaurant of real charm, La Zagara, which serves food and drink of high quality.
This house was one of the first inns on the island. Its foundress, the eponymous Mariantonia, is said to have invented the alcoholic drink made from lemons – limoncello – and should therefore be regarded with enormous gratitude by everyone in this part of Italy. Now it is run, with flair and ability, by her great-grandchildren – Pierpaolo, Marcello and Mariangela. To see these young people so full of enthusiasm for their inheritance pleased me no end. They are doing great work and deserve great success.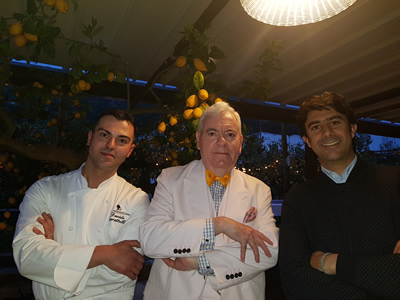 The best way to appreciate this charming place is to sit at one of the tables in the lovely lemon grove. But the weather was being unkind when I called, and so I had to stay inside for fear of a chill. Still, the Restaurant Manager, Salvatore Mazzarella, and his staff – all smart in black – looked after me well within the garden house, where I noted with approval the good glassware and the beige napery.
Chef Davide Clavatella – who worked previously at the famous Capri Palace nearby – uses fine ingredients to produce carefully constructed dishes which yield pleasure to both the eye and the palate. His menu is short (as it should be) but appealing. From it I chose four dishes which I found deeply satisfying. Fassona beef tartare, with marinated red onions, capers and anchovies, was served on a square white plate and was a delicious medley of flavours – beautifully balanced. Linguine with black truffle was also judged precisely, and the pasta was just as I like it – soft and yielding. (I am not an al dente man.) My main course was more beef – this time grilled and tender – served with grilled vegetables. And my pudding was a subtle and satisfying savarin baba with red fruit. (Allow 70€-90€ for four courses.)
Wine is in the expert hands of Marcello (pictured, with your correspondent and the chef). He knows about his Italian and French wines, and is more than happy to share his knowledge. Prices on his list are attractive, and run from 29€ for a 2017 Rosso di Montepulciano to 980€ for the 2015 vintage of Masseto. Other bottles to catch my eye were: 2009 Dom Pérignon (250€), 2006 Anna Maria Clementi Franciacorta, Ca'del Bosco (120€), 2016 Planeta chardonnay (45€) and 2014 Solaia (280€). After an excellent glass of bubbly – the ever-reliable Franciacorta Satèn from Bellavista (2009 – 11€, glass) – I enjoyed various wines, including a full-bodied, fruity Tuscan red which is still young but is promising much (2015 Bolgheri Rosso, Caccia Al Piano – 45€), before ending with an elegant gewurtztraminer late harvest (Tramin, 2015 – 10€, glass). I drank well at La Zagara.
And you will eat and drink well there, too, because La Zagara is a very good restaurant.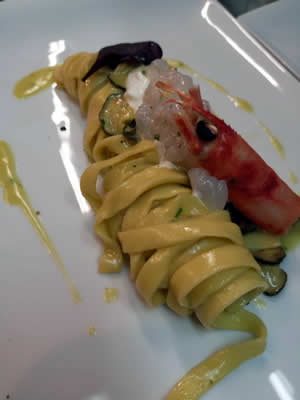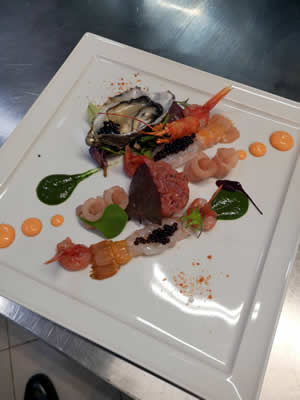 ---
ADDRESSES
RESTAURANT LA ZAGARA
Casa Mariantonia, via G. Orlandi 180, 80071 Anacapri, Capri, Italy.
Telephone +39 081 8372 923
Fax +39 081 8372 758
Email: info@casamariantonia.com
www.casamariantonia.cm
Open daily for breakfast, lunch and dinner
Reservation required for dinner
Closed: October to April