FRANCE
FRENCH RIVIERA
ST TROPEZ
RESTAURANT LE GRAND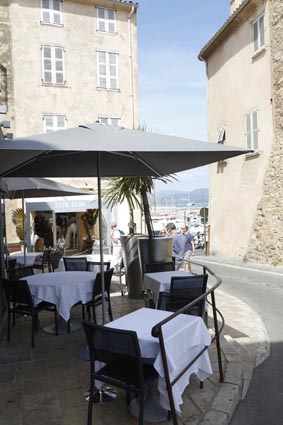 France can be a very good place for Italian food. Of course, in La Belle France one is always tempted to stick to La Cuisine Française, because it is the most exquisite cuisine the world has to offer. But sometimes a desire for a different sort of meal lodges in one's mind, so it is useful to know where a good 'alternative' table can be found. In St Tropez the longing for an Italian dinner came upon me, and I found a place I am happy to recommend to readers of Bown's Best – Restaurant Le Grand, sometimes known as Le Grand Joseph, in the Old Town.
My recommendation comes with one condition: you must secure one of the handful of outside tables. This is not only to enjoy the view of the harbour – down the hill at the end of the street – but also to avoid the canned 'pop' music which blights the interior. Needless to say, I am supposing that the weather will be as kind to you as it was to me. But who would want to eat Italian dishes in St Tropez if it were pouring with rain?
The white napery and the good C & S glassware alerted me at once to the fact that Le Grand seeks to maintain decent standards. The menu is straightforward, and the cooking is based upon good ingredients, carefully prepared.
I began with some excellent prosciutto – San Daniele Grande Réserve – served with rocket and grassini. And the uncluttered theme continued with linguine with tomatoes and basil, a dish which was deliciously simple and simply delicious. (I should also put in a word for my companion's grilled sardines which were pronounced "exceptional".) But my main course turned out to be the star of the show. This roasted rack of lamb was lovely, and set off by the tiniest hint of liquorice from the pastis used (along with Provençal herbs) in its cooking. I liked, too, the sautéed green beans, asparagus and broccoli, and the splendid mashed potatoes with truffle. I finished with – what else? – tiramisu, which was properly luscious. (These four courses were 113€.)
The wine list has 123 offerings, and there is no concession to the Italian taste here. All are French. Prices run from 30€ for a Provençal white (Domaine Sainte-Marie) to – and this is very St Tropez – 18,890€ for a Methusalem (6 litres) of the favourite champagne of footballers and their lady friends, Cristal. But there are numerous bottles in the 30€-60€ range. For your pudding there is 2002 Yquem (750€) and for the white burgundy with your fish there is 2009 Montrachet (Jadot – 1,150€). Fine clarets include 2004 Cheval Blanc (3,700€, magnum), 2001 Latour (1,500€) and 1999 Haut Brion (1,480€).
My own drinking included one of the fine clarets, a Graves from the famous 2000 vintage. It was at its peak, and spilled out an enchanting medley of blackcurrant, leather and spice (Ch Larrivet Haut-Brion – 160€). This was a caressing and beautifully structured wine.
I enjoyed my meal at Le Grand. If you secure an outside table and the weather is fine, I predict that you will enjoy your meal there, too.
---