SWITZERLAND
ZURICH
RESTAURANT LE POISSON, HOTEL GLÄRNISCHHOF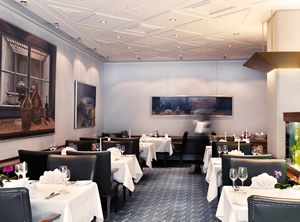 Zurich is a very good place for fish. Of course, it is on a lake. But there is much more to it than that. It has a tradition of serving wonderful fish in its best dining rooms. And it has the good fortune of having some superb chefs – chefs who really love fish – working in the kitchens of those dining rooms. One of the best is Marco Breitenbach. And his stage could not be more appropriately named. It is the Restaurant Le Poisson.
Le Poisson is part of the Glärnischhof, a business hotel in a street which even its best friends would struggle to call beautiful. Still, this clean and unassuming thoroughfare is certainly convenient, for it is right in the centre of the city. Inside, Le Poisson occupies a handsome room, with good oil paintings on the walls. Its crisp white napery and comfortable leather armchairs impart a feeling of affluent well-being. The service is courteous and proper, and is orchestrated by the maitre d'Ben Vanherck.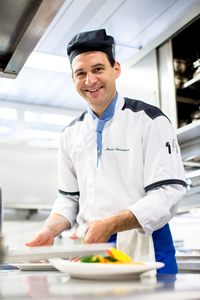 On my visit for dinner, the weather was exceptionally mild, so I decided to sit outside – "on the street", as it were – where I was looked after with enormous friendliness and efficiency by Stephanie and Stefane, two waitresses who were very smart in their red ties and grey aprons. Right at the beginning of the service, they brought to me on a silver platter, with justifiable pride, the fish which would be cooked for my main course. He was a fine-looking specimen, and appeared so fresh and perky that I would have believed it if the ladies had told me he had just leapt into their hands.
Still, he had to wait for me to eat my first two courses, and – before them – a delicious amuse-bouche in the form of a seared scallop on lentils. Of course, my stratagem was fish, fish and more fish. And it was a triumphant success. I began with asparagus parfait with wild garlic pesto and marinated char – a gentle and pleasing combination of tastes, which was entirely appropriate for the beginning of the meal. It was also pleasing aesthetically, being served as all good food should be – on a round white plate. My second course was pretty, too, and contained more asparagus, of which I am particularly fond. This parmesan cannelloni with its asparagus salad and two types of mustard proved an effective backdrop for roasted freshwater crayfish.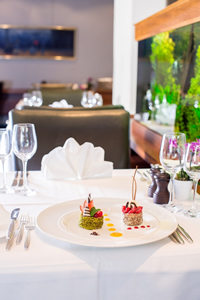 Then came my friend: the sea bass, now baked in salt crust, and served (for myself and my companion) by the table. The subtlety and wonder of the fish's flesh – so yielding, so succulent and so delicately flavoured by the salt crust – was just brilliant. With it I had asked for roasted potatoes, boiled fresh peas and fried onions. Each came in its own pot, and each was of the very highest quality. This was a memorable dish, and I salute Chef Marco Breitenbach for it. I finished my meal with a satisfying curd tartlet with Moroccan mint jelly and marinated berries. (These four courses were 130HF.)
The wine list has 146 offerings, plus 13 wines by the glass. The selection covers Switzerland, Italy, France and Germany. Prices run from 46CHF for a local pinot noir to 420CHF for 2004 Cristal champagne. Krug Grande Cuvée champagne is 360CHF, 2009 Tignanello is 160CHF and 2009 Lynch Bages is 290 CHF. I stuck to France for my two whites, beginning with a decent, typically flinty Chablis (William Fèvre, 2009 – 9CHF, glass), and ending with a medium-bodied Mâconnais (Pouilly-Fuissé, Louis Latour, 2010 – 72CHF).
I very much enjoyed my evening at Le Poisson. Zurich is a very good place for fish. And 'The Fish' is a very good place.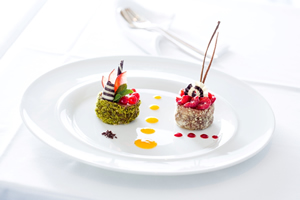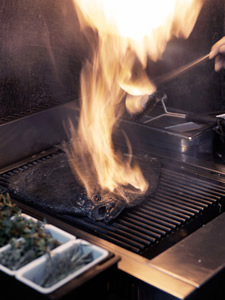 ---