SWITZERLAND
ZURICH
RESTAURANT ORSINI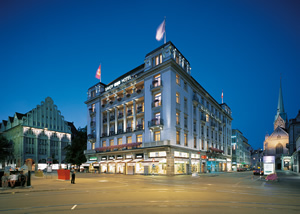 If you want to eat wonderfully old-fashioned Italian food, served with style and courtesy, in a pleasant and civilized atmosphere, and you are in Zurich, there is one place to which you must go: the Restaurant Orsini. It is located within the very swish Hotel Savoy Baur en Ville, although it has its own entrance from the street. Needless to say, I could not find the latter, so I presented myself at the reception desk of the hotel. Thus was I led through the restaurant kitchen to reach the dining room. This was a blessing, for it enabled me to see that the kitchen was both large and immaculate – and that is exactly what a restaurant kitchen should be.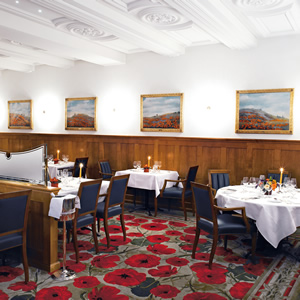 I was thus ready to be impressed. And impressed I was. The room is modestly sized and rectangular, but it has much charm – created by the design of the carpet (like a covering of giant poppies), the paintings of landscapes on the walls, the armchairs of green leather and the complete absence of canned music. I stress the last – for which, mirabile dictu! I did not have to ask – because it is so unusual nowadays, when the owners of grand restaurants often seem to suppose that their guests' conversations must be far less interesting than the cacophony they choose to broadcast through their loudspeakers. But then, at the Restaurant Orsini, the owner is Manfred Hörger, a dapper gentleman of exquisite manners and beguiling charm, who runs the whole hotel with his wife, Christina. I cannot imagine Mr Hörger ever permitting canned music in his restaurants.
On my corner table was proper white napery. The Riedel glassware caught the gentle, flickering light of the single green tapered candle in its silver candlestick. The waiters wore white jackets and black bow ties. And the maitre d' was in full black tie. He was a fine fellow from Sicily, Natale Morana, who brought the menus full of lovely traditional dishes. I decided at once that I must have a proper Italian quartet: ham, pasta, fish and fruit.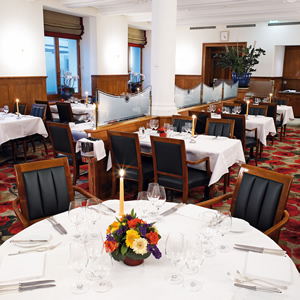 The ham was Parma ham, with melon. A simple dish, for sure. But it depends crucially on the quality of the ham, and this was good. (The menu sensibly offers two prices for many of its dishes, so that a larger or a smaller portion can be chosen. For this and the next course, I chose the smaller.) Beef ravioli gratinated with a cream cheese sauce was rich, luscious and absolutely delicious – an example of the sort of food which makes so many smile at the prospect of a trip to Italy.
My main course was grilled turbot, boned by the table. This was so good that I congratulated myself that I had gone for the larger portion, despite Natale's raised eyebrows. (Of course, he turned out to be right. My eye, like that of the greedy child, is often bigger than my tummy.) The fish came with braised fennel and, at my request, boiled peas, roasted potatoes and sautéed onions. These accompaniments were also brilliantly done, so that I found myself unable to stop myself from gorging on what had become a gargantuan feast. Still, this course brought me so much enjoyment that my regret at then being able only to tinker with some mixed berries with vanilla ice cream was quite minimal. (These four courses were 150CHF.)
The wine list has 70 offerings, all Italian. Prices run from 52CHF for a Sicilian white (Leone d'Almerita) to 349CHF for the 2009 Ornellaia. 2009 Sassicaia is 279CHF and 2009 Tignanello is 186CHF. Natale guided me to a medium-bodied chianti classico with lots of ripe blackcurrant in both the nose and the mouth (Castello di Ama, 2007 – 69CHF, half), and the ever reliable, vanilla-laden white from Umbria, Cervaro della Sala (Antinori, 2010 – 96CHF).
I left the Restaurant Orsini – by the proper door – in a thoroughly good mood. My life is spent searching for restaurants which serve enjoyable food in civilized surroundings, and in the Restaurant Orsini I had found one. If you are in Zurich and you want to eat Italian cuisine, do go.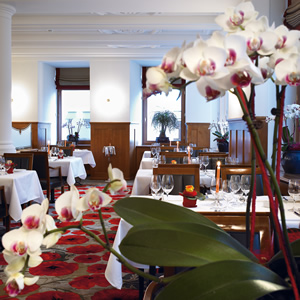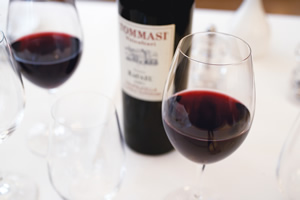 ---